Signs question candidates' Republican legitimacy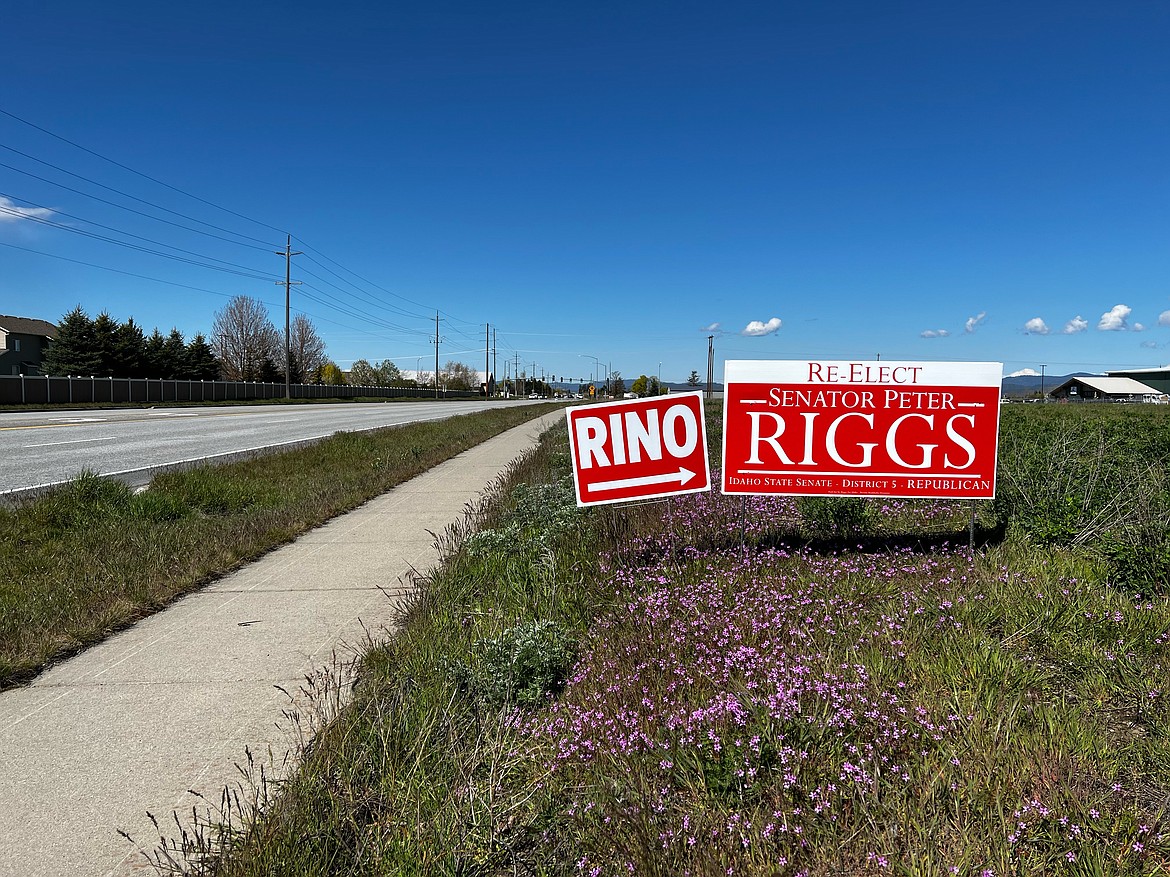 Mysterious "RINO" signs like this one popped up around Post Falls Wednesday. The anonymous antics seemed to target poitical candidates Mary Souza and Peter Riggs.
Courtesy photo
by
ELLI GOLDMAN HILBERT
Hagadone News Network
|
May 13, 2022 1:09 AM
POST FALLS — Political campaign sign antics rose to a new level in Kootenai County this week, just days before the May 17 primary election.
Signs targeting some Republican candidates as RINOs, an acronym for Republicans in Name Only, appeared Wednesday beside the candidates' campaign signs in the county.
Red, with arrows pointing toward the candidates' signs, the RINO signs are sturdy and similar in form and message to traditional campaign signs. However, because they are anonymous, those who paid to have them made and placed them cannot be held accountable by campaign finance reporting laws.
Secretary of State candidate Mary Souza and District 5 Idaho Senate candidate Peter Riggs were both targeted with the RINO signs.
"It's a method of ridiculing," Souza said. "It's not a part of our Republican values."
Souza was alerted by a supporter that the signs were cropping up, and her husband removed them, she said.
She encouraged readers to examine each candidate for themselves and said two measures should inform voter choices.
"One, is the person honest?" Souza said. "And next, are they effective?"
Neither Souza nor Riggs was endorsed by the Kootenai County Republican Central Committee.
Central Committee Chairman Brent Regan told The Press he doesn't know who placed the RINO signs, but said he has heard reports of Central Committee candidates' signs being stolen recently.
"We have begun placing monitoring cameras," Regan said, in an email. "Perhaps we will get lucky and catch the thief."
He said the Central Committee has a strict policy that no committee member shall touch any sign they do not have express permission to place or collect.
Post Falls resident Bruce Kauffman said the RINO signs imply a political message and carry a negative connotation.
"It's not exactly defacement, and it's not vandalism," Kauffman said. "But clearly someone intended to add a negative message."
Kauffman supports the placement of political signs but considers the RINO signs to be "confusing, misleading," and "a dirty trick."
He said he isn't partial to any particular candidates but that if he knew who was placing the RINO signs, that information would influence his own voting decisions.
"If you want to really get people talking, why not put your name on it?" Kauffman said.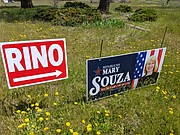 ---