Local Old-Time Fiddlers chapter to restart May 28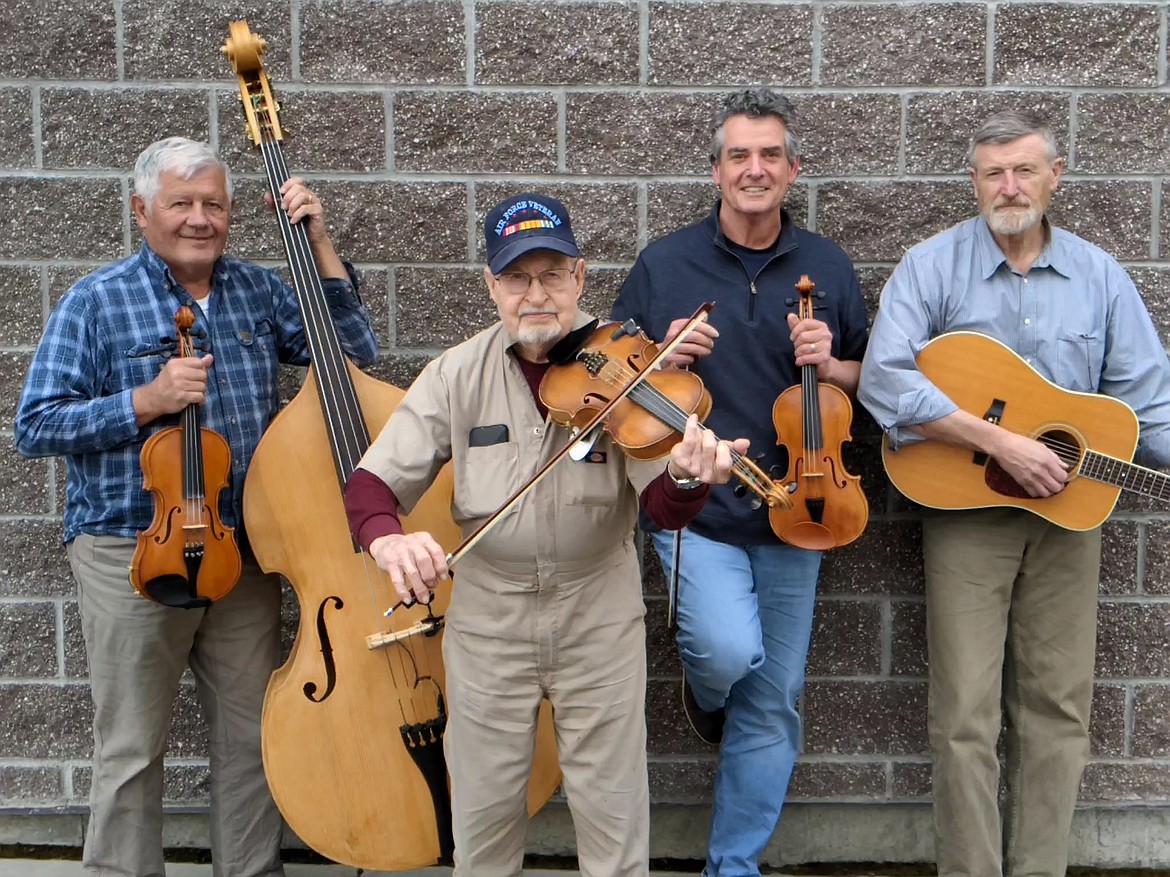 Officers of the newly activated District 1A Idaho Old-time Fiddlers Association local chapter, from left: are vice chairman, Mike Boeck; chairman, Les Tucker; reporter/historian, Dave Gunter; and secretary Don Davis. Not pictured is treasurer Dave Immel.
(Courtesy photo)
SANDPOINT — After a gap of nearly 20 years, the local chapter of the Idaho Old-Time Fiddlers Association is about to spring back into action.
Officially designated District 1A, which covers Bonner and Boundary counties, the revived group will hold monthly gatherings starting with its first meeting on Saturday, May 28, from 3-5 p.m., at the East Bonner County Library branch in Sandpoint.
With districts throughout the state, the IOTFA focuses on hosting monthly jam sessions and offering the services of its members through free, volunteer concerts for public schools and home-school groups, assisted-living facilities, nursing homes and other interested community organizations.
"The whole idea is to come together to enjoy the company of like-minded music lovers and then to ripple that positive energy out into the community," said Dave Gunter, reporter and historian for the newly reactivated District 1A. "Our doors are wide open for longtime players and newcomers alike — we're really hoping to build this chapter on the strength of old-timers sharing their knowledge with younger members who bring their interest and enthusiasm to the mix."
As the name suggests, the old-time fiddlers chapter will have a focus on fiddle players and, to a lesser extent, the traditional style known as old-time music, Gunter noted.
"It's easier to describe 'old-time music' by what it's not, rather than what it is," he said. "Old-time fiddling is not Classical music and it's not the same as it's later relative, Bluegrass, either.
"It's a more basic approach to melody that welcomes group playing and is usually learned by ear, rather than from written music," he added.
That said, the monthly jam sessions will likely include some Bluegrass, traditional Country Music and even fiddle-centric styles such as Western Swing, since the District 1A chairman will be 95-year-old fiddle master Les Tucker, an inductee in the Washington Western Swing Music Hall of Fame.
"When you've got a resource like Les leading the charge, everyone benefits from that wealth of experience," Gunter said.
Fiddlers and would-be fiddlers are obviously invited to the May 28 launch of the group, but other acoustic instrument players — electric instruments aren't a good fit in this particular setting — are encouraged to join the fun, too.
"If you play something like the guitar, mandolin, acoustic bass, banjo, ukulele, tin whistle or flute, you'll fit right in," the reporter/historian explained.
Information: 208-263-7234
Recent Headlines
---