Badger girls soccer finishes off '22 season
by
EMILY BONSANT
Staff Writer
|
November 10, 2022 1:00 AM
BONNERS FERRY — The Badger girls soccer team finished off another great season, taking third in conference, with a 7-6 overall record and 5-4 in conference record.
Going into the season, Bonners Ferry coach Emily Winebark said she was unsure of what to expect since the program had graduated a large group of seniors. She wasn't sure who would step up, but she is proud that the team did.
The girls finished third in districts, like in the 2021 season. At districts, the girls beat Grangeville 6-1, before falling to Timberlake 5-0.
Winebark said a lot of returning players filled the void in the lineup and improved their skill level. Senior Mia Blackmore and Junior Lindsey Onstott proved to be leaders on the team.
"Mia is a powerhouse, one of those players not easily replaced. She hustles and knows what's happening on the field," she said.
Winebark added that Majassa Allred became an amazing defender this season.
"Majassa stepped up so much, she was a controlling factor on the field," Winebark said.
Winebark said Macy McIntyre, senior, is a great encourager and the driving force behind the team. She added McIntyre improved her confidence this season and moved up to starting forward.
Two strong freshmen additions, Alexis Merkey and Maddie Hart added depth to the roster. Kaylee Sumpter, new to soccer, but always the strong athlete picked the sport quickly and became a formidable force on the wing by moving the ball up the sideline to midfield.
Sophomore midfielders Brooke Petesch and Lilly Krejci became goal scorers.
For the Badgers, goals were spread amongst the team. Winebark said this showed the team was more cohesive, rather than focused on one strong individual.
This year's team goal was "don't hesitate." Winebark said the team worked on being aggressive, confident and having the head game of being a better team.
Winebark said like any sport soccer is a mental game. A fundamental key is getting younger players confident and not hesitating on 50-50 balls, especially during tough games like Coeur d'Alene Charter.
During the season, Winebark played younger players in highly competitive games in order to give them playing experience at that level. Because the Badgers didn't have a JV team this year, she said giving the younger players exposure to this level of competition was necessary for the future of the program.
She said new players were very understanding, encouraging and involved the whole season even though they did not have as much playing time as they would have had with a JV team.
Seniors on the team are Majasa Allred, Mia Blackmore,Macy McIntyre and Kaylee Sumpter.
"I am so grateful to have coached these girls the past four years," Winebark said.
She is also grateful for the support from players' families and the trust they have in her as a coach.
"It feels like a family. The girls have strong character and I've felt truly blessed being their coach," she said.
Winter indoor league soccer for middle school and high school will be coming. Summer open field and summer league soccer for all ages will be announced next year.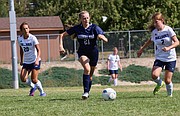 Recent Headlines
---