Badgers beat Bears and strike at Silver Valley tournament
by
EMILY BONSANT
Hagadone News Network
|
November 23, 2022 1:00 AM
BONNERS FERRY — Badger girls basketball defeated the Moscow Bears 64-58 on Monday, Nov. 21.
"We had another balanced offensive game with four players in double digits," said Bonners Ferry coach Travis Hinthorn.
The team was led by Asha Abubakari with 20 points. She went six-for-six from the free throw line.
Sophomore Sydney Hinthorn made her high school debut scoring 14 points for the Badgers. Hinthorn sat out last year due to a torn ACL.
Markynn Pluid scored 12 points and Avery Bayer added 10 points including three 3-pointers.
Hinthorn said it has been nice to start competing and the Badgers are seeing what they need to work on defensively.
Bonners Ferry 18 19 14 13 — 64
Moscow 12 11 16 19 — 58
KELLOGG — The Badgers girls basketball went 1-1 at the Silver Valley tournament, learning what works and what needs improvement in their defense and offense.
Friday, Nov. 18, the Badgers were scrappy against the Wallace Miners in their first game, stealing the ball and forcing turnovers. The Badgers scored first off a three-pointer by Braylyn Bayer and set the tempo in the first quarter.
Kara Villaluz played tough defense, gaining five steals against the Miners. Asha Abubakari earned five steals and Kaylee Sumpter had four.
Markynn Pluid, Braylyn Bayer and Sumpter scored double digits for the Badgers. The Badgers defeated the Miners, 55-15.
Bonners Ferry coach Travis Hinthorn said now that the Badgers are shifting to playing games they are gaining perspective of what works and what they need to work on.
"Against Wallace our guards did a great job defensively in our press and pushing the ball in transition," he said. "We shot well including three's and the free throw line. Offensively we had a balanced attack."
Bonners Ferry 17 15 21 2
Wallace 4 3 3 5
BONNERS FERRY — Kimball 0, Abubakari 8, B. Bayer 14, Blackmore 5, Falck 2, Petersen 0, Petesch 0, Pluid 13, Sumpter 13, Tompkins 0, Villaluz 6.
Sandpoint 60, Bonners Ferry 46
The Badgers took on Sandpoint in the second game of the tournament, losing 60-46.
At the beginning of the second quarter, the Badgers were within four points, but thanks to a 2-2-1 press the Bulldogs went on a 15-point run and caused seven Badger turnovers.
Sandpoint also was able to take advantage of the Badgers' foul trouble at the free throw line.
Bonners Ferry came back in the second half ready to compete and out-scored Sandpoint in the fourth quarter. While they were able to slow the Bulldogs, it wasn't enough to take the win, Hinthorn said.
"The Sandpoint game will make us better," Hinthorn said. "Kelsey Cessna, their point guard, did a great job of driving into the lane, scoring 11 of her game high 16 points in the second quarter."
"We had four starters on the bench to end the second quarter with three fouls each. We were down eight and then, boom, within two minutes we were down 20. We gave up 43 points in the first half and did a much better job only giving up 17 in the second half."
He added that the Badgers were much better defensively in the second half stopping penetration and helping in defense.
"Sandpoint is a big, quick, physical team and they couldn't miss the first half. I was proud how we battled back in the second half and got to within 12 late in the game," he said.
The Badgers will play at home against the North Idaho Christian Royals on Nov. 26 at home.
Sandpoint 19 24 9 8 — 60
Bonners Ferry 13 13 7 13 — 46
SANDPOINT — Cessna 16, De. Driggs 0, Da. Driggs 13, David 0, P. Cessna 0, Richardson 5, Tuinstra 0, Bleckwenn 0, Strock 11, Laybourne 0, Banks 15, Thaete 0, David 0.
BONNERS FERRY — Petesch 2, Villaluz 2, Kimball 0, Pluid 15, Peterson 0, Hinthorn 0, Blackmore 6, Abubakari 12, B. Bayer 6, Flack 0, Thompkins 0, Sumpter 3, A. Bayer 0.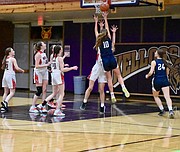 Recent Headlines
---