BCMS raises over $1,000 for local vets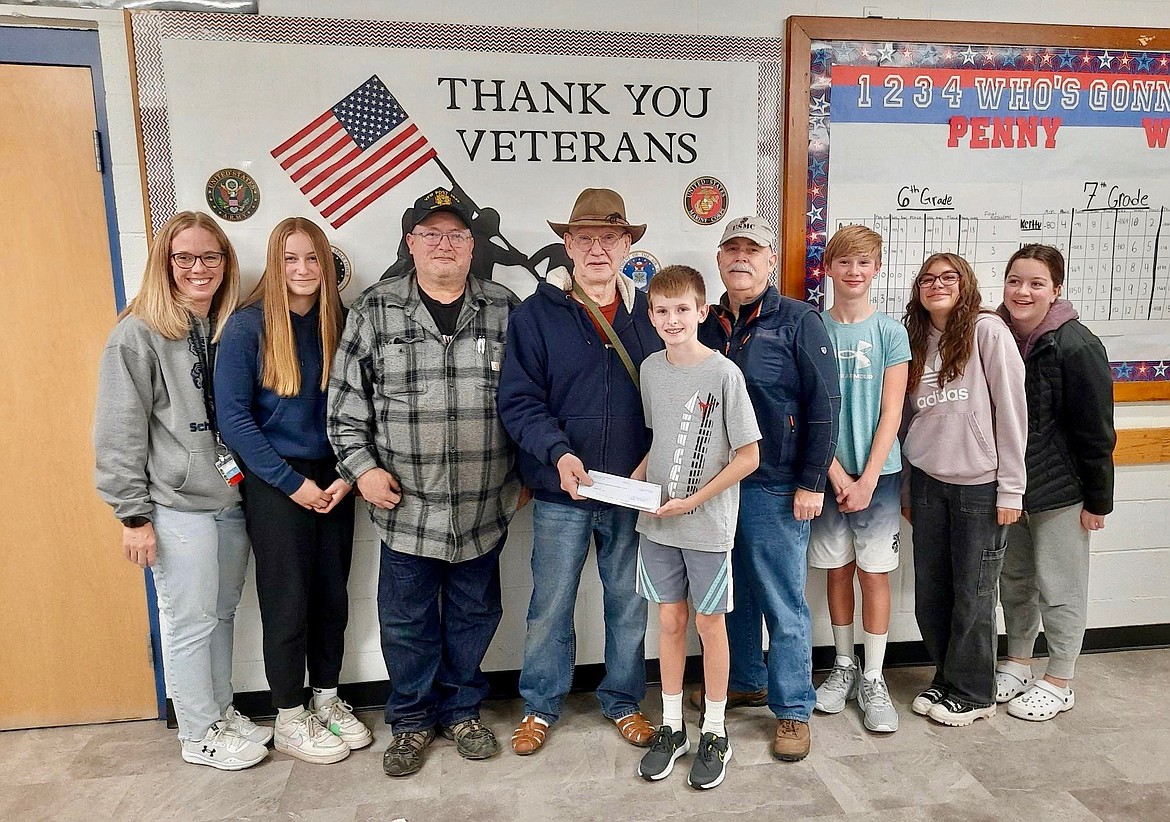 Boundary County Middle School leadership presents a check from the Penny War Fundraiser to the leaders of local Veteran groups.
(Courtesy Photo)
by
EMILY BONSANT
Hagadone News Network
|
November 23, 2022 1:00 AM
BONNERS FERRY — Boundary County Middle School raised $1,693.30 for local veterans in its annual penny war.
In the penny war, only pennies are counted to a class's fundraising total. Other classes could sabotage a class by putting silver coins or dollar bills in the other team's jar — thus causing a deficit for that class. This deducted the amount counted as raised by a class, but added to a larger contribution to the fundraiser.
Last year, the middle schoolers raised about $600, but this year the competition was palpable with students sabotaging other classes by putting in $50 bills in competing classes jars and further raising funds.
Ben Apo, Veterans of Foreign Wars Post 3622 commander, told the Herald that prior donations from the middle school were split amongst the VFW, American Legion and Disabled Veterans of America. This year, the three organizations want to make a donation to the community as well as donate to the North Idaho State Veterans Home which recently opened in Post Falls.
"We hope to put some of the money raised back into the community," Apo said.
He added that the large fundraiser turnout was all thanks to leadership teacher Kelly Hinthorn and the middle school leadership.
"Kelly Hinthorn is a rock star in my eyes," he said. "She does a great job with the leadership class. Whenever we need anything, they come. The class and her are always ready."
Local veterans groups also support the Holiday Craft Show on Dec. 2-3. There will also be gun raffles at the show.
Apo wanted to remind any interested in the raffle that it only takes one ticket to win. Two of the gun raffle winners this year only purchased one ticket.
Recent Headlines
---