NIMSEF Inc. sharing the Schweitzer experience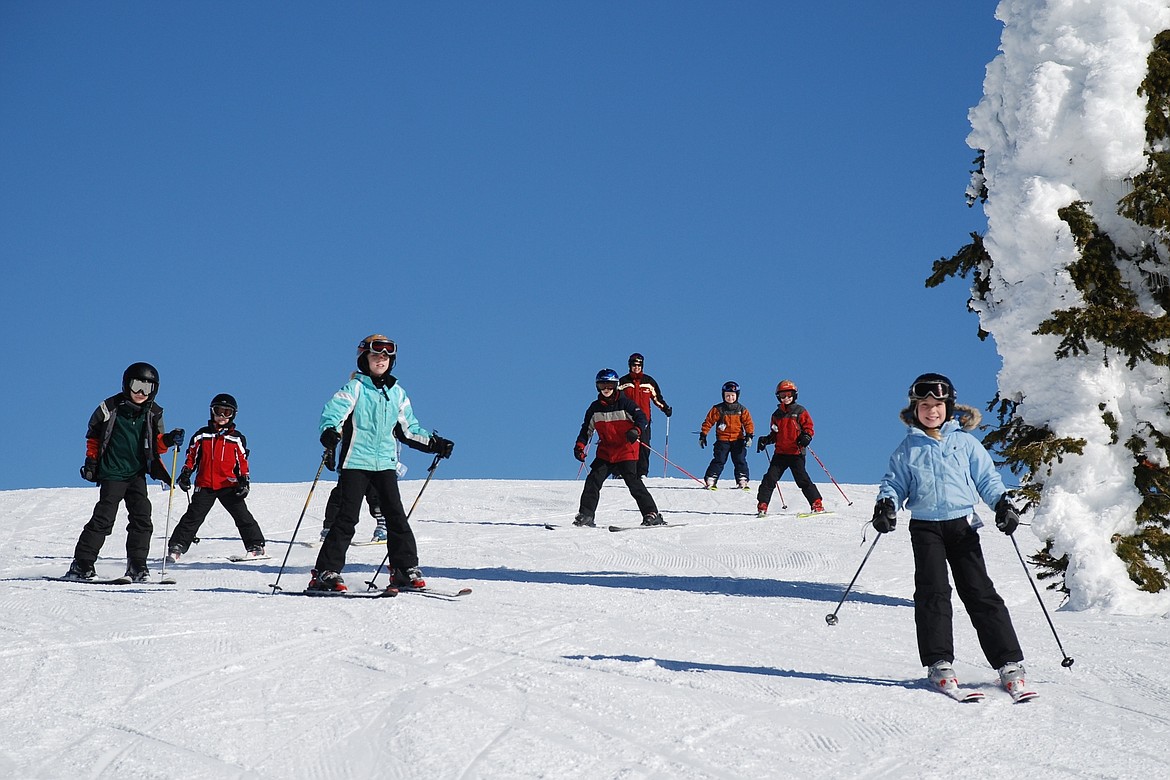 Kids skiing with NISELF.
Courtesy photo
|
September 15, 2022 1:00 AM
BONNERS FERRY — North Idaho Mountain Sports Education Fund, Inc. is all about sharing the Schweitzer experience with less fortunate children.
People come from all over to enjoy North Idaho's world-class outdoor activities, officials said. However, while tourists and those involved in the local ski industry clearly understand the joy that snow sports offer, many in the shadows of the mountain have no idea.
A large percentage of the children growing up with Schweitzer Mountain Resort in their "backyard" never experience the joy and freedom the slopes provide. These kids, whose families are the hardworking backbone of the community, never experience what many of us take for granted.
Skiing/Snowboarding is simply too expensive for many North Idaho families. Many local children go to school and hear their classmates recalling the great weekend they had on the mountain and they yearn to experience such a fun sport.
This was illustrated by a fourth-grade student, who was given, a free day of skiing and lessons, wrote a thank you note saying: "Thank you for the best day of my life. I probably won't see any of you ever again. So goodbye."
Helping to inspire a lifelong, positive activity North Idaho Mountain Sports Education Fund, was founded to give children like this more than just one day on the mountain. NIMSEF is a nonprofit organization recognized under IRS code 501c3. (EIN#: 27-3242820), and governed by a volunteer Board of Directors who receives zero compensation.
Expenses are minimal, allowing the majority of donations to directly benefit the children sponsored.
NIMSEF exists to provide all the children of our community an opportunity to participate in skiing/snowboarding. They believe this not only provides the child with a lifelong activity, but it gives the child a sense of belonging, accomplishment and pride. All of which can help children do better in school, stay off drugs, have a good work ethic, etc.
The NIMSEF program not only teaches skiing/snowboarding, but engages the children, allowing them to work for a portion of their tuition and participate in fundraising. NIMSEF believes this will help the children value their gift, build their work ethic and learn to give back to others.
The specifics and how you can help
Schweitzer has graciously agreed to work with NIMSEF and set up a program — at greatly reduced tuition — that will enroll our scholarship students in an 8-week, all-day lessons program.
All children ages 7-17 who qualify based on economic need and live in Bonner and Boundary counties can receive a season pass, bus pass, and equipment rental and the lesson program via Schweitzer and NIMSEF.
The program created by Schweitzer puts the children in groups of similar age and ability, and the group stays with the same coach for the entire program (all coaches are certified instructors). This all-day program takes place on either Saturday or Sunday, but the pass and equipment rental are valid all season.
Any donations given are greatly appreciated and will help North Idaho children realize the dream of being a part of something special, officials said. If you have any questions or would like to get involved in the program as a corporate partner, etc., please contact Jeff Rouleau at 208-267-7010 or nimsef@gmail.com.
Applications will be accepted until Oct. 15 at www.nimsef.com.
Donations can be sent to: North Idaho Mountain Sports Education Fund, Inc. (NIMSEF), P.O. Box 170, Ponderay, ID 83852
Recent Headlines
---