XC out racing the smoke and the competition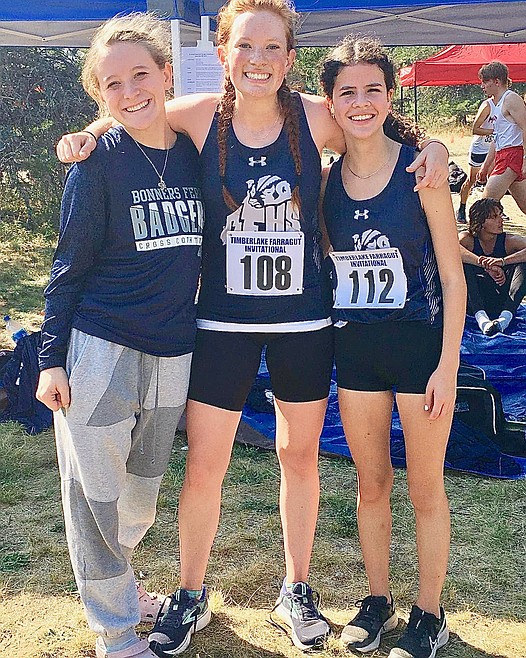 Badger Cross County runners Leah Moellmer, Ceci Roemer and Sydney Beckle.
Photo courtesy of BFHS XC
by
EMILY BONSANT
Hagadone News Network
|
September 15, 2022 1:00 AM
FARRAGUT —- Badger cross country ran the team's second 5K course at the Timberlake Invitational at Farragut State Park last weekend. And, while air quality was not ideal for setting personal records, athletes still put out their best efforts.
Head coach Tyler Warner told the Bonners Ferry Herald that while it was not as hot as it has been during past racing, air quality was not ideal the entire morning and didn't improve as the day progressed.
Sydney Beckle was 2 seconds off a PR in non-ideal conditions, he said.
"In the last mile she made a lot of moves to pass girls, which is what we want folks to start doing: being aggressive in the last mile," Warner said.
Cole Phillips was the third boy across the line, and the first freshman. Warner said Phillips did a great job as well of making moves toward the end.
"He's got gears that most runners just don't have, which is great to see," he said.
"Leah Moellmer was able to race and finally got a time under her belt, bringing our girls team up to full eligibility, so we should start getting a better idea of where we fit into the Intermountain League picture," he said. "Ian Williams had a good day on the JV squad and should now hold a varsity spot, likely going forward."
Most Badgers, including Justin Strugar, Matthew McCabe, Ceci Roemer, and Nate Murray all posted season bests for 5K. Warner said he sees this as growth and the team will look to build on that going forward.
The Badgers have a home race this Saturday, with smoke permitting. Girls race at 9 a.m. and boys at 9:45 a.m.
Badger boys varsity times:
Ryan Beckle 20:36.5; Justin Strugar 20:56.5; Cole Phillips 21:24.8; Jack Woods 21:43.5; Maddux Martinez 25:55.8
Badger Girls varsity times:
Sydney Beckle 21:56.0; Ceci Roemer 22:56.2.
XC at Post Falls Run
POST FALLS —- The Badgers cross country team competed in the Post Falls River Run Thursday, Sept. 1.
Head coach Tyler Warner said the 2-mile course, which was held at Kiwanis Park in Post Falls, was a nice distance for early in the season. The size of the park also makes 2 miles optimal since the course covers the entirety of the perimeter of the park and much of the interior.
"The freshmen boys had a good start to the day, which was hovering somewhere in the high 90s most of the afternoon," he said. "Jack Woods, Micah Thomson, and Cole Phillips all finished close together, which was great to see. Those three may very well make up the core of the boys varsity squad this season; the third, fourth and fifth scorers can be just as important as first. If they can all finish in a row like that consistently, we'll own big blocks of points. "
Warner said the heat played havoc for most of the day.
"Times were not always great, but what I saw was a general improvement in some of our pre- and post-ace routines and teamwork," he said. "Aiden Hyde was able to participate in his first race in the sophomore race, he's got a great willingness to work and has a pretty positive attitude towards running in general. Sydney Beckle, running at the hottest part of the day, still posted a solid time, though she remarked not feeling her best and her time was slightly slower than the BFHS Jamboree time from two weeks ago."
Seniors Maddux Martinez, Justin Strugar, Carson Dineen, and Ryan Beckle finished out the day, showing steady improvement, but also learning how to adapt to race conditions, Warner said. Ryan started out as the lead Badger, but faded a little, eventually being passed by Strugar near the finish, but still finishing relatively close together.
"I think between Justin [Sturgar] and Ryan and the three freshmen boys, we may be able to piece together a strategy that will help get us to state, but that depends on continuous improvement and staying healthy," he said.
Cross County will compete at Farragut State Park on Saturday, Sept. 10 at 9 a.m. at Scotts Field. This will be one of their largest races of the year.
Bonners Ferry Boys times: Justin Strugar 14:20.6, Jack Woods 14:21.7, Micah Thomson 14:22.0, Ryan Beckle 14:25.1, Cole Phillips 14:25.2, Nathaniel Taylor 15:31.7, Carson Dineen 15:38.5, Aiden Hyde 16:04, Maddux Martinez 16:10.8.
Bonners FerryGirls Times: Sydney Beckle 14:51.1, Ceci Roe, 15:21.6, Jayden Byars 18:45.3, Trina Johnson 20:48.8.
Recent Headlines
---