Volleyball 7-1 after winning Battle of the Border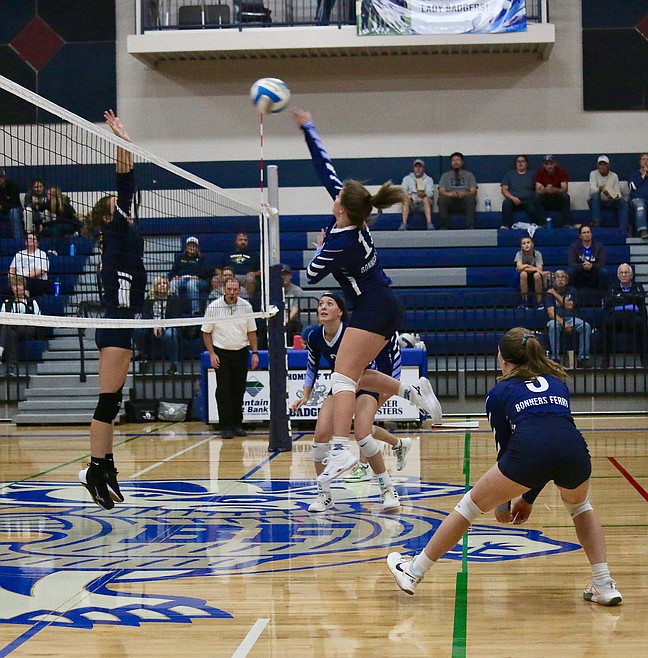 No. 11 Sara Cummings attempts a spike against Genesis Prep. Academy on Sept. 15.
Photo by EMILY BONSANT
by
EMILY BONSANT
Hagadone News Network
|
September 20, 2022 2:00 PM
LINCOLN COUNTY — Badger volleyball is 7-1 after defeating Lincoln County at the Battle of the Border on Monday night.
The Badgers were within two points of the Lions in the first set, but lost the set 23-25. Bonners Ferry was again down in the second set. The Badgers rallied and won the next two sets making it 2-2. In the tie-breakers fifth set, the Badgers were up by five and took the win.
BF: 23-25, 14-25, 25-20, 25-23, 15-10.
Volleyball is 7-1 and on a four-game winning streak. They play Libby at home tonight. Varsity plays at 7 p.m.
BONNERS FERRY — Badger volleyball is 6-1 after beating Thompson Falls and Genesis Prep.
Last Saturday, Sept. 17, the Badgers beat Thompson Falls in three sets, 25-15, 25-23, 25-19.
Asha Abubakari had 13 kills and Helene Rae had 10 and three aces. Sara Cummings had one solo block and eight digs.
Emma Lucas, Avery Baryer, Braylyn Bayer and Rae had five digs each.
Emma Lucas had 27 assists, averaging nine a set.
The Badgers beat Genesis Prep Academy on Thursday, Sept. 15.
The Badgers took the lead early on in the first set leading 5-0. Genesis Prep answered back with defense, but couldn't make up the deficit giving the Badgers the 25-9 win.
The next set was nothing like the first with Jaguars and the Badgers fighting for each touch. The Jaguars took the lead and the Badgers held on, but Genesis took the win by five points.
The Badgers took the third match making it 2-1 and resulting in a nail biter of a fourth set. It was a back-and-forth battle with the Jaguars finding gaps in the Badger defense. Outside hitter Helene Rae kept finding openings to score.
The Badgers dug in and worked together to win the fourth set and the match 25-23.
Asha Abubakari had two solo blocks and 13 kills and Rae had 12. Hailey Kelsey had five aces and Braylyn Bayer had four.
Emma Lucas had seven digs and 26 assists. Kimberly Lucas had five digs.
Head coach Cynthia Cummings said that the Badgers hadn't played the Jaguars in about two years and were not that familiar with the program and their game strategy.
"I kept telling the girls that regardless of the other team, we have to play our game and run our offense, our tempo and the things we can control," she said.
She said they are continuing to work on a quicker offense and so are putting a lot of emphasis on passing to the setter. They are also working on communication in order to have quick options on offense and defense.
Volleyball is still working on their starting six and player positions with their eyes set on state, Cummings said.
In order to prepare for competition in regular season and state level, Cummings and coaching staff wants the girls to hit as hard as they can at practice.
"I tell the girls, don't go easy on each other during practice, we have to practice how we are going to play," she said. "We are going to face harder teams at state and are preparing now to get it in our mindset to not be scared of sets, servers and getting blocked."
Everything athletes do in practice is with the thought of state in mind, she said.
BF: 25-9, 20-25, 25-17, 25-23.
Recent Headlines
---