Charly Drechsel, 86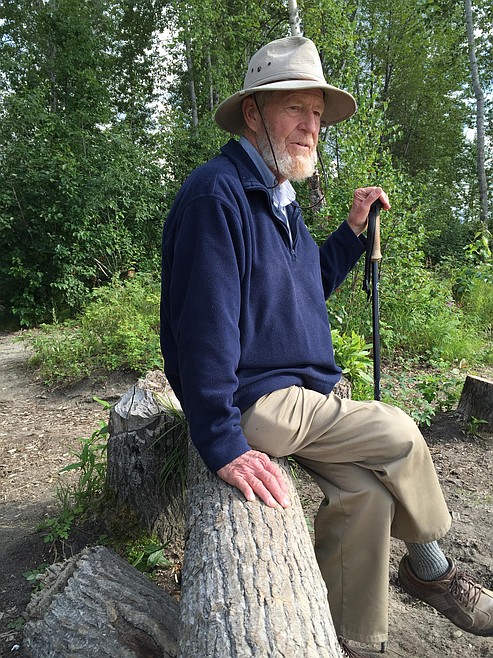 |
September 22, 2022 1:00 AM
If you knew Charly Drechsel, you likely learned something from him. A true passion for helping bring understanding about life and the world around him fueled a lifelong journey of sharing knowledge with others. His classroom wasn't limited to the halls of a traditional school, where he taught for many years, but also extended to his family's dinner table, his church study groups, community boards, volunteer work and wide circle of friends throughout his life. Curiosity and wonder shaped Charly's daily life, and he could often be found reading a book, especially during the last decade or so of his life when he had more quiet time. He never stopped seeking more knowledge and completed more than a dozen Great Courses during the past few years.
Quiet isn't a word that defined his life, however. Growing up in the Big Apple, Charly was drawn to wild places. From camping, canoeing, hiking and skiing in the woods of the northeast with his buddies, wrestling a bear out of his car, landing a plane in some trees, and moving his family halfway around the world to live in the tropical jungle, Charly sought to experience the natural world and immerse himself in it. A large part of the fun of knowing Charly was to hear him recount the stories of his many adventures.
A deep belief in God shaped Charly from a young age, and the strength of his faith carried him through his whole life. A choice to follow a spiritual calling to teach in Seventh-day Adventist schools changed the course of his life; that decision led to Charly meeting Karen, and as they say, the rest is history. Fifty-one years of marriage, three children and five grandchildren are only part of what Charly leaves behind. His legacy of learning lives on in the countless students he helped in his classrooms over the years.
Charles Nikolas Drechsel was born on Aug. 10, 1936, at Bethany Deaconess Hospital in Queens, N.Y., to Elise and Karl Drechsel. His parents had both immigrated from Germany in the 1920s. From an early age, Charly helped his dad in the roofing business. At the age of 5, he started climbing fearlessly onto roofs to do estimates with him. Charly grew up speaking German and didn't learn English until he started kindergarten in a New York public school. He first enrolled in a Seventh-day Adventist school at the age of 8, when his mother became a church member. He usually rode the subway to school with his friends. He graduated from Greater New York Academy at age 16 and was accepted to New York University, where he graduated with a Bachelor's of Science in mechanical engineering.
After graduating from NYU, Charly was recruited by the U.S. Department of Energy to work at the energy lab in Ohio. While at the Department of Energy, he subcontracted with the National Advisory Committee for Aeronautics, the predecessor to NASA. Later, Charly accepted a job in Idaho Falls at the Idaho National Laboratory, where he traveled the western U.S. and fell in love with the Idaho landscape.
Eventually, he moved back to New York to work with childhood friends in the fur business. In 1967, the Greater New York Conference was looking for teachers for the Long Island SDA Elementary School, and Charly agreed to teach math and science to the middle grades. In 1968, at the conference office, he crossed paths with an administrative secretary — Karen Altman. He and Karen dated for three years, enjoying musical theater productions like "Fiddler on the Roof" together. They were married Aug. 1, 1971, at the German Brooklyn Church.
A year later, their first daughter was born. Two years later, they added a second daughter. Three years after that, a son arrived.
Charly moved his family away from New York City in 1973 to Missouri and then Massachusetts where he taught at Sunnydale Adventist Academy and Pioneer Valley Academy. In 1981, they moved to Sierra Leone in West Africa where Charly taught at Yele Secondary School for four years. Then they moved to Masanga Leprosy Hospital where the family was based while Charly served as the director of the Adventist Development and Relief Agency for the West African Union. In that position, he traveled to many West African countries to manage development projects. He also designed a hydroelectric project to supply electricity and clean water to the town of Yele. This project was finally built nearly 20 years later after receiving funding from various global sources.
In 1987, the family moved back to the United States to upstate New York where Charly worked at Union Springs Academy. Several years later, another move took them to Alabama where Charly taught at Pell City Junior Academy. He then finished his official teaching career in Nebraska at Platte Valley Academy.
In 2003, Charly and Karen retired and moved to Bonners Ferry, Idaho, where they built a house on three acres of undeveloped land. Charly designed and helped build the house with his brother-in-law and son-in-law. For nearly 20 years, Charly and Karen lived out their retirement in their chosen paradise. They planted their property with multiple gardens, trees and flowers. Charly served on the board of Cabinet Mountain Water Supply and helped implement a master plan for meeting the water needs of a growing community. He also continued teaching at Sandpoint Junior Academy and North Idaho Community College.
In 2022, Charly and Karen moved to Nampa, Idaho, to be closer to their son and to health care services. Charly passed away with his family at his side on Sept. 13, 2022, at St. Alphonsus Medical Center in Boise, Idaho.
Charly is survived by his wife, Karen; his sister, Irm; his children, Hanna, Inga and Kurt, and their spouses; and five grandchildren.
The family is planning a celebration of Charly's life at a future time. In remembrance of Charly, the family asks that those who wish to express sympathy consider making a charitable donation to the Adventist Development and Relief Agency.
Recent Headlines
---