Moyie Dam resurfacing project nearly complete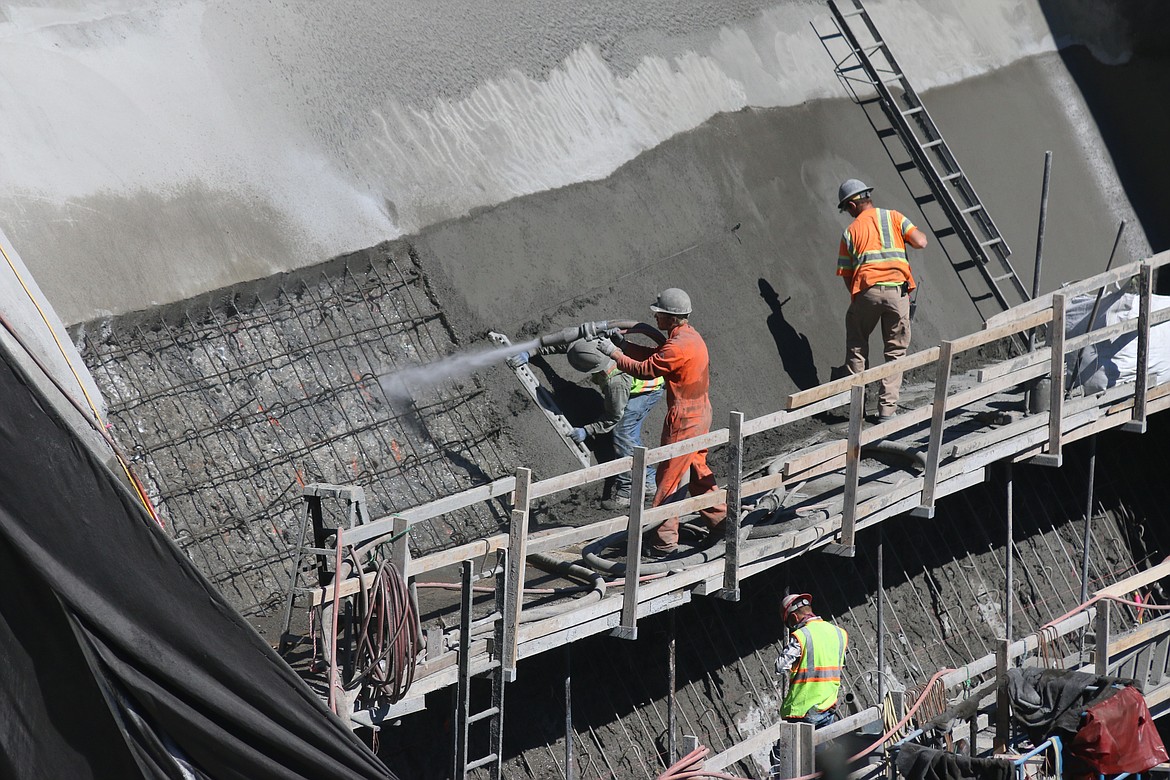 Repair crews and nozzelman spraying concrete over rebar to resurface the Moyie Dam in sections.
(Photo by: EMILY BONSANT)
BONNERS FERRY — The Moyie Dam spillway resurfacing project is nearly complete.
Mike Klaus, city engineer, said that the dam, completed in 1948, needed repairs to the face of the structure after 70 years of deterioration. Last fall, projects to resurface the west spillway, west wall and center wall were completed. In some places, anywhere from six inches to almost a foot and a half of new concrete was removed and replaced on the spillways.
Last year, Klaus said crews got to the center wall. Now they have turned their efforts to the east side of the spillway. While Klaus said the project was projected to be done in November, he predicts it will be completed ahead of schedule. Demolition of the east spillway began the first week of August.
Klaus believes this resurfacing project will expand the dam's life for at least another 70 years.
City Administrator Lisa Aliport told the Herald in November 2021 that repairs to the city-owned dam were needed to keep it operational and for Bonners Ferry to keep its license in good standing with the Federal Energy Regulatory Commission. The project was funded by a $4.125 million bond which passed in May 2021.
The Moyie Dam provides 25% to 30% of the overall electricity needed in Bonners Ferry. Klaus said that if the city can keep the dam operational, then they won't have to purchase power through Bonneville Power Administration.
When the bond passed overwhelmingly in support for the improvements of the dam, Klaus told city officials that ratepayers found value in having a dam in working and operational use. He said in order to keep it operating, the Moyie Dam has to be maintained.
Since it is a run-of-a-river dam, its production and energy waxes and wanes per season. The goal, said Klaus, is to keep the dam operational for the next 100 years.
Recent Headlines
---