Randy Lee Mendenhall, 68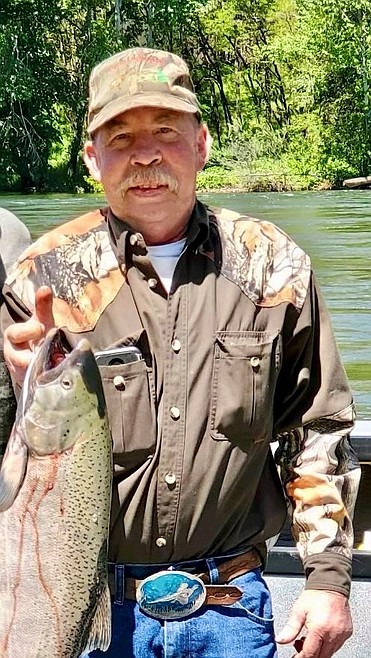 |
September 22, 2022 1:00 AM
Randy Lee Mendenhall, 68, passed away Tuesday, Sept. 13, 2022, at his home in Bonners Ferry, Idaho, with his wife, Jeanna by his side.
Randy was born Sept. 17, 1953, in Caribel, Idaho, to the late Harland E. Mendenhall and Mildred L. (Willey) Mendenhall. He was the fourth of eight children.
Shortly after he was born in Caribel, they moved to Bonners Ferry and settled in District 5 Fleming Creek Village. At an early age, Randy helped with the livestock on his family farm and worked with his parents in their family logging operation. During this time, he acquired a love for horses and the value of a hard day's work.
Randy attended elementary school at Southside, Northside and Valley View in Boundary County, Idaho. After graduating eighth grade, Randy opted to not go into high school and start working full time. During his early adult life, he worked for several logging and lumber companies in North Idaho and Eastern Washington. For a short period of time, he worked for a logging company in Flagstaff, Ariz., but he always found his way back to his roots back home in Bonners Ferry.
In the late 1980s and early 1990s, he started working more and more with his brothers. For a short period, he worked with his youngest brother Larry Mendenhall installing insulation in homes, shortly after he started working for his oldest brother's company, Beloit Logging. He found that he really enjoyed working with his brothers. He later started working with his brother, Wesley Mendenhall at Mendenhall Timber Inc. in Coeur d'Alene, Idaho. From the very start of working for Wes and his company Randy became Wes' most trusted and key employees. He worked for his brother for the next 15 years until health problems forced him to retire in 2009.
In late 1989, Randy met the love of his life Jeanna Seeman, who changed his life in great ways. He instantly realized what he had been missing in his life and it was her, and kids of his own. So, after a short courtship they were married on Aug. 18, 1990. Soon after they had a beautiful daughter, they named Krista Rae and then to follow they had Christopher Lee and then Justin Lee who completed their family. Randy and Jeanna purchased their family home off Oxford Loop in Bonners Ferry where they raised their children. There they had enough property to have a small farm where they raised several animals including horses, chickens, pheasants, and numerous other animals but Randy's horses were always his favorite. From a young boy, Randy had always loved training and riding horses and had a horse his entire life. As a young adult, he was an amateur boxer at Bonners Ferry boxing club. He also enjoyed fishing, hunting, playing pinochle and bunco with friends and family. But he loved and cherished his time with his family the most. Toward the end of his life, he fought hard to stay here long enough to see his latest grandchild Kashtyn to be born. Randy in his 68 years had a full and fun-filled life, he left us way too soon and he will be missed by the many who loved him.
Randy is survived by his loving wife of 32 years, Jeanna; along with his son, Chris (Chloe) Mendenhall; son Justin (Emily) Mendenhall; brother Beloit (Marva) Mendenhall; sister Norma Mendenhall; sister Connie (Tim) Rosco; brother Wesley (Holly) Mendenhall; sister Laresa (Kevin) Cossairt; grandchildren Aspen, Taxyn, Bransyn and Kashtyn; and numerous nieces and nephews. Randy was preceded in death by his daughter, Krista Mendenhall; granddaughter Baylee Mendenhall; parents Harland and Mildred Mendenhall; and brothers Eugene and Larry Mendenhall.
A celebration of life for Randy Mendenhall will be held at noon Saturday, Oct. 1, 2022, at the Paradise Valley Grange Hall in Bonners Ferry.
Bonners Ferry Funeral Home is caring for the family. To leave a message or memory for the family, please go to www.bonnersferryfuneralhome.com.
Recent Headlines
---