'Creativity is in my blood'
by
EMILY BONSANT
Staff Writer
|
April 27, 2023 1:00 AM
BONNERS FERRY — A local artist is pursuing her passion by opening an art studio and gallery in downtown.
Hannah Sucsy, who goes by the pen name teascarlet in her work, has done what few artists have been able to do, get her work shown nationally and abroad.
Sucsy first started going by the pen name teascarlet in her art when she was a teen.
"It means tears of scarlet, creativity is in my blood, running through my veins," she said.
The name stuck and she'd used it ever since for her music performances and in her artwork.
Sucsy said she has always been creative and used different art mediums, from verse, music and photography.
"The past 29 years I didn't do much art, but creative projects," she said.
"I was born an artist, but it wasn't until my mid-30s that I began to paint with intention," she wrote on her blog.
Sucsy is a self-taught acrylic painter drawing inspiration from the scenery surrounding her home in rural Idaho.
"My main bodies of work are dynamic abstracts, sensual flowers and ethereal trees," she said. "Viewers remark that even though they can identify and relate to the pain in my art, they feel a stronger sense of hope, healing and passion. My goal through my art is to connect myself and others to the fullness of life, both its gravity and glory."
Sucsy first dove into painting six years ago and sold her first commissioned piece shortly after.
Some of her most popular painting series focuses on dahlias across large canvases. When first asked if she'd accept a commission to paint a dahlia, Sucsy had been firm in her response.
"I answered, I don't do flowers," Sucsy said with a laugh when retelling the story.
Fortunately, the client was persistent and so, and Sucsy started painting.
"Before I was done a second person wanted a dahlia painting," she said. "People connected with it and wanted more."
She wasn't sure why people wanted flowers, particularly dahlias. The more hours and weeks she spent working on each dahlia painting, she began to realize, people have to connect to the art in some way.
The obsession with the dahlias is all about perspective and is two-fold. Sucsy plays with the perfective of these moderately small flowers, by superimposing them on large canvases which allows more details of individual petals that may not be picked up when booking at the flower. The dahlias are immortalized in the painting and beautifully on display, long after the flower that was used for reference has wilted.
People have to connect with the art in some way if they are to buy it, she said. As Sucsy has continued her painting career, she's found since works of art are so expensive due to the time and cost it takes for the piece, people aren't willing to pay unless they connect with the piece or with what the artist is trying to accomplish.
It has been an exciting April for Sucsy. On April 1, she took another step in fulfilling her dreams, by getting the keys to her own gallery and studio.
In seven months, she went from her first art show to showing her art in Paris. Recently she had her painting show at the Carrousel du Louvre, an underground shopping mall in Paris, in the same complex as the Louvre museum. She has been invited to show her work in New York City, Barcelona, Madrid and Monaco.
Suscy said she is now marking art full-time, whether it is in the form of painting or photography. She hopes the gallery will be a place people will want to be.
Teascarlet Fine Art also offers prints and other merchandise displaying her works of art.
Spring hours are Monday through Saturday 10 a.m. to 5 p.m, with evenings to be added.
For more information, visit teascarlet.com or follow her on social media.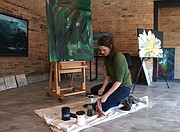 Recent Headlines
---