Hazadovac new board chair at BCH
|
January 12, 2023 1:00 AM
BONNERS FERRY — After Elden Koon stepped down as the Boundary Community Hospital Board chairman, Paul Hazadovac was appointed to the role.
Koon has been a member of the board since 1995 and has been the Chairman of the Board since 2001. Elden was presented the Trustee of the Year Award for 2021 by the Idaho Hospital Association.
"It has been my privilege to serve as the chairman of the board for over 20 years," he said.
Koon is a prominent member of the community and has volunteered in the community for many years. He has served as the commander of the VFW, as a volunteer for the EER program at the VA Hospital, and at the Volunteer Center.
One of his major accomplishments was starting the volunteer ambulance service. A retired Marine, Koon served in Korea and earned the Purple Heart and Silver Star medals. Koon served for many years with the Border Patrol working as an immigration officer, district immigration examiner and district deportation officer.
He has made many contributions to the community and the hospital for which BCH officials said they are very grateful. He has been a huge asset to the hospital and will continue to serve on the board as vice chairman.
Hazdovac was appointed to the board in 2006 and has been the vice chairman since 2010.
Hazdovac has served the community as the foundation chairman of the Rotary Club, co-chair of the Kootenai River Ride, and has worked for hospice for the past nine years. He has a master's degree from Golden Gate University in San Francisco.
He is retired from Wells Fargo Bank where he worked in various positions in the company from business banking, insurance and mortgage, to retail banking for 26 years.
"[Hazdovac] has served as the head of the board of trustees' finance committee for the hospital, and we look forward to having him serve the Board as their Chairman," BCH officials wrote in a press release.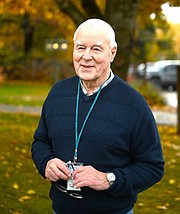 Recent Headlines
---