Badger girls take first at Newport Invite
by
EMILY BONSANT
Staff Writer
|
January 16, 2023 2:45 PM
NEWPORT — Badger girls wrestling took first place at an all girls wrestling tournament in Newport, Wash., on Jan. 14, with all girls placing in the top two.
Badger girl wrestling has taken first at every tournament they have competed in this season. The Badgers only lost two matches in the tournament, one was a Badger versus Badger match up for first and second place.
"The girls keep surprising us and get better and tougher," said Bonners Ferry head coach Kevin Campbell.
One of the 19 other teams at the tournament had nine girls. Campbell said he didn't know if the Badgers could win the tournament with only four wrestlers.
"Two-thirds into the tournament I looked up the scores and realized we were in first place," he said.
Neveah Therrien (105, 10-2), a freshman, took first for the Badgers over Joshua-Lynn Jager, senior of Republic Curlew, by fall at 4 minutes. Therrien won her last two matches by pin.
"They were not easy matches," Campbell said. "They were close, tough matches that went into the third round. Neveah stepped it up and got it done."
Savannah Rickter (155, 12-0), a junior, took first. Badger Lindsey Onstott (155, 10-7) was also in the bracket and took second place. Rickter and Onstott defeated second and fourth placers Skylar Thornton and Kayliani Davis of Rogers High School in Spokane.
Rickter won by fall against all her opponents in 21, 32 and 41 seconds.
"She dominated her weight class," Campbell said.
Aubrey Wells (135, 9-7) took second place.
"Aubrey continues to get better. She had a good tournament and made it to the finals, taking second to a tough girl at the end.
This weekend Badger girls wrestling will be competing in an all woman's wrestling tournament in Othello, Wash., touting a 32-woman bracket.
"The tournament is larger than Idaho girls state tournament," Campbell said.
He expects there to be teams with 10 to 12 girls and don't expect the Badgers to win overall with only five girls.
"But we are going to battle. I told the girls don't focus on the team score, but your performance," he said.
Girls team scores: 1, Bonners Ferry 75.5; 2, Rogers (Spokane) 64.5; 3, Deer Park 45; 4, Republic Curlew 41; 5, Wilbur Creston 30; 6, Liberty (Spangel) 24; 98, Lakeside (9 Mile) 22; 9, Mark Walker 21; 10, Sandpoint 17; 11, Jenkins 16; 11, Reardan 16; 13, Mead 12; 14, Tekoa 9; 15, Riverside High School 8.5; 16, Colfax 6; 17 Davenport 3; 18, Kettle Falls 2; 19 Galfield-Palouse 0.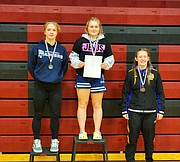 Recent Headlines
---