Boys beat Kellogg in final minute, defeat Lions and Knights
by
EMILY BONSANT
Staff Writer
|
January 26, 2023 1:00 AM
BONNERS FERRY — The Kellogg (12-4) and Bonners Ferry (13-1) rivalry was on full display at the Jan. 24 match up, with three Badgers fouling out and Kellogg's Kolby Luna dropping a monstrous three-pointer to make it 54-51 with 1:30 left on the clock.
The Badgers responded by driving to the hoop, drawing the foul and getting to the free-throw line. With 1:30 to go, Eli Blackmore, Charles Henslee and Riley Petesch got to the free-throw line and gave the Badgers the points necessary to win 63-53.
Bonners Ferry head coach Nathan Williams said the goal coming into the night was to limit the Luna brothers to 15 points. Riply Luna finished the night with 22 points and Kolby had 20.
Ridge Williams and Eli Blackmore led for the Bonners Ferry in scoring with 11 points a piece.
"They had big shots and hit the hole hard, but we have to do a better job on defense," he said. "I thought Kellogg did a good job being scrappy and getting loose balls."
He said he was proud of the Badgers for keeping their composure with a three-point game in the end.
He added he was impressed with Eli Blackmore's two threes in the fourth quarter, and Thomas Bateman's pulled up jumper. In addition, he said helping the Badgers were Ridge Williams in the third quarter with his defense and offense, and Asher Williams who stepped up to play point guard.
"Thought tonight we'd be able to get the ball down low but didn't have success with it tonight," Williams said.
"Our press breaker was better tonight and there were opportunities for layups and good looks at the basket," he said.
The Badgers are preparing for the biggest game of the year, the Backwoods Brawl against Timberlake at Spirit Lake on Friday. Boys play at 5:30 p.m. and girls play at 7 p.m.
Bonners Ferry 14 9 21 19 – 63
Kellogg 8 16 9 20 – 53
Bonners Ferry: R. Williams 11, E. Blackmore 11, Henslee 7, Petesch 7, A. Williams 10, Th. Bateman 4, Hammons 0, Tr. Bateman 3, Schulte 0, B. Blackmore 10.
Kellogg: Miller 4, Watroh 3, R. Luna 22, K Luna 20, McLean 1, Coburn 0, Maclosec 2, O'Neal 0, Robinson 0, Hendrix 1, Taylor 0.
Badgers win Battle of the Border
EUREKA — Badger boys basketball won the Battle for the Border against the Lincoln County Lions 65-33.
The Badgers had a blow out in the first half leading 36-14. Badgers Asher Williams and Eli Blackmore were hot at the three-point line, sinking three a piece.
Asher Williams led the contest with 19 points, with Eli Blackmore trailing with 14.
Bonners Ferry 14 22 10 19 — 65
Lincoln County 4 10 15 4 — 33
Bonners Ferry: R. Williams 6, E. Blackmore 14, Henslee 4, Petesch 10, A. Williams 19, Th. Bateman 4, Hammons 0, Tr. Bateman 4, SChulte 0, B. Blackmore 6.
Lincoln County: Butts 4, A. Truman 0, Casazzo 11, Bates 0, McDole 4, Sartori 5, Angela 0, Lane 0, Guainazzi 4, T. Truman 5.
Badgers come back against Lakeside Knights
BONNERS FERRY — With the score 79-75, Bonners Ferry's Trey Bateman took a defensive charge against the Lakeside Knights (7-2) from Plummer, resulting in an offensive charge, no basket and gave the Badgers the defensive stop they needed to win 87-77, on Jan. 20 for Senior Night.
Early in the second quarter, the Badgers trailed the 1A Division II Knights by nine points. After a six-point run, the Badgers and Knights were neck and neck the remainder of the contest, with the Badgers breaking away in the last minute of the third quarter and again in the fourth.
Sophomore Asher Williams scored 20 points for the 3A Badgers, who finished 20 of 28 from the free-throw line to hold off the 1A Division II Knights.
Senior Vander Brown scored 26 points for Lakeside, which had been on a four-game winning streak.
Freshman Tyson Charley scored 21 points for Lakeside, 14 were in the fourth quarter.
Junior Riley Petesch scored 18 points for Bonners Ferry.
Bonners Ferry head coach said the Knights were quick and anticipated the Badgers press.
"They had good footwork, balanced and were well coached," he said.
He said he was happy with the Badgers shooting 20-28 at the free-throw line and having players Ridge Williams and Thomas Bateman back after recovering from injuries. He was proud of Eli Blackmore's effort and senior Porter Schulte scoring back-to-back goals to start the contest.
"First quarter we did not shoot from a high percentage at the three-point line," he said. "Trey Bateman saved our bacon (with the charge) just like he did at the Moscow game, with a five-point game."
After the first quarter, the Badgers made adjustments in order to hold the Knights back.
"I kept telling the boys to keep your composure and play hard. Don't back down," he said.
Bonners Ferry 21 14 24 28 – 67
Lakeside 26 12 11 31 – 77
Bonners Ferry: R. Williams 6, E. Blackmore 10, C. Henslee 0, R. Petesch 18, A. Williams 20, Th. Bateman 14, D. Hammons 0, Tr. Bateman 7, P. Schulte 4, B. Blackmore 8.
Lakeside: Brown 26, SiJohn 7, Callahan 3, Corey 0, Hall 2, Hendrickx 18, Charley 21.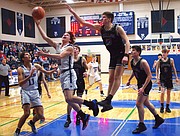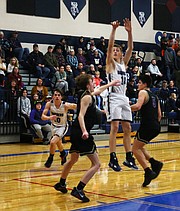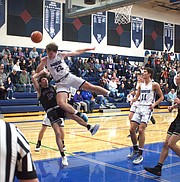 Recent Headlines
---