Backwoods Brawl: Tiger girls three-point assault
by
EMILY BONSANT
Staff Writer
|
January 31, 2023 2:00 PM
SPIRIT LAKE — You either live, or die by the three-point line. The Timberlake Tigers girls basketball team (17-2) proved just that at the Backwoods Brawl on Jan. 27, scoring 12 three-pointers against Bonners Ferry (10-9).
Jozee MacArthur scored 18 points and led the Tigers in their third quarter three-pointer assault against the Bonners Ferry girls basketball (10-9) on Jan. 27, winning the league match and spirit game 65-36.
The Badgers gained a three point advantage going into the second quarter. The team had many good looks at the hoop, but shoots rolled in and out of the basket.
Bonners Ferry head coach Travis Hinthorn said the Backwoods Brawl was an awesome environment.

"We had a great first quarter leading 13-10 and then Timberlake warmed up from the outside," he said.
The Tigers had a blow out of a third quarter scoring 23 points to the Badgers six. The Badgers weren't able to recover in the fourth quarter even though they scored within one of the Tigers.
"They shoot more threes than any team we face," Hinthorn said. "They made more threes than two pointers."
The Badgers face Timberlake for Districts next week. Hinthorn said the Badgers need to use that time to focus on defending three point shooting.
Asha Abubakari led the Badgers with 17 points and 17 rebounds. She attacked the hoop in the fourth quarter scoring eight points in back-to-back possessions.
Intermountain League Districts between Bonners Ferry and Spirit Lake are scheduled for Feb. 6, 8 and 9. The top seed hosts.
SPIRIT LAKE 10 19 23--65
BONNERS FERRY 13 5 6 12--36
Spirit Lake: C. Soumas 6, Dickinson 8, Young 12, Nelson 3, MacArthur 18, Simpson 0, S. Soumas0, Needs 3, Miller 12, Chase 3.
Bonners Ferry: Petesch 0, Kimball 0, Pluid 4, Blackmore 4, Abubakari 17, Baiseden 0, B. Bayer 6, Sumpter 5.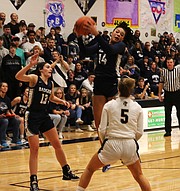 Recent Headlines
---