Williams brothers lead at Backwoods Brawl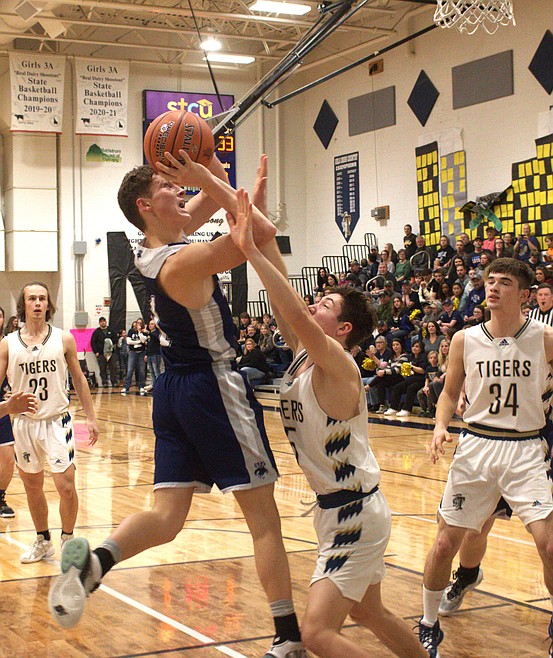 Ridge Williams attacks the basket against Timberlake on Jan. 27 for the Backwoods Brawl.
(Photo by: EMILY BONSANT)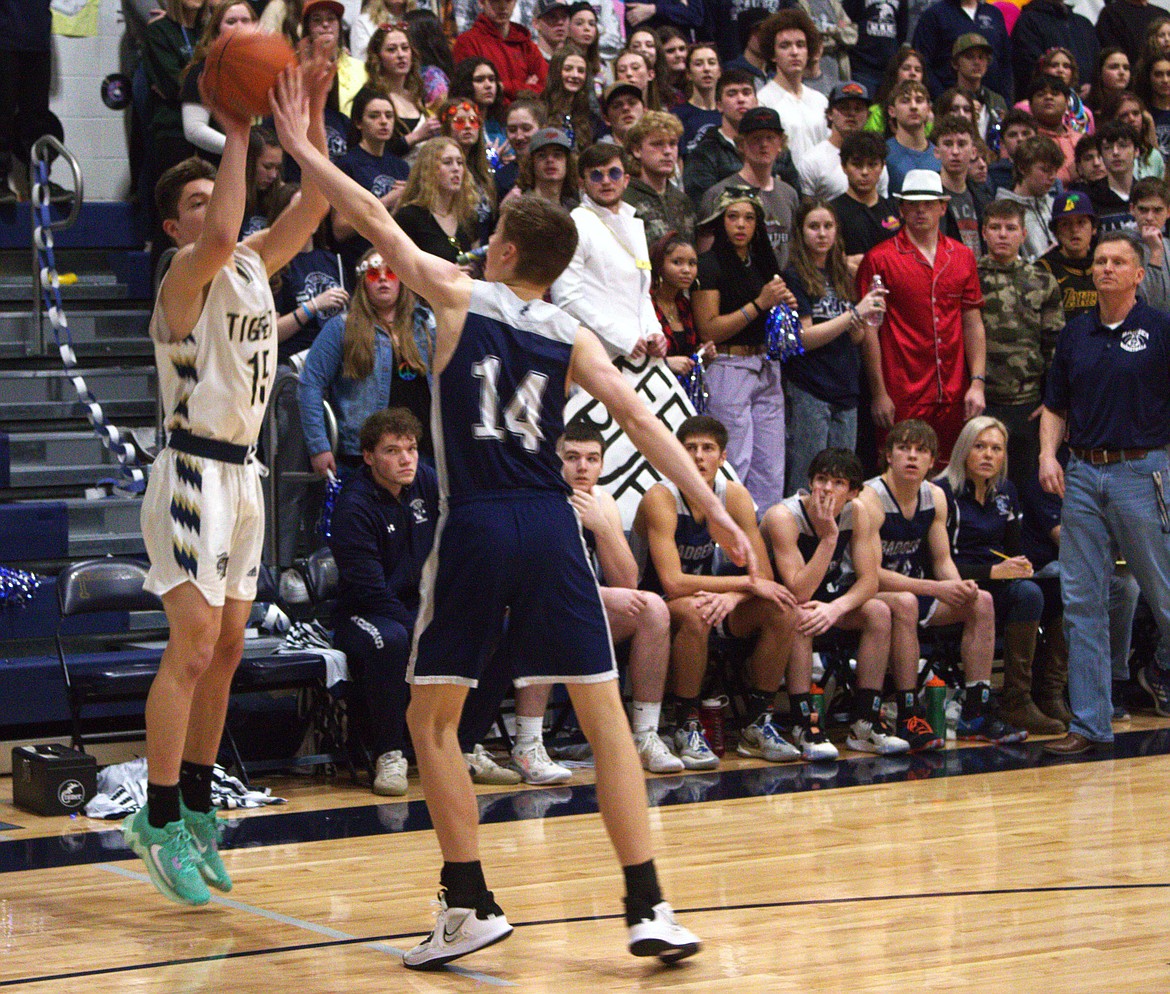 Thomas Bateman goes to block a shot.
Riley Petesch with a block.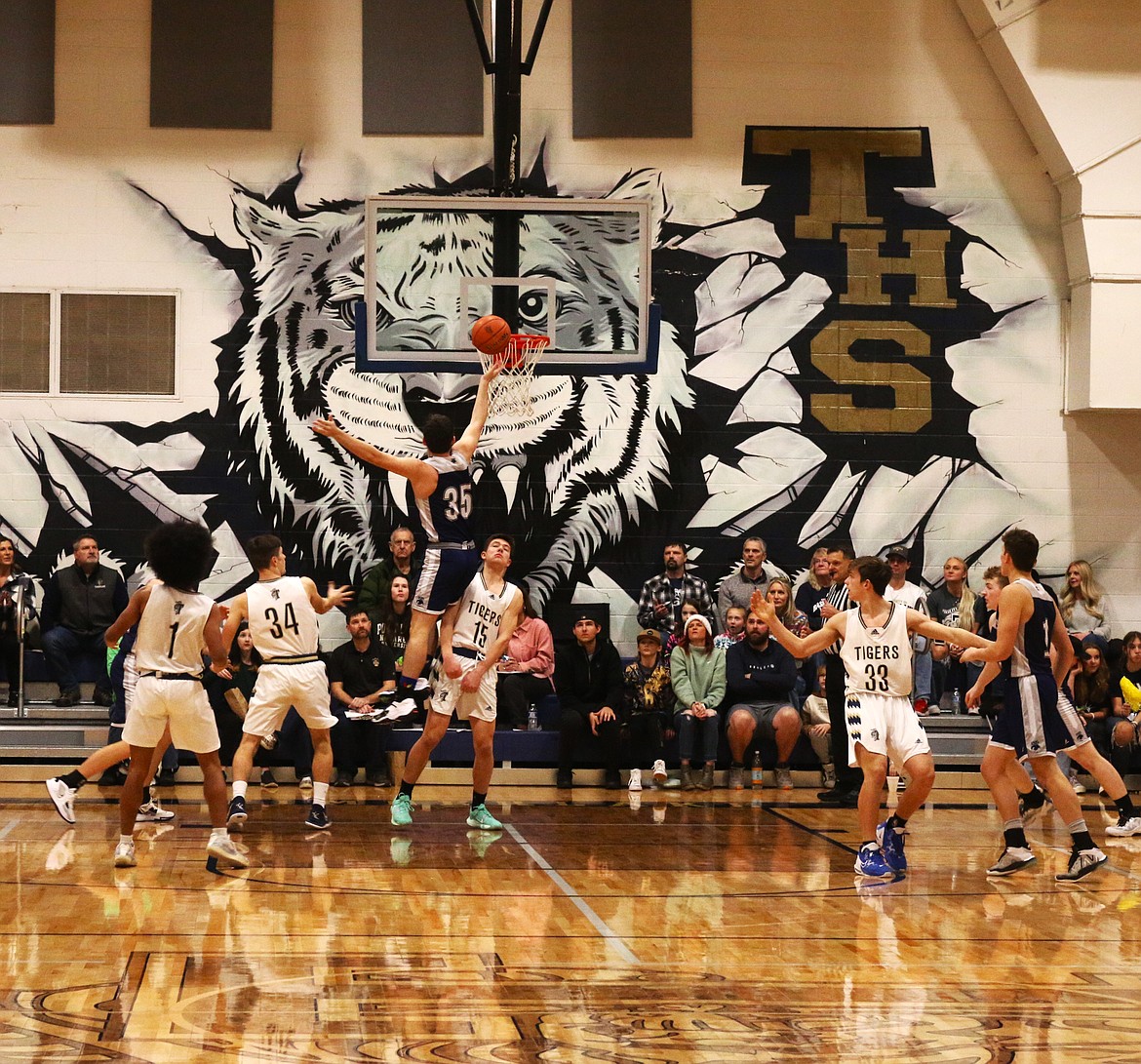 Braeden Blackmore with a layin.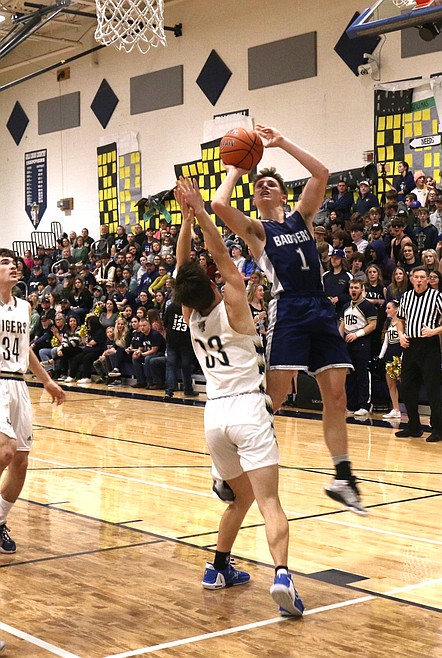 Ridge Williams with a jumper.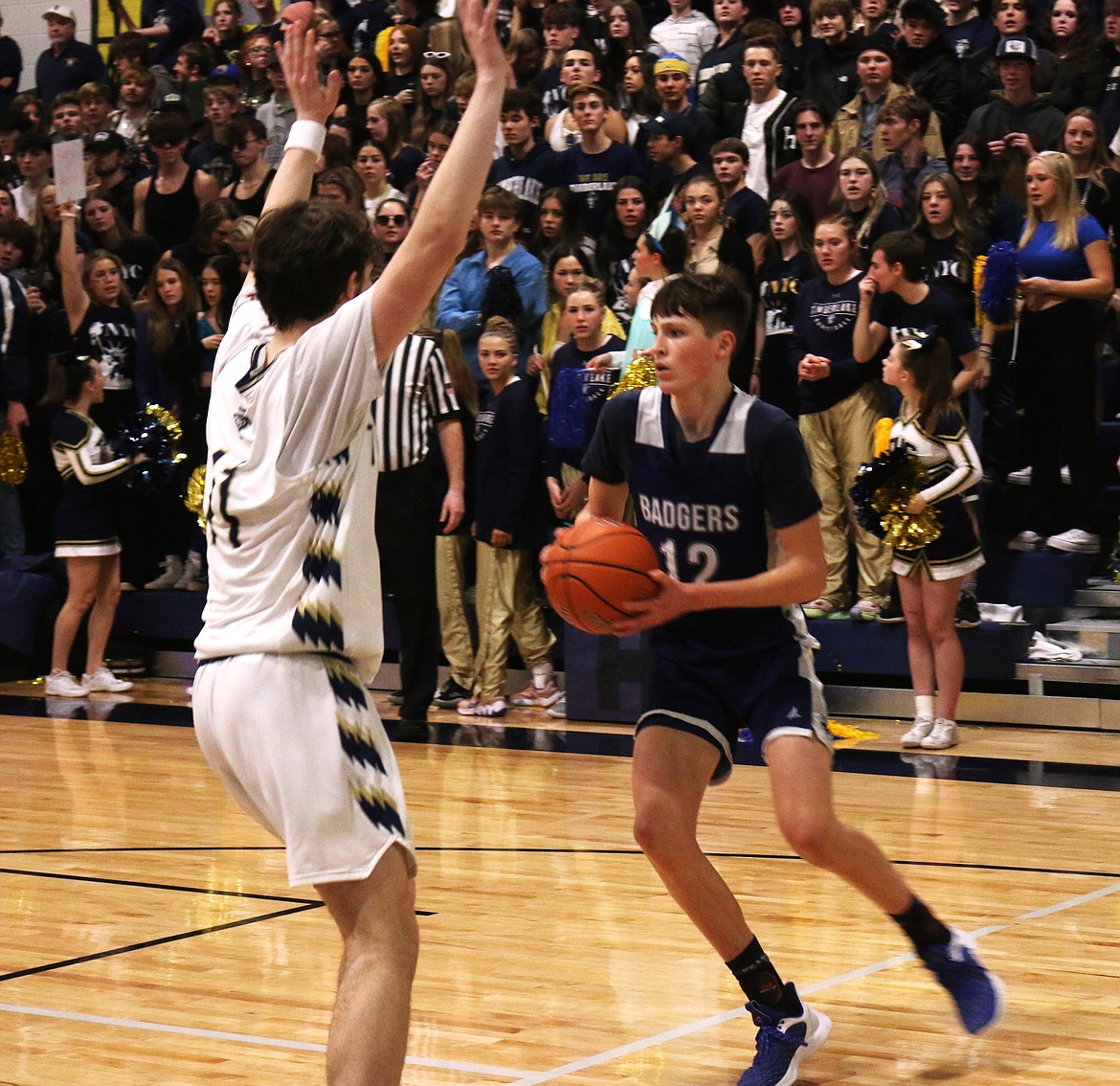 Asher Williams drives to hoop against the Timberlake Tigers on Jan. 27 for the Backwoods Brawl.
Previous
Next
by
EMILY BONSANT
Staff Writer
|
January 31, 2023 4:15 PM
SPIRIT LAKE — Badgers Ridge and Asher Williams led the contest with 25 points a piece giving Bonners Ferry (14-1) a league win against the Timberlake Tigers (6-10) and a victory at the Backwoods Brawl, a new spirit competition between the two schools on Jan. 27.
The first half was a neck-in-neck contest against the Badgers and the Tigers with Bonners Ferry down 36-33 at half time.
Timberlake racked up fouls early on and sent the Badgers to the free throw line seven times in the third. The Badgers were 13 for 14, with Ridge Williams shooting six for six, and Asher Williams shooting five for six.
Around the three minute mark, the Badgers pulled away from the Tigers after executing off fast breaks and led by 15 going into the fourth quarter. The Badgers kept up the pressure and although both teams scored 19 in the fourth quarter the Badgers kept their lead of 15 taking their first league win against Timberlake 79-64.
Bonners Ferry head coach Nathan Williams said he was very impressed with Timberlake's three point shots and how the Badger kept their composure even in the fun atmosphere of the spirit competition.
"I told the boys before the game, if we can rebound and play defense, limit our turnovers and make lay-ups, we will win," he said. "First half we didn't do that. We didn't take care of the ball and we couldn't make lay-ups."
He said at half time the Badgers calmed down, played their style and mixed in defenses.
"I love the depth of our team. Any given night someone else can be our leading scorer," he said.
When it comes to being lead scorer, Williams said the team and he don't care who that player is.
"It's a great feeling to have team first basketball. They get along great, and cheer for each other. I love the team and the family we have," he said.
Boys basketball plays the Lakeland Hawks tonight at home, with JV at 5:30 p.m. and varsity at 7 p.m.
BONNERS FERRY 15 18 27 19—79
SPIRIT LAKE 12 24 9 19 —-64
Bonners Ferry: R. Williams 25, E. Blackmore 11, Henslee 0, Petesch 5, A. Williams 25,Th. Bateman 7, Hammons 0, Tr. Bateman 5, B. Blackmore 4.
Spirit Lake: Olivieri 10, Dykeman 0, Jones 0, Lenz 0, McLuskie 18, Yetter 5, Vallieres 10, Meidinger 0, McDougall 0, H. Huggins 10, D. Dorman 0, V Higgins 2, McCarthyr 9.
Recent Headlines
---