BCSD retires 180 years of experience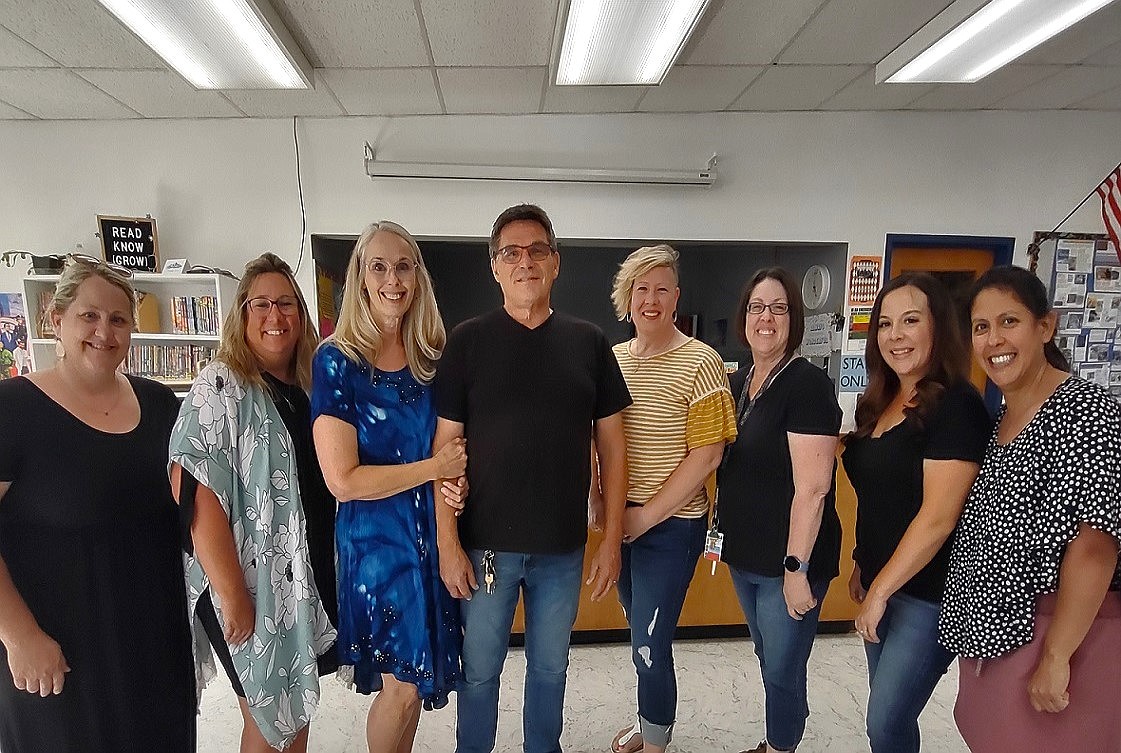 (center) Roy Hale retired from Naples Elementary (left) Marianne, his wife, and Naples Elementary school staff.
(Courtesy Photo)
The end of the Boundary County School District's year also brought the closing of several long careers in education.
It can be a bittersweet time for many when they look at ending a career as it is for these teachers, paraprofessionals, custodians, cooks and bus drivers who have served the community's students, families and community for many years.
Last school year retiring staff included longtime teacher Janis Tucker, 37 years; food service director Tammy Schneider, 29 years; Charmaine Langford, food services, 26 years; Mike Karnes, bus driver, 15 years; Leah Anderson, custodian, 12 years; and Mike Kupper, eight years — adding up to 125 years of service.
This school year will beat that total with 180 years combined service in various roles and departments throughout the school district.
At Bonners Ferry High school, Michael Cowley has taught for 30 years and Gina Brown has served as both teacher and administrator for 25 years.
Last week, BFHS students and staff members dressed up as Cowley in his well-known attire of shorts and button-down shirts. Diet Pepsi was also provided for any students who wished to give Cowley his favorite drink — he received more than 100 cans.
Mount Hall paraprofessional of 20 years, Kathy Riebli, will also bid farewell.
In the transportation department, Deanna Merrifield retires with 32 years of safely driving students to and from school, as does Sherlene Johnson retiring with 29 years. These two drivers are also known for taking on extra-curricular trips and have shown their dedication and caring for students for a combined 61 years.
The maintenance/custodial department retires Bob Overman after 28 years and Roy Hale serving Naples Elementary for eight years. Valley View Elementary school retires Sandy Moss from food services for eight years.
"We are lucky to have had these wonderful and dedicated staff for all these years and their retirements will definitely impact our schools and students," said BCSD Superintendent Jan Bayer. "They will be missed but we wish them all the best and thank them for their service."
Recent Headlines
---