BFHS graduates celebrate Badger spirit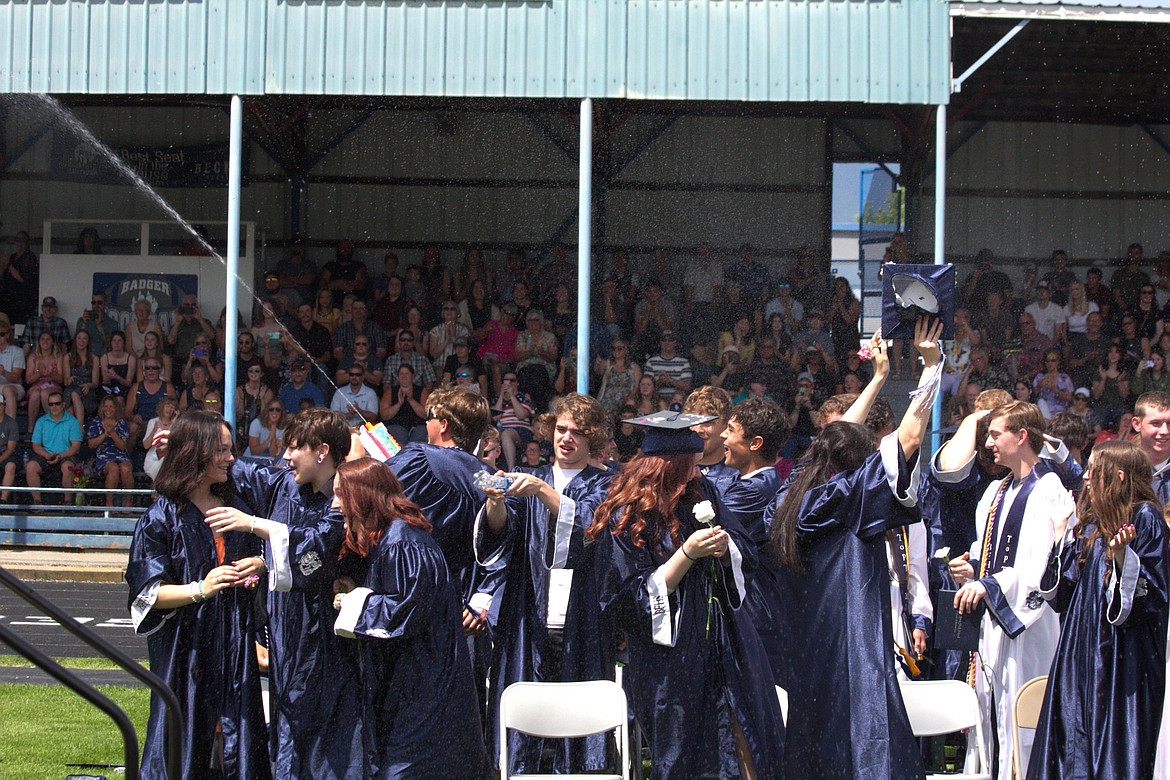 BFHS Class of 2023 celebrates graduation with squirt gun fight.
(Photo by Emily Bonsant)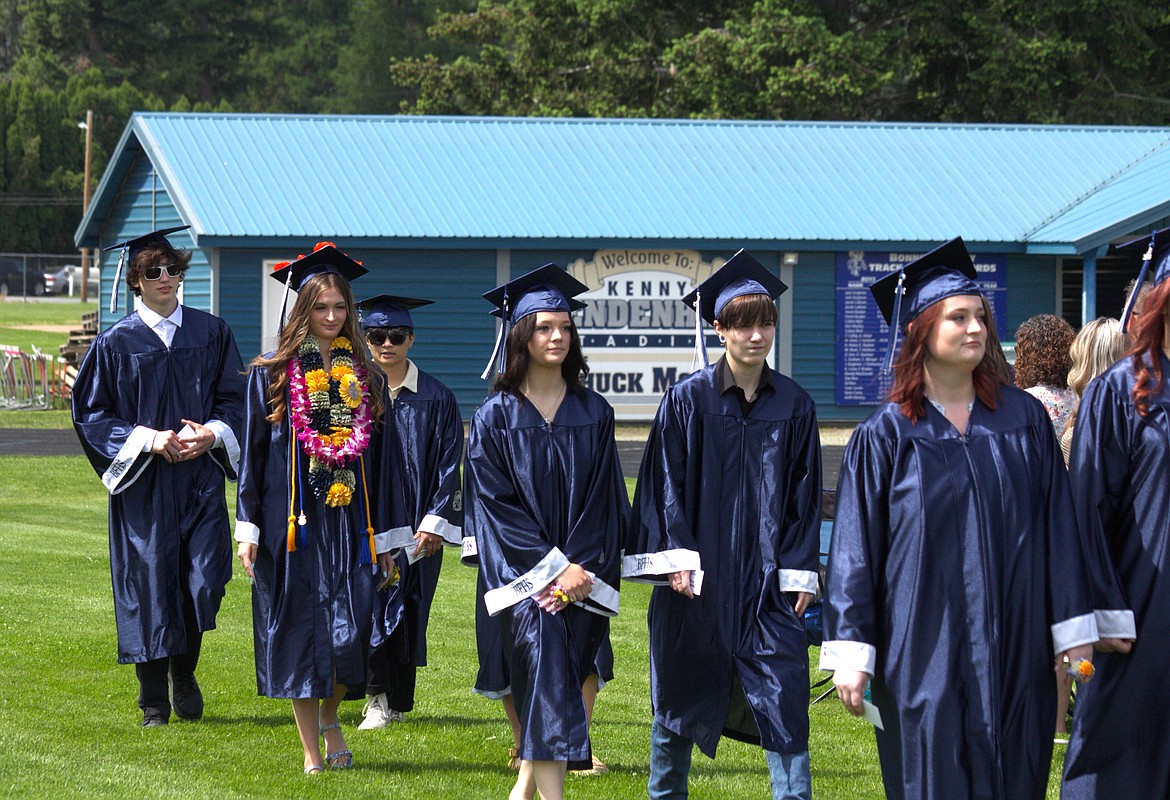 Graduates walk into ceremony.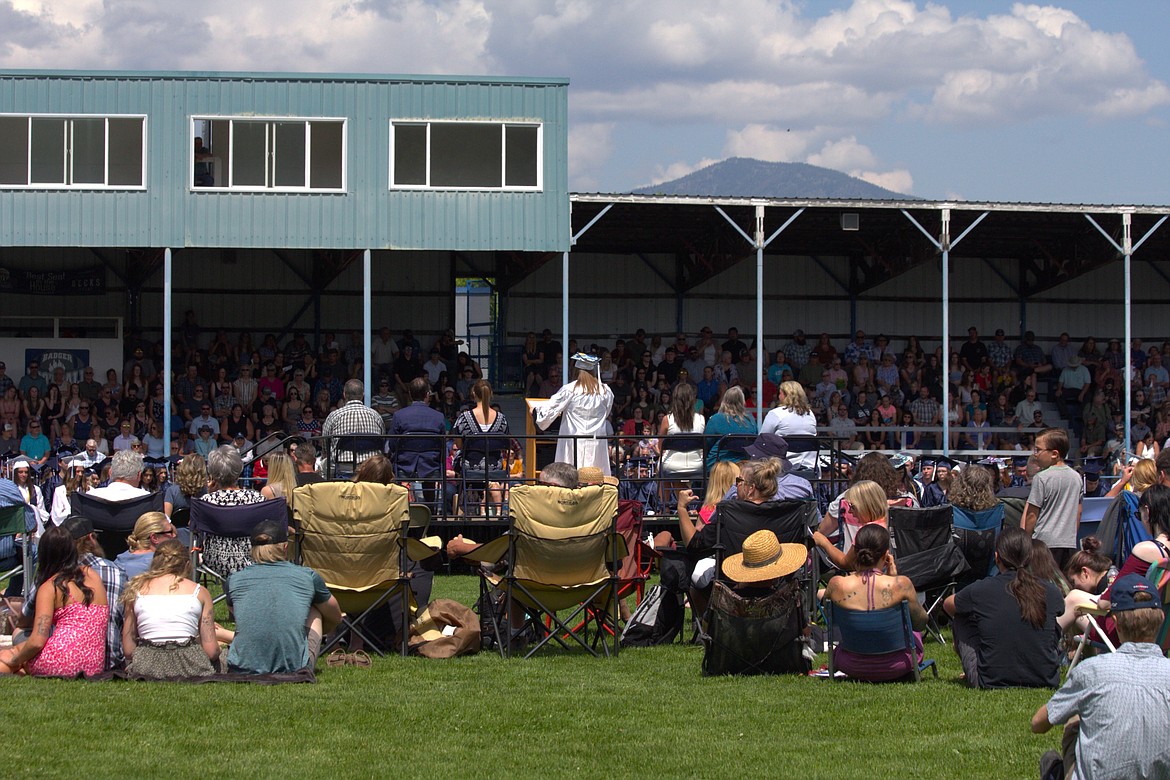 Salutatorian Kaylee McCabe address Class of 2023 and a full grand stand and packed field of attendees.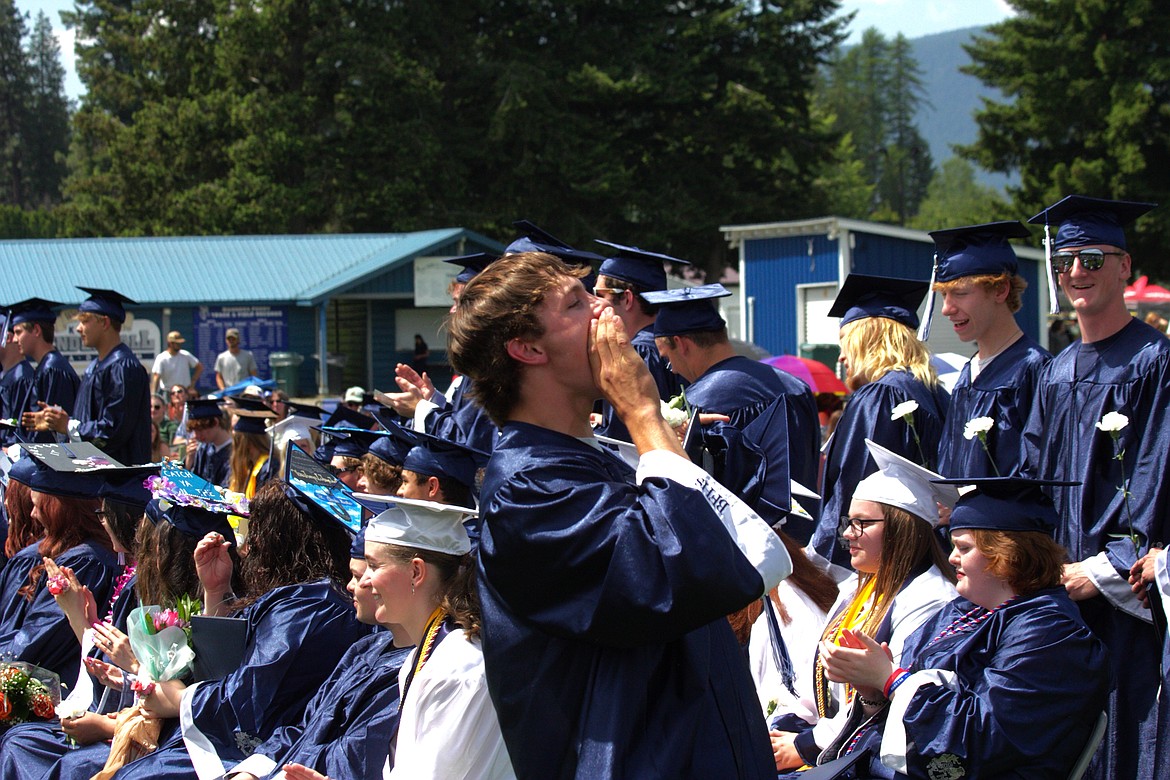 Charles Henslee gives celebratory yell after receiving his diploma.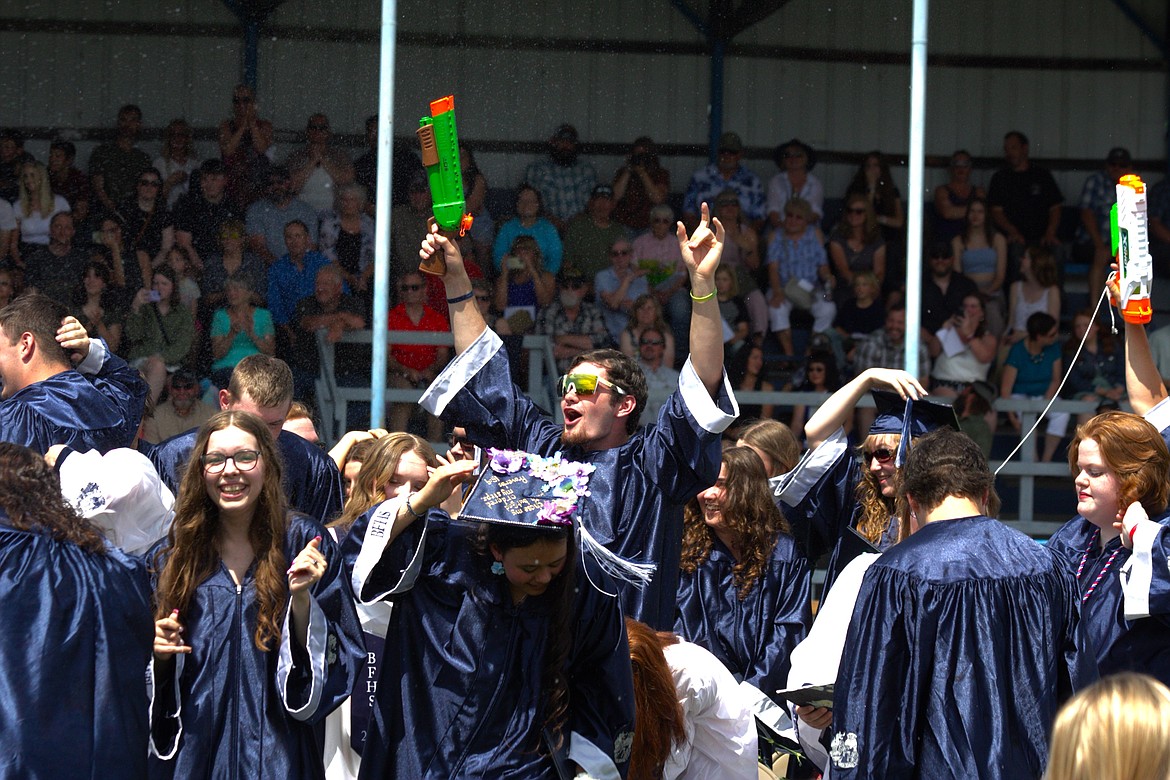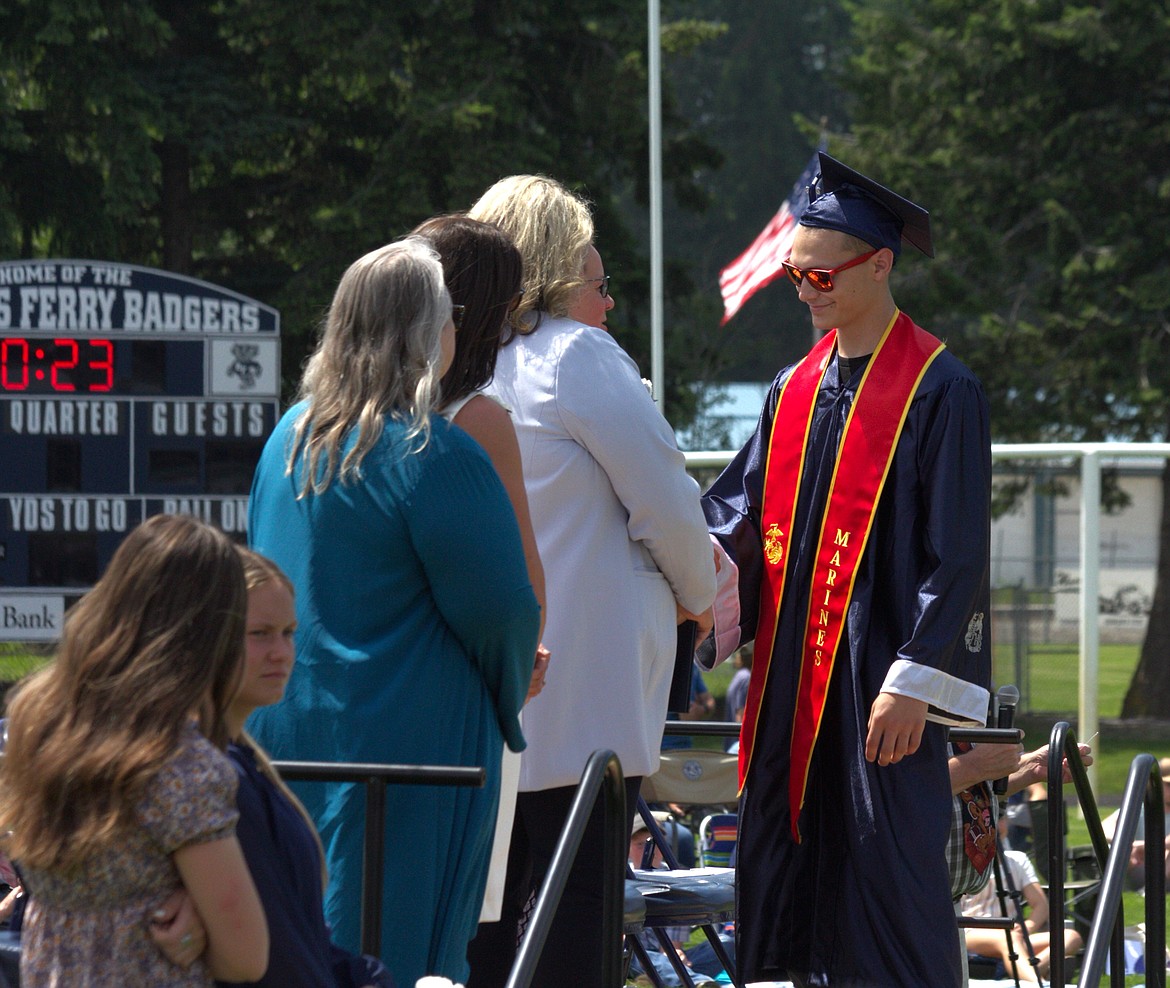 Travis Atkins receives diploma, he is to serve in the U.S. Marine Corps.
Previous
Next
by
EMILY BONSANT
Staff Writer
|
June 8, 2023 1:00 AM
BONNERS FERRY — With a lot of excitement — and a well organized squirt gun fight — the Bonners Ferry High School Class of 2023 graduated on June 3 and will always be remembered as the class that brought the Badger spirit.
"I want to take a moment to thank the parents, guardians and family members who have supported our graduates through their educational journey," BFHS Principal Lisa Iverson said in welcoming everyone to the commencement. "Your love, guidance and encouragement have played a critical role in their success. To faculty and staff, thank you for your dedication and commitment to providing our students with the best education possible."
Iverson also took the opportunity to thank graduate Travis Atkins.
"Travis has made the courageous and selfless decision to enlist in the United States Marine Corps. I am immensely grateful for your willingness to defend our freedoms and protect our values we hold dear, wishing you strength, reliance and success and you embark on this noble journey," she said.
Senior Class President Tully Reinhardt said he realized something on one of his last trips to the school before graduation.
"As I parked into the visitor's parking lot for the last time [on May 31] and walked into my home-away-from-home for the past four years, I realized something. I no longer belong here. We no longer belong here," he said. "We've had our time, we've put in our hours, now it's time to leave."
Instead, Reinhardt said, it is time to move on.
"Four years ago at eighth grade graduation, [our] class was told they had the potential for greatness, potential to change things. If they avoid bad influences that had plagued classes ahead of them, the Class of 2023 could make a difference."
The past four years, we've had our fair share of fun, but we never lost sight of ourselves and hope we never do, Reinhardt said.
"Our class has placed true leaders through every niche, corner and club in this school. Not leaders chosen due to seniority, but chosen by perils due to competency and passion," he added.
He listed the awards and honors the Class of 2023 has earned: three-time Peach Fuzzy champions, three-time Powerpuff champs, four straight Homecoming float decorating champs, undefeated since sixth grade in loudness competitions at pep assemblies, donation in robotics, first undefeated football regular season since 1975 and returned to the state playoffs after 20 years, played in boys basketball state championship game for first time, senior editors produced award winning yearbook, most competitive top 10 to come from BFHS and amassed more than $1,000,000 in scholarships for higher education.
"We don't just compete, we dominate, we lead, we work together. We also complain about everything all the time, but when it comes down to it, we set aside our differences and disagreements and we perform," he said.
He went on about shared experiences the Class of 2023 had, from homework to going through COVID-19.
"We figured it out and persevered," he said. "And it set us up for the greatest revitalization of spirit and pride the school has ever seen."
It is up to the graduates to continue the momentum of the success they have earned during their high school careers, he said and hopes the class finds true fulfillment not by just living for themselves, but by the best friend, spouse, mother, father, sister and brother that they can be.
Salutatorian Kaylee McCabe spoke on using the time given wisely.
"Like our brief four years of high school, what makes life valuable is that it doesn't last forever. What makes it precious, is that it ends," McCabe said.
She reminded the Class of 2023 to make their lives worth something, by fighting for what matters to them, no matter what.
"Even if we fall short, what better way is there to live," she said.
"As we look around here today at all the people that made us who we are, it feels more than just a celebration, it feels like we are saying goodbye, but this is not true," she said. "We carry a piece of each other into everything that we do next."
Guest Speaker Tyler Warner, BFHS history teacher, spoke and gave the graduates a meaningful advance, such as taking time to breathe and having a healthy work life balance.
Other important and more comical advice included, just because the waiter or waitress is being nice to you, does not mean they are flirting with you. He also explained a simple way to calculate tipping and that tax breaks are not a good reason to have children along with other practical and attention grabbing advice.
In her speech, Valedictorian Leah Moellmer spoke on the education she and her fellow students received. Prompted by an essay question, Moellmer wondered although students performed academically differently in the Class of 2023, did that mean they thought more or less of education.
This was a question she tried to answer in one of her high school essays.
"I truly feel some of the best lessons I've learned in my life have been taught in less obvious ways," she said, pointing to her love of the mountains being taught by her father when skiing on the bunny hill.
She learned to think of others when her mother whispered in her ear, teaching her how to pray.
"These moments shaped who I am as much as any lesson in school and I think some of you may see the same theme in your past for years," she said.
Graduates learned many lessons and skills from sports, clubs, teachers, coaches, the community and in small moments over the past four years, she said.
"Regardless of what we do, our education does not end here," she said. "Because education is more than a building or a teacher. Regardless of how much biology or earth science we remember in 10 years, the education we have gained here and the impressions made by our teachers and friends will stay with us for the rest of our lives. I know you all have the potential to do so much with the education you've gained here and the education you will receive after you leave."
After all the students walked and received their diplomas and were officially graduated, the squirt guns came out and with a hoot and holler, graduates ran to ring the victory bell south of the field for one last time.
TOP 10
Valedictorian Leah Moellmer, Salutatorian Kaylee McCabe, Thomas Hubbell, Mia Blackmore, Macy McIntrye, Ryan Beckle, Jaden Byars, Cecilia Roemer, Emma Lucas and Ridge Williams.
Following students earned Associate degrees while attending BFHS: Jaden Byars, Thomas Hubbell, Emma Lucas, Kaylee McCabe, Leah Moellmer and Cecilia Roemer.
Following students received the first Career Technical Education degrees from BFHS: Braden Baisden, Timothy Fulton, Trew Lammers, Josh Pinkerton, Marcus Regehr, Seth Rice, Bryce Rosenquist, Austin Trabucco and Cassidy Underhill.
High Honors and Honors recipients: Majasa Allred, Aliah Bard, Malia Barry, Ryan Beckle, Mia Blackmore, Porter Blackmore, Noah Bottcher, Jaden Byars, Great Callison, Zachary Callos, Lluvia Casillas, Evelynn Chaney, Jasmine Daniels, Carson Dineen, Geneva Dredge, Nicholas Eastman, Neveah Eliston, Cleo Henslee, Grace Hopkins, Thomas Hubbell, Clayton Isaac, Brooklyn Jolley, Hailey Kelsey, Julian Koehn, Trew Lammers, Emma Lucas, Dillion Mai, Jaylee McCabe, Macy McIntyre, Leah Moellmer, Maile Murdock, Roger Naylor, Travis Petersen, Joshua Pinkerton, Tully Reinhardt, Blake Rice, Seth Rice, Donald Riess, Sierra Rode, Cecilia Roemer, Porter Schulte, Cassidy Underhill and Ridge Williams.
National Honor Society Members: Malia Barry, Mia Blackmore, Evelynn Chaney, Jasmine Daniels, Thomas Hubbbell, Trew Lammers, Kaylee McCabe and Leah Moellmer.
Recent Headlines
---