Badgers advance to 3A semis at state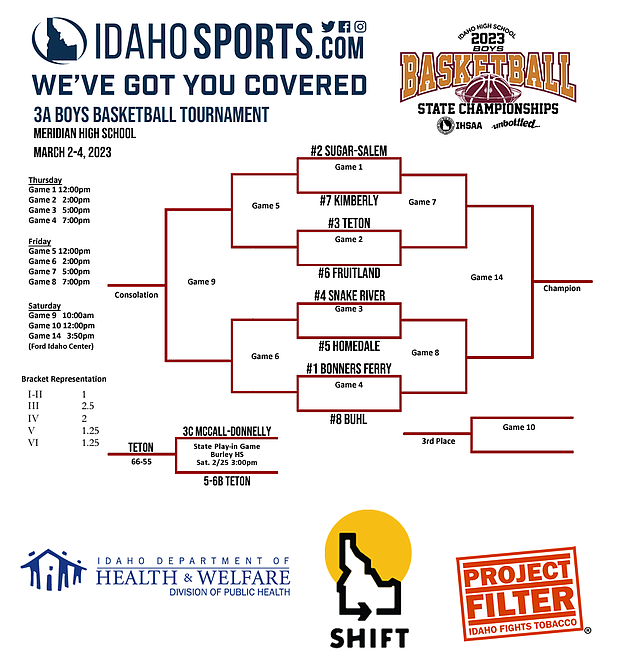 Bonners Ferry boys basketball (no. 1 seed) advances to the semifinals of the 3A Idaho State Championship after defeating Buhl 77-58 on Thursday.
(Courtesy photo)
MERIDIAN — Bonners Ferry boys basketball (no. 1 seed) advances to the semifinals of the 3A Idaho State Championship after defeating Buhl 77-58 on Thursday.
Junior Thomas Bateman scored 16 points, grabbed five rebounds and earned Idaho Sports Player of the Game honors for Bonners Ferry (22-1). The Badgers trailed the Indians for a couple of possessions before laundering into 43-21 lead at halftime.
Trey Bateman added 13 and Eli Blackmore chipped in with 12 for the Bonners Ferry.
Buhl (9-15), outscored Bonners Ferry 25-16 in the fourth quarter and was led by Tate Trevino with 14 points and Kyler Kelly and Dominic Robles Pierce with 12 each.
Snake River (no. 4 seed) defeated Homedale (no. 5 seed) 64-54 and will play in the semifinals against Bonners Ferry tonight at 7 p.m. (MST) at Meridian High School.
The winner of tonight's game will advance to the championship game on Saturday at the Idaho Ford Center.
Buhl:4 17 12 25—58
Bonners Ferry:12 31 18 16—77
Recent Headlines
---