Stolley seeking sheriff's post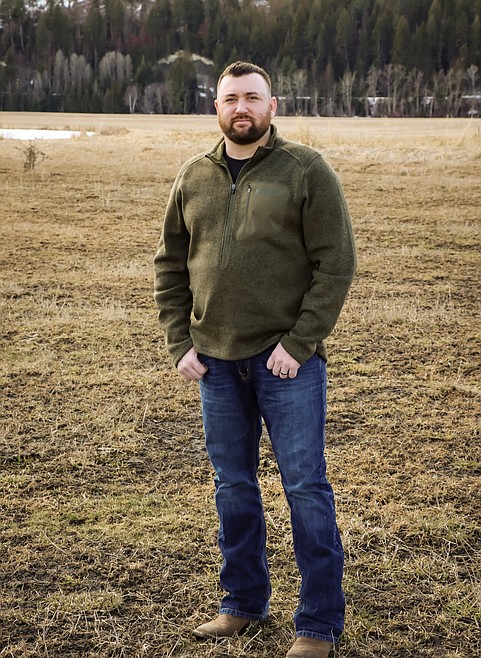 Travis Stolley.
(Courtesy Photo)
by
EMILY BONSANT
Staff Writer
|
March 30, 2023 1:00 AM
With Boundary County Sheriff Dave Kramer planning to retire, Travis Stolley seeks to run for sheriff in 2024, as a Republican.
Stolley was born and raised in Bonners Ferry and served nearly nine years in the U.S. Marine Corps. He then went on to work for the Bonners Ferry Police Department and then the Boundary County Sheriff's Department.
He said with experience in both departments he would bring a different perspective to the role of sheriff and hopes to improve relationships with the BFPD and the school district when it comes to protecting the schools.
Stolley walked away from the BCSO approximately six months ago to work his business and spend time with his family. He said the time away made him see the changes in the political climate in Boundary County.
"In the Marine Corps and in law enforcement, a strong sense of service is instilled in you, a sense of duty," he said. It wasn't long before he was back, on level one reserve status. It was the right thing to do, he said, at the right time.
For Stolley, service is a calling and he feels running for sheriff is the right thing and the right time. His time away made him realize that he needs to serve.
Stolley said his goal would be to build on much of Sheriff Dave Kramer's work, especially when it comes to improving the infrastructure of the BCSO's department and maintaining the county's jail which was first certified under Kramer.
"There are many things on my list, repairing the jail, training, recruiting and retaining qualified staff," he said.
Like many places across Idaho, Boundary County is seeing an increase in population and property values rising, which makes it difficult to recruit staff.
"BCSO has qualified staff," Stolley said. "But they are getting closer to retirement."
"We have good people in important positions," he said. "And I want to make sure everybody knows their job and that we are all doing our job right."
He wants to make sure everyone knows their roles and responsibilities and maintains accountability to their service. In addition he promises to be accessible, set high standards and work to see that expectations are being met.
He wants to provide every member of his office an opportunity for current training, to get everyone to a satisfactory standard and then focus on expanding from there. To work on staffing shortages in multiple departments across the board including the civil department, to emphasize the safety of road and detention deputies.
Stolley aims to recruit staff by providing pay steps after other training and certificates are earned.
When working at BCSO, Stolley said officers working there for more than 10 years with many extra certificates and training, were not making much more than someone right out of the academy.
"I will work with the county commissioners to improve the pay in order to recruit and keep staff," he said.
He's also concerned about the aged jail, certified for the first time under Kramer's watch.
"Kramer has done a phenomenal job with the jail and getting it certified," he said. "But the facility won't last a lot longer. There are roof issues, foundation issues, plumbing issues and more that will have to be addressed, working with county commissioners and the community."
Stolley didn't make the decision to run for sheriff lightly, he first discussed it with his family to make sure they supported the idea and then to BPD Police Chief Brian Zimmerman and Sheriff Kramer, both of whom he's known nearly all his life and both of whom, he said, encouraged him.
"I have great respect for both," he said. "I wouldn't be here without their support."
Stolley was partially inspired to run for sheriff after seeing Ben Robertson run and then elected as commissioner.
"I went to school with Ben, seeing him run made me realize it's our time. It's time people my age stepped up to serve," he said. "I still have plenty of my career ahead of me. I'm in my prime and I want to continue serving and protecting Boundary County."
"I care about my community and I'm committed to public service," he said. "I want what's best for our community. I want to continue to serve the community I and my wife grew up in. I want to strengthen the bond of trust between the community and the Boundary County Sheriff's Office."
Stolley earned a bachelor's degree in environmental science and planned to become a game warden on leaving the Marines. He served as a flight mechanic working on engine, drive and rotor systems of the AH1W Cobra as well as the UH1N Huey and the UH1Y Huey. He was a triple systems door gunner/aerial observer on the Huey, deployed to Afghanistan, with the 22nd Marine Expeditionary Unit on the USS Iwo Jima and twice to Iraq, rising to the rank of staff sergeant.
At BFPD, he has served as school resource officer and a patrol corporal. At BCSO, he served as a patrol deputy, field training officer and detective, earning his advanced Idaho POST certification along the way.
Information: facebook.com/tstolley
Recent Headlines
---