Harry Shearer, 87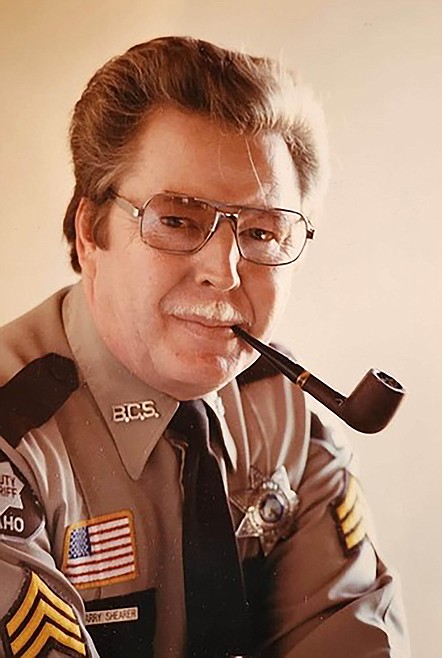 Harry Francis Shearer, 87, was called home to paradise by our Lord and Savior on April 2, 2023. He passed peacefully at home comforted by his family.
Born on Nov. 30, 1935, in Kelseyville, Calif. Born the son of John and Fern Shearer nee' Senteney. He attended and graduated from Kelseyville Union High School in 1953 and shortly after he joined the Army where he served with distinction. After, his stint in the U.S. Army. He returned home and met and married Janet. They lived in Chico, Calif., where they raised their five children.
Upon moving to Bonners Ferry in 1980, he began working at the Boundary County Sheriff's Office, while also running a successful bookkeeping business. After his wife Janet passed away in 1987, he met and married Judy Meeker Fleck on Dec. 2, 1989, the person he would spend his final years with. Before and after his retirement from the sheriff's office after 19 years of dedicated service, he found a love for woodworking. He built many structures for himself and his wife. Things such as bridges, gazebos, decks, and other buildings that have survived him and will be cherished for generations by his many loved ones. He also spent many years involved as a member of St. Ann's Catholic Church and the Knights of Columbus where he found great satisfaction in giving of his time and energy to help the community.
He is survived by his loving wife of 33 years, Judy Shearer nee' Meeker; five children, Kelly Brimhall, Valerie Brown (Mike), Doug Shearer, Staci Flory (Kevin) and Travis Shearer (Nicci); six bonus children, Joe Fleck, Jon Fleck (Sandy), Allan Fleck (Jennifer), Tony Fleck (Pamala), Cindy Calene (Melvin) and the late Bill Fleck (the late Sara). Harry and Judy were blessed with a combined 45 grandchildren, 54 great-grandchildren and three great-great-grandchildren.
So, as we come together as a family and community to grieve the loss of a wonderful man whose sense of humor and constant smile brightened even the darkest of days. We hope that we can find solace in John 16:22 which says, Now is your time of grief, but I will see you again and you will rejoice, and no one will take away your joy.
While we are comforted in the knowledge that our dear Harry waits for us in paradise, we shall soon be reunited and we will all spend our eternities together basking in the glory of our lord and savior, reunited with a gentle man that has brought such joy and happiness to us all.
A special thank you to Tim and Blanche Youngwirth who have been incredibly loyal and helpful neighbors and friends to Judy and Harry for many years. Harry's children would like to personally acknowledge with our deepest gratitude Cindy and Melvin Calene and Adam Fleck for the outstanding care and love our dad received from them, particularly over the past year.
Services will be held at 3 p.m. Friday, May 12, 2023, at St. Ann's Catholic Church.
Recent Headlines
---