Badger golf sends both teams to state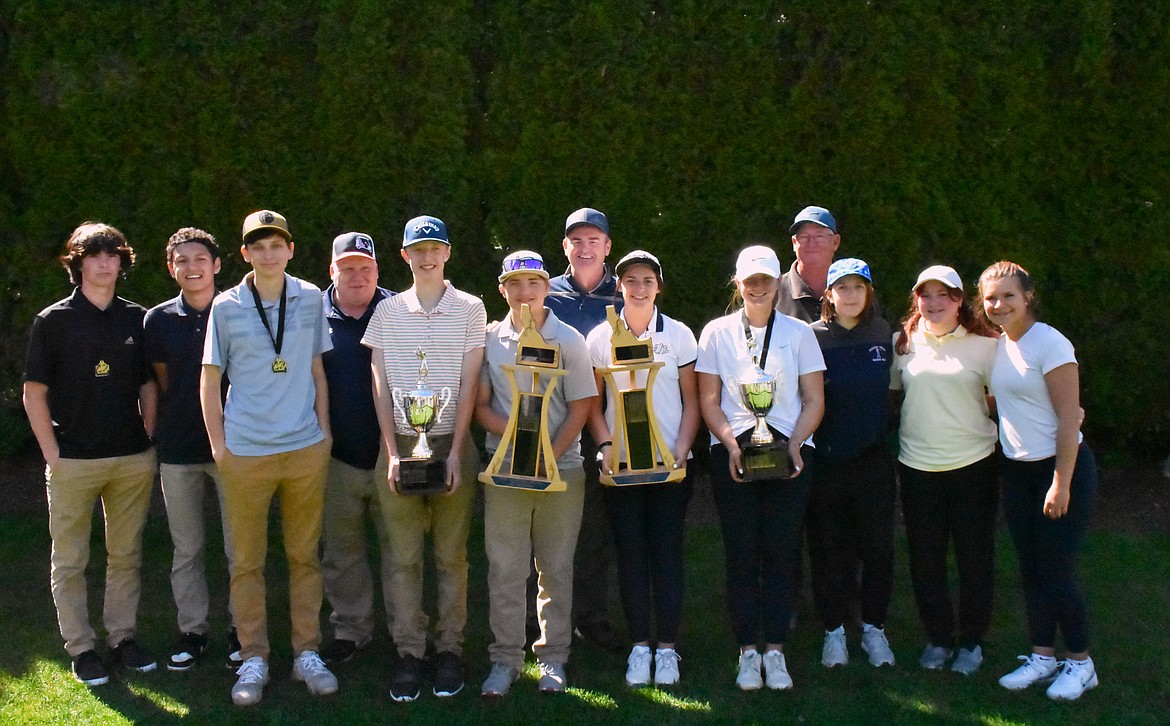 Badger golf teams off to state (left) Eli Blackmore, Chago Jimenez, Evan Reitz, Tyson Tadlock, Jacob Bliss, Mia Blackmore, Braylyn Bayer, Holly Alexander, Ava Villelli and Avery Bayer. (back) Coaches David Koon, Travis Balckmore and Ralph Lotspeich.
(Courtesy Photo Maureen Blackmore)
by
EMILY BONSANT
Staff Writer
|
May 11, 2023 1:00 AM
TWIN LAKES — Both Bonners Ferry golf teams won district titles in the two-team district qualifying for state at the 3A District 1 tournament at Twin Lakes Village, with Badger junior Braylyn Bayer winning medalist honors at 79.
Timberlake senior Colton Mendenhall qualified for state by winning medalist honors with an 86.
The Badger boys were hot on Mendenhall's tail with Evan Reitz taking second at 87 and Eli Blackmore taking third at 89, both receiving honors.
"I'm really pleased with the boys' improvement since last year," Bonners Ferry head coach Ralph Lotspiech told the Herald. "They've practiced a lot and put in the work. Their hard work is coming to fruition."
The Badgers have seen drastic improvement this year. Eli Blackmore started off strong in the season opener, shaving off nine strokes from last year's district score. Last year, at districts he scored 105; Monday, he scored 89.
Lotspiech said Blackmore and Reitz have really stepped up their game this year.
Chago Jimenez has also seen improvement, scoring a 137 last year at districts compared to the 114 he shot on Monday, shaving off 23 strokes. Tyson Tadlock has stayed fairly consistent scoring a 102 last year and 106 on this year's districts, he finished in fourth.
This is the first time the Badger boys have qualified for state as a team since 2016, when they finished fourth out of eight teams. In 2019, the Badgers boys were last represented at the state competition by Wyatt Iacolucci who finished in 22nd place.
For the girls at districts, Avery Bayer took second behind her sister at 84 strokes.
"Avery is playing really solid golf this year," Lotspeich said. "She's won a couple tournaments. What she doesn't win, her sister Braylyn does."
He added she is a tough player as she has played through a broken finger, torn meniscus and an ACL injury.
For the Badger girls, this will be their third straight visit to state, with veteran golfers senior Mia Blackmore and the junior Bayer twins seeing state for the third time.
In 2021, the Badger girls golf team made history winning the 3A State Championship. In 2022, they finished in second place with Braylyn Bayer just one stroke behind the individual winner.
Badger girl veteran golfers saw improvement compared to last year's districts as well with Braylyn Bayer improving by six strokes. Avery Bayer and Mia Blackmore stayed consistent within one stroke of last year. Holly Alexander shaved off 16 strokes.
At districts, only the top two golfers qualify to state and the top team. Both Badger teams out performed the Tigers resulting in both teams winning the district titles and advancing to state.
State is next Monday and Tuesday at Blackfoot Golf Course.
The Badgers will travel to Blackfoot on Friday, where they will stop in Dillion, Mont., and visit a nine-hole course and practice short game. Lotspiech said a golf course can't be learned in a round, and so the team will practice at the Blackfoot Golf Course on Saturday and get a feel for the ground conditions.
"We've never played this course before, but the other teams have played this course several times this season," he said.
The Badgers will play two rounds of 36 holes at state. First round is Monday which will decide the pairing according to scores for the second round on Tuesday.
BOYS
TEAM SCORES (winner to state) — 1, Bonners Ferry 396. 2, Timberlake 446.
INDIVIDUAL STATE QUALIFIERS — 1, Colton Mendenhall, Timberlake, 86. 2, Evan Reitz, Bonners Ferry, 87.
BONNERS FERRY — Evan Reitz 87, Eli Blackmore 89, Tyson Tadlock 106, Jacob Bliss 117, Chago Jiminez 114.
TIMBERLAKE — Colton Mendenhall 86, Payden DeVore 108, Zach Pasley 155, Daniel Dorman 138, Harry Hunter 114.
GIRLS
TEAM SCORES (winner to state) — 1, Bonners Ferry 401. 2, Timberlake 528.
INDIVIDUAL STATE QUALIFIERS — 1, Braylyn Bayer, Bonners Ferry, 79. 2, Avery Bayer, Bonners Ferry 84.
BONNERS FERRY — Braylyn Bayer 79, Avery Bayer 84, Mia Blackmore 106, Holly Alexander 132, Ava Villelli 151.
TIMBERLAKE — Malia Miller 93, Kirstyn Edelblute 137, Jean Olphie 147, Addie Hunter 161, Ashley Wilson 151.
Recent Headlines
---