Baseball loses berth to state, league champs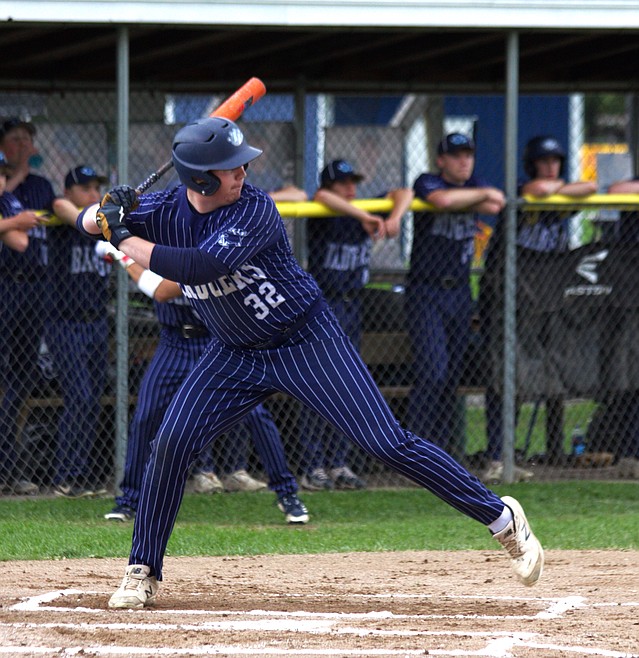 David Hammons up to bat for the Badgers in Game Two of the 3A District 1 best-of-3 series.
(Photo by Emily Bonsant)
by
EMILY BONSANT
Staff Writer
|
May 18, 2023 1:00 AM
BONNERS FERRY — After winning four of five games against Timberlake during the regular season, the Badgers knew the only three games that mattered with districts scheduled May 8-11.
After going on to win Game 2 and last Thursday, in a winner-take-all game for the district's lone berth to state, junior Grant Allaway came up big as Timberlake beat the Badgers 6-3 in Game 3 of a best-of-3 series for the 3A District 1 title.
The Badgers had two outs with runners on first and second when Timberlake won by strike out.
"Both teams battled, and our bats helped us out a little bit more today, and Grant Allaway was lights-out on the mound," said second-year coach Bryce Johnson.
Timberlake (12-12) won its first district title since 2019, and advanced to state for the first time since that season.
State is next Thursday through Saturday at Northwest Nazarene University in Nampa.
Allaway struck out seven, walked five and scattered five hits for Timberlake. He also went 2 for 4 with an RBI and a run scored.
Caden Robinett went 2 for 3 and drove in a run for the Tigers, who scored three times in the top of the seventh inning to take a seemingly safe 6-1 lead.
But not with these two teams.
Bonners Ferry (17-8), champions of the two-team Intermountain League, scored twice in the bottom of the seventh, and had runners at first and second with one out.
Allaway struck out the next batter, taking his pitch count to 109 — one short of the limit. Facing his last batter of the day, he fanned the next hitter to send the Tigers to state.
"I'm glad we didn't have to (decide who would come in for Allaway)," Johnson said. "He came out today and was just awesome."
Trey Bateman struck out seven and walked none in six innings for Bonners Ferry, and also doubled in a pair of runs in the seventh to pull the Badgers within three.
Timberlake won the first game 8-6.
"We let one slip away," said Badgers coach Tom Turpin. "We came, fought hard and let it slip away. We were four runs down and came back. Three walks in the eighth and one hit batter was a recipe for disaster. We'll get back at it Wednesday."
The Badgers went on to win Game 2 scoring eight runs in the second inning and took the win 13-3.
"Top to bottom, the defense was impressive with no errors," said Bonners Ferry coach Tom Turpin. "We played for everything today and our whole season comes down to [Thursday]."
And it all did come down to the third and final game on Thursday, May 11. The Badgers were within reach of the district title and the berth to state, but scoreless fourth, fifth and sixth inning didn't play in their favor. The Badgers batters had hits, but the many pop flies found Tiger mitts.
The Badgers (17-8) are league champions by defeating Timberlake four out of five in the regular season.
Game 3
Timberlake 002 001 3 — 6 9 2
Bonners Ferry 100 000 2 — 3 5 6
Grant Allaway and Caden Robinett; Trey Bateman, Blake Rice (7) and Teigan Banning.
HITS: TL — Wells, Armes, Lenz, Robinett 2, Allaway 2, Holly, Huston. BF — Bl. Rice 2, Tr. Bateman, Hammons, Naylor. 2B — Robinett, Allaway, Tr. Bateman.
Game 2
Timberlake 010 020 — 3 5 4
Bonners Ferry 081 013 — 13 13 0
Game called with two out in bottom of 6th inning due to 10-run rule.
Kenny Wells, Parker Holly (6) and Caden Robinett; Roger Naylor, Blake Rice (5) and Teigan Banning.
HITS: TL — Wells, Allaway, Holly, Armes, Olivieri. BF — Bl. Rice 3, Tr. Bateman 2, Th. Bateman, Hammons 2, Br. Rice 2, Banning 2, Naylor 2. 2B — Bl. Rice, Hammons. 3B — Bl. Rice.
Game 1
Timberlake 040 100 03 — 8 11 3
Bonners Ferry 002 012 01 — 6 6 2
Caden Robinett, Kenny Wells (6) and JT Armes, Robinett (6); Trey Bateman, Roger Naylor (5), Teigan Banning (8), Bl. Rice (8) and Banning, Bateman (8), Banning (8).
HITS: TL — Wells, O'Connor, Lenz 2, Robinett, Allaway, Holly, Armes 3, Olivieri. BF — Bl. Rice 2, Th. Bateman 3, Br. Rice.
Recent Headlines
---