Softball finishes season at districts
SPIRIT LAKE — The Badgers fell to Timberlake in the 3A Intermountain League district championship for the one berth to state.
Junior Acacia Pecor did a little bit of everything for the Timberlake Tigers on Wednesday.
She threw it.
She swung it.
Quite simply, she was nearly perfect.
Pecor struck out seven, allowing only a second inning walk in a 10-0 win for the Tigers, sweeping the 3A District 1 championship series against Bonners Ferry to advance to the state tournament starting next Friday in Blackfoot.
"Acacia was excellent in the circle and hitting the ball today," said Timberlake coach Casi Lupinacci. "The girls just did a good job of taking care of business."
Alycia Cameron hit a grand slam for Timberlake in the second inning.
"She's basically our second leadoff hitter and got a great swing on the ball," Lupinacci said. "That was a really big moment for us."
The Badgers finished their season at districts with a 3-16 record.
Bonners Ferry 000 00 — 0 0 2
Timberlake 045 01 — 10 9 0
Nobody out when the winning run scored.
Taylor Sumpter and Ava Fredrickson; Acacia Pecor and Logan Wash.
HITS: BF — none. TL — Dykes, Pecor 3, Grantham, Needs, Armes, Cameron 2. 2B — Pecor. HR — Cameron.
First year Badger head coach Cynthia Sumpter said it was a successful season. Last summer Badger softball formed a summer league. She said this experience gave the team the needed knowledge and understanding of the game.
She said a direct result of that was players sliding into base, understanding different hits and stealing bases in the regular season.
"They learned the mentality of the game," she said.
Sumpter said this summer with the abundance of pitchers and catchers on the team there will be a focus on learning new pitches.
Looking back on the season she said she was proud of the improvement in the girls. Against Timberlake in Game 2 of districts, the Badgers only had three fielding errors. Earlier in the season the Badgers fell to Timberlake 30-4 in five innings, they finished 0-10. A drastic improvement.
"We're competing now, not just playing," she said. "I'm excited for next year. We now have the courage to say we are a decent team."
Earlier this month softball players had a fundamentals day with Boundary County Park and Recreation little league players. Sumpter said the team enjoyed working with the young athletes and hope to continue to partner with parks and rec.
The summer league is open to incoming seventh, eighth graders and high school students. Practice starts May 22 at the high school softball field at 4:30 p.m. to 6:30 p.m. Monday, Tuesday, Wednesday and Thursdays until school is out. Athletes must bring a mitt and cleats.
This summer the Badgers will play Sandpoint, Priest River, Thompson Falls, Troy and Clark Fork.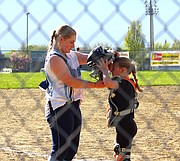 Recent Headlines
---