From the mailbag: hunting safety and archery programs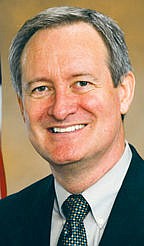 Idahoans contact me with valuable input about the issues our country faces. Concerns with the Biden Administration's efforts to defund hunting safety and archery programs at schools are among the issues Idahoans have contacted me about recently. The following is my response:
In April 2023, the U.S. Department of Education (ED) issued a memorandum stating it would prohibit the longstanding earmarked use of federal funds under the Elementary and Secondary Education Act (ESEA) from going toward hunter education and archery programs at schools. This federal guidance was based on ED's interpretation of a provision in the gun control law passed by Congress in June 2022, the Bipartisan Safer Communities Act (BSCA), which prohibits ESEA funding for academic programs that provide weapons and training in the use of those weapons to students. 
This policy would have a devastating impact on schools in Idaho and around the country that depend on federal funding for administering hunting and archery programs. I am a proud co-sponsor of the Allowing for Recreational Resources for Outdoor Wellness (ARROW) Act, which would reverse the Administration's policy by clarifying that prohibitions on ESEA funds for weapons training do not apply to funding for sports teams, clubs, training or related educational programs and activities. Additionally, in August 2023, I joined Senator John Barrasso (R-Wyoming) and 16 of my Republican colleagues in sending a letter to President Biden in opposition to the Administration's policy, noting that the more than 500,000 students certified through and currently participating in these programs learn valuable skills that make them better hunters and substantially decrease the risk of firearm-related injuries and accidents. 
Further, the statutory requirement to prohibit funding the Administration claims to be following does not exist under the BSCA, which, by contrast, provides a billion dollars to ESEA-sponsored programs that promote student health and wellness through physical activity and safety exercises. Hunter education and archery programs are undoubtedly included in this provision, making the Administration's policy a violation of congressional intent. This was corroborated by Senators John Cornyn (R-Texas) and Thom Tillis (R-North Carolina), the two Republican authors of the BSCA, in a separate letter to ED Secretary Miguel Cardona that also called on his agency to reverse its guidance.
Following pressure from both sides of the aisle, the Administration has reportedly signaled it is willing to restore funding to hunter education and archery programs, but only with an act of Congress explicitly authorizing them to do so. The text and intent of the law do not support the Administration's claims and, therefore, executive authority already exists to immediately restore this funding. Nevertheless, both the U.S. House and Senate recently overwhelmingly passed. H.R. 5110, the Protecting Hunting Heritage and Education Act. This legislation would clarify that federal elementary and secondary education funds can be used for training students in archery, hunting or other shooting sports, and the President signed this legislation into law. I will continue to work with my colleagues to ensure this legislation is properly administered.
Realizing many Idahoans may not have the chance to contact me, I post information about various issues of importance on my website, at crapo.senate.gov, as well as news releases, information about accessing my Facebook and YouTube pages and following me on Twitter and Instagram. Resources to assist Idahoans who need help with federal agencies and how to contact me are also on the website, as follows:
• Boise
251 E. Front St., Suite 205
Boise ID, 83702
Phone: 208-334-1776
Fax: 208-334-9044
• Coeur d'Alene
610 Hubbard, Suite 209
Coeur d' Alene, ID 83814
Phone: 208-664-5490
Fax: 208-664-0889
• Idaho Falls
410 Memorial Dive, Suite 204
Idaho Falls, ID 83402
Phone: 208-522-9779
Fax: 208-529-8367
• Lewiston
313 'D' St., Suite 105
Lewiston, ID 83501
Phone: 208-743-1492
Fax: 208-743-6484
• Pocatello
275 S. Fifth Ave., Suite 100
Pocatello, ID 83201
Phone: 208-236-6775
Fax: 208-236-6935
• Washington, D.C.
239 Dirksen Senate Office Building
Washington, DC 20510
Phone: 202-224-6142
Fax: 202-228-1375
The messages you send me help shape my approach to a number of important matters. Please continue to contact me and share your thoughts and ideas.
Mike Crapo represents Idaho's First Congressional District in the U.S. Senate. He can be reached at crapo.senate.gov.
Recent Headlines
---