XC State: Beckle and Steirn run for BF, elevation takes it toll for northern teams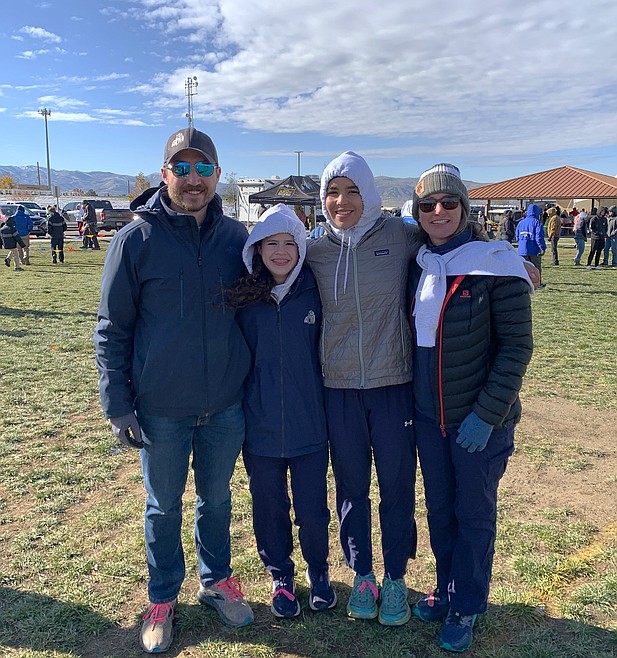 Badger cross country runners and coaches at the state championship race in Pocatello, on Oct. 28. (left) Coach Tyler Warner, Sydney Beckle, Matisyn Stiern and assistant coach Alethia Ussher.
(Courtesy Photo)
POCATELLO — Badger cross country runners Sydney Beckle and Matisyn Stiern represented Bonners Ferry at the IHSAA State Cross Country Championships held at the Portneuf Wellness Complex on Saturday.
The cold was not a major factor to the state contest, but the elevation increase from 1,896 feet to 4,462 feet*, was a major factor for the Bonners Ferry duo and northern Idaho competitors. 
* Elevation levels to Bonners Ferry is reported at 1,896 and Pocatello at 4,462, but the Portneuf Wellness Complex is on a hill above Pocatello and the elevation for the course is not known, but is higher than the listed amount.
Beckle finished 35th with a time of 21:45.92 and sophomore Matisyn Stiern finished 59th with a time of 23:17.34.
All season the Badgers have tailored workouts with the elevation change of Pocatello at the state competition in mind. This has led to the team frequenting hill repeats, anaerobic workouts and focusing on competing under cardio stress. 
Bonners Ferry head coach Tyler Warner said looking at the times of runners from north Idaho as compared to their southern opponents the elevation change took its toll on many top competitors from the north. 
By looking across state classifications and seeing 5K time increase were all due to elevation changes, runners with PRs under 16 minutes were around the 16:30 mark, this happened to Timberlake's senior Jacob Barnhart's who took fourth and fell short of reclaiming his 3A state title. 
"This shows PRs don't mean anything unless they are earned on the same course," Warner said. 
At the gun, southern Idaho runners went out fast, Warner said. The Badgers, like other state competitors, tried to keep at that pace. 
"The first mile or so, Sydney was at 17th and began falling back. She could still see the group of girls she had been running with," he said. 
Beckle finished 35th place, finishing with a pack of other runners. The difference between 35th place and 25 place was only 29 seconds. Beckle was about 42 seconds shy of 20th place, which would have earned her a state medal. 
Warner said he was not surprised by Beckel's place, because it shows the course is up to par with being a state championship course; he added that place is a testament to the competition at the state level. 
Beckle's best time this season was 21:03 at the Ben Castro Invitational at Pinehurst Golf Course on Oct. 5. Beckle won the race. 
At the District I 3A Championship she finished fourth with a time of 21:37 on Oct. 19. At the state contest despite the increase in elevation she was still about to finish under the 22 minute mark at 21:45.92. 
First year cross country runner, Stiern maintained her momentum from the past few weeks at the state championship. Stiern's best time for the season was 21:57.4 at the Ivan Benson Invite in Priest River on Sept. 21. The rest of the season Stiern timed in above the 22 minute mark. 
Considering the elevation and course difference, Stiern held her own and performed exceptionally well earning a 23:17.34 at the state contest. She beat a Timberlake and Teton runner at the finish line. 
An upset of the day was the no.1 ranked 3A girl runner Annabell Carr of Coeur d'Alene Charter taking 4th, at 20:09.70. Her PR is 18:31.2, which she earned at the Battle of the 509 in Spokane on Sept. 30. 
Carr was the front runner for most of the race, but at the back stretch of the race she was feel behind. 
Warner said watching the lead runners it was obvious Carr was hurting at the end of the race, and many other north Idaho athletes were. 
Timberlake's Vanessa McLachlan took third with 19:22.96, only a second behind second place Janyja Jackson of Sugar-Salem. 
For regional teams, Timberlake boys took third with senior Jacob Barnhart's bid for a second straight 3A title falling short as he took fourth place. Coeur d'Alene Charter boys took ninth. South Fremont won it all with Teton taking second. 
The Coeur d'Alene Charter girls also took ninth and Timberlake took sixth overall.
After the regular season, Badger boys came out to pace the state-bound Bonners Ferry runners. Warner said in the future the team could continue this practice in the future for state-bound runners. 
"There is only so much you can prepare for before the state contest," he said. "I expected the race to be tighter than the PRs data showed, but you never know how a race is going to end."
Looking to next season, Beckle will be returning with three years of state experience. Warner is looking at other races for the Badger cross country to compete in, particularly faster and flatter courses. 
Many Badgers improved throughout the season. 
"Piper Banning improved immensely," Warner said, highlighting the monstrous improvement this first-year runner had, dropping over three minutes during the season. 
Braylyn Bayer also helped this season for the girls and found new horizons. She ran cross country for the first time last season, once the volleyball season was finished. 
"She found new horizons for herself," Warner said, noting that although she may not have had much success in getting a faster time, she did help the Badges score many needed points. 
This season, all the seniors had a year or less of experience, but came out to run and stay in shape. 
Sophomores Micah Thomson and Jack Woods lead the boys team as captains, a position usually reserved for juniors and seniors. Warner said they did a great job leading the team through workouts.
Thomson is also the Badges top runner and was injured before districts and unable to compete. He was still there beside the team and assisted. 
Warner thanked the assistant coach Alethia Ussher for all her support for the years and this year's new additional assistant coaches Christian and Rayan Weaner. Rayan is a former Badger cross country alumni and has been coaching Beckle and Stiern on the Pocatello courses, which she ran in high school.  
Warner said he hopes all cross-country runners go out for track and continue to train in the off-season. 
State Results
3A
BOYS
TEAM SCORES — 1, South Fremont 63. 2, Teton 74. 3, Timberlake 95. 4, McCall-Donnelly 105. 5, Kimberly 112. 6, Fruitland 134. 7, Snake River 154. 8, Weiser 190. 9, Coeur d'Alene Charter 208. 10, Filer 240. 11, Marsh Valley 328.
TOP THREE, LOCALS — 1, George Speirs, McCall-Donnelly, 15:57.43. 2, Ben Browning, Kimberly, 16:00.16. 3, Zane Lindquist, Teton, 16:13.70. 4, Jacob Barnhart, Timberlake, 16:23.04. 5, Nathan Russell, Coeur d'Alene Charter, 16:31.52. 8, Caleb Royce, Timberlake, 16:55.90. 20, Nolan Oyler, Coeur d'Alene Charter, 17:17.89. 25, Jonathan Barnhart, Timberlake, 17:31.67. 31, Jeremiah Alameda, Timberlake, 17:44.70. 34, Jacob Howell, Timberlake, 17:51.71. 46, Isaiah Winkler, Timberlake, 18:22.30. 57, Mason Curry, Coeur d'Alene Charter, 18:53.36. 70, Thomas Perry, Timberlake, 19:33.72. 73, Tucker Rigg, Coeur d'Alene Charter, 19:44.96. 74, Bridger Ricks, Coeur d'Alene Charter, 20:21.28. 82, Minh Hoang, Coeur d'Alene Charter, 25:29.76. 83, Janis Jurgens, Coeur d'Alene Charter, 30:08.72. 
GIRLS
TEAM SCORES — 1, Snake River 55. 2, Sugar-Salem 60. 3, Teton 112. 4, Weiser 122. 5, McCall-Donnelly 124. 6, Timberlake 146. 7, Parma 163. 8, Kimberly 201. 9, Coeur d'Alene Charter 206. 10, Gooding 222.
TOP THREE, LOCALS — 1, Sage Lyon, South Fremont, 19:09.66. 2, Janyja Jackson, Sugar-Salem, 19:21.01. 3, Vanessa McLachlan, Timberlake, 19:22.96. 4, Annabelle Carr, Coeur d'Alene Charter, 20:09.70. 32, Lola Eggleston, Timberlake, 21:35.86. 35, Sydney Beckle, Bonners Ferry, 21:45.92. 37, Emily Wright, Timberlake, 21:49.96. 38, Helen Oyler, Coeur d'Alene Charter, 21:58.95. 52, Aubrey Jenson, Timberlake, 23:02.69. 55, Addisen Berg, Timberlake, 23:09.60. 59, Mattisyn Stiern, Bonners Ferry, 23:17.34. 65, Abigail Moehring, Coeur d'Alene Charter, 23:39.01. 69, Natal Davis, Coeur d'Alene Charter, 24:08.33. 71, Jane Robinson, Coeur d'Alene Charter, 24:27.07. 72, Olivia Barnhart, Timberlake, 24:38.78. 75, Kayla Hyle, Timberlake, 25:12.99. 78, Emma Anderson, Coeur d'Alene Charter, 26:13.49. 80, Lois de Wit, Coeur d'Alene Charter, 27:38.84.
Recent Headlines
---