BFWC at North Idaho Panhandle Championships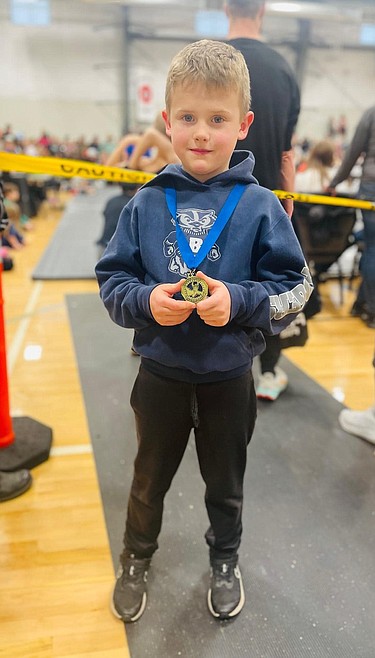 BFWC member wins medal at North Idaho Panhandle Championships.
(Courtesy Photo: BFWC)
|
November 16, 2023 1:00 AM
POST FALLS — The Bonners Ferry Wrestling Club competed at the North Idaho Panhandle championships over the weekend with approximately 750 wrestlers.
With such a large turnout, many of the weight classes had a large 16-man bracket. Many BFWC members placed and brought home medals. 
The following club members placed: Carson Schnittlinger third, Oliver Johnson third, Rocky Scarborough third, Corbin Swift sixth, Dexter Hinrichs third, Levi Roeser third, Killian Ratcliff fourth, Adam Runyan second, Brayden Stockdale fifth, Jackson Runyan fourth, Kaylyeigh third, Brantly Stockdale second, Krori Steers first, Maddux Stow third, Jace Smith fourth, Ryan Masters first, Jaxon Smith third, Zachariah Dodd fifth, Dalton Regehr first, James Masters sixth, Levi Nick third, Colt Barras third, Dawesn Stow second, Allen VanAlstyne fourth, April Dodd second, Evelynn Solomon second, Rachel Roeser third, Zuri Bassett second, Raelynn Masters first, Emily Hart second, Declan Armitstead third, Hank Cordle first, Terryn Bradley first, Aiden Solomon second, Gabriel Crum first, Gabriella Nagel first, Ronny Calderone fourth, Levi Barnes fourth, Titan Richards fourth, Kai Fusco first, Ian Heigel third, Hawkin Skinner third, Kenny Allen first, Naomi Roeser second, Kendrick Runyan fourth, Charlie Dinning fourth and Levi Cordle fourth. 
Recent Headlines
---