Why we celebrated Idaho veterans Nov. 11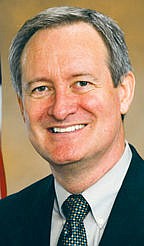 It may be common knowledge that Veterans Day was originally called Armistice Day. Why we celebrate veterans Nov. 11 may be less known.
According to the U.S. Department of Defense (DOD), "World War I officially ended when the Treaty of Versailles was signed June 28, 1919. However, the fighting ended about seven months before that when the Allies and Germany put into effect an armistice on the eleventh hour of the eleventh day of the eleventh month." Therefore, November 11 became recognized as Armistice Day.
In November 1919, President Woodrow Wilson issued a proclamation recognizing Nov. 11 as the first commemoration of Armistice Day. It was to be observed with parades and public meetings and a brief suspension of business beginning at 11 a.m. Congress later passed a concurrent resolution June 4, 1926, recognizing the end of the war that included the following tenets:
"Whereas it is fitting that the recurring anniversary of this date should be commemorated with thanksgiving and prayer and exercises designed to perpetuate peace through good will and mutual understanding between nations; and
Whereas the legislatures of twenty-seven of our states have already declared November 11 to be a legal holiday, therefore, be it resolved by the Senate (the House of Representatives concurring), that the President of the United States is requested to issue a proclamation calling upon the officials to display the flag of the United States on all government buildings on November 11 and inviting the people of the United States to observe the day in schools and churches, or other suitable places, with appropriate ceremonies of friendly relations with all other peoples."
Congress later acted to establish Nov. 11 as the legal holiday for Armistice Day, and after World War II, changed the holiday's name from Armistice Day to Veterans Day to honor American veterans of all wars. Then, in 1968, Congress changed the legal holiday to the fourth Monday of October as part of an effort to establish three-day weekends for some federal holidays to help the economy by better enabling families to travel during longer weekends. But that change did not stick. Tradition prevailed. Popular sentiment urged a return to the historically significant day of Nov. 11. Then, on Sept. 20, 1975, President Gerald Ford signed another law that returned the holiday to its original date, starting in 1978. 
No matter when and how we celebrate Veterans Day, we cannot forgo an opportunity to thank the more than 118,000 Idaho veterans for all they have given to protect our American ideals. We must also keep a spotlight on the need to keep pressing forward until all American servicemembers who remain missing from past conflicts are brought home. The magnitude of veterans' service is amplified as we watch with heartache and dread people in many parts of our world struggling for freedom and security routine in America. As Americans, we are born free because of the service members willing to back our extraordinary Constitution with their lives. At the 11th hour of the 11th day of the 11th month — and every day — I thank Idaho Veterans for your steadfast service and continue to work to ensure our country remains worthy of the cost of our freedoms you and your loved ones have borne. Thank you, Idaho veterans, for your exceptional service to our country.
---
Mike Crapo represents Idaho's First Congressional District in the U.S. Senate. He can be reached at crapo.senate.gov.
Recent Headlines
---