Zita Pace, 75
|
October 12, 2023 1:00 AM
Zita Pace passed away Oct. 6, 2023, 10 days after a stroke on Tuesday, Sept 26.
She was able to communicate with most of the many who came to her side for seven days by hand signals, waving and squeezing, but not speaking. She was able to wash her face, neck and forehead, brush her teeth, clean her mouth and suck on a rag. Because she had been a long-term care facility nurse for years, she knew what was happening. But she knew Jesus ended death, she knew the resurrection, and she was anxious to go. She even told me she did not want the miraculous healing we thought would be cool. If anyone could get a miraculous healing, it would be Zita.
Zita was a powerful person from Transylvania at the inside northeast corner of the Carpathians in Big Mine, or Bia Mare, in what has been Romania since World War I by the League of Nations and again in World War II by the United Nations. So, Transylvania suffered after losing two world wars allied with Germany, but Transylvania is in the Hungarian Tisa River Drainage, and her Protestant family identifies as Hungarian.
Powerful because, as a persecuted Pentecostal, she applied to get out of communism after the 1979 Helsinki Accords. At that time, she had a master's degree in chemistry and physics and was teaching in Moldovia, Romania, in the Ukraine. It took the Pentecostals eight years to get out, and they were persecuted for leaving, losing good jobs, etc. For example, as Pentecostal Zita could not teach children, so they sent her to a lab where she had gone to school in what is now the Art Center of the European Union, Timisoara, Transylvania, Romania. 
In February 1987, Zita came to the U.S., serving as a nanny to a Hungarian family for three years in Los Angeles, where she supposedly learned how to drive. Then she moved north to Seattle, where she could get a job as a medical assistant before she knew English (by the way, she knew Hungarian, Romanian, German and Russian before she learned English).
She always wanted to be a nurse. Her master's degree in chemistry and physics did not count in the U.S. but really helped in her becoming a nurse, moving up to be a registered nurse in an intensive care unit.
Zita is a prayer warrior. She works all day, from the time she gets up until she goes to sleep. But during the day, she prays for people. It is her calling. I am still waiting for people to call so I can let them know Zita has passed. She prays for people who are sick or lonely. Several have been praying with her for the past seven days. Some have been healed.
Zita was born Nov. 2, 1947, in Baia Mare, Romania. She was preceded in death by her parents, Miklos and Juliana Matyus; and a sister, Eva. She is survived by a sister, Magdolina; a brother, Laci; and their children and grandchildren. Here in Bonners Ferry, Zita is survived by her husband of 30 years, Bobby Pace, and his children, Michael Pace (Heather), Emily Pace Millard (Bjorn), Kevin Colton (Julia), and all their children.
Services will be held at 10 a.m. Saturday, Oct. 14, 2023, at St. Mary's Episcopal Church, which only holds 67 people, mostly already reserved for church family, family and people serving. Internment will follow at Grandview Cemetery, then a 1 p.m. celebratory lunch in the Hall at Holy Myrrhbearers Orthodox Church at the top of Peterson Hill, 1957 Pleasant Valley Loop. 
Bonners Ferry Funeral Home is caring for the family. To leave a message or memory for the family, please go to www.bonnersferryfuneralhome.com.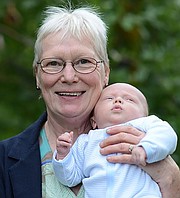 Recent Headlines
---