Backing Israel in both word and deed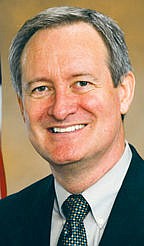 Overlooking Jerusalem's main cemetery, where victims of the recent Iranian-backed terrorist attacks are likely being mourned, stands a monument honoring each of the victims by name of the terrorist attacks on our soils on September 11, 2001.  Like Idaho, Israel lost citizens during the 9/11 attacks. A plaque near the monument's entrance is inscribed, "Tolerance, Not Terrorism." It is a symbol of America's deep connection with Israel, our shared loss and our cooperative fight against terrorism. 
The Iranian-backed terrorist attacks on innocent civilians in Israel require a forceful response.  The world has watched with grief the accounts of the injuries, tortures, slaughters and takings of thousands of people, including Americans.  The United States stands firmly with our ally Israel and backs its right to defend itself.
Senate Republican Leader Mitch McConnell (R-Kentucky) wrote, "In the days and weeks ahead, the brave people of Israel will continue to reclaim their territory, rescue their countrymen, and mourn the innocent men, women and children the terrorists have slaughtered.  They deserve the support of the free world, in both word and deed."
I agree.  Fellow Senate colleagues and I spoke over the phone with Israeli President Herzog.  We offered our prayers and unwavering support to Israel and her people.  I co-sponsored bipartisan legislation introduced by fellow Senators Jim Risch (R-Idaho) and Ben Cardin (D-Maryland) expressing solidarity with Israel in the wake of the Hamas attacks and ongoing operations to safeguard Israeli citizens.  The resolution includes provisions stating the Senate:
Affirms it stands with Israel as it defends itself, including Israeli efforts to diminish the threat posed by Hamas;
Reaffirms Israel's right to self-defense, and is committed to helping Israel safeguard its people from future aggression;
Calls on all countries to unequivocally condemn Hamas' war on Israel;
Demands Hamas immediately cease its attacks against Israel and safely release all living hostages and return the bodies of deceased hostages;
Condemns Iran's support for global terrorism;
Calls on the United States to lead an international effort, including through sanctions, to deprive Hamas of Iranian and other sources of funding and lethal assistance that the terror group relies on to threaten Israel;
Warns against any other party hostile to Israel taking advantage of the current situation;
Reaffirms the United States' commitment to Israel's security; and
Stands ready to assist Israel with emergency resupply or other security, diplomatic, and intelligence support needs.
We also need to take concrete steps to address Iran's support of terrorism.  I co-sponsored two pieces of legislation that would re-freeze the $6 billion of Iranian assets and block Iran from accessing them.  The legislation follows an August letter to the U.S. Departments of State and Treasury demanding answers from the Biden Administration regarding the release of funds to Iran in exchange for American prisoners.  We wrote, "The release of such a significant sum to the Iranian regime … will only serve to encourage additional hostage taking for financial or political gain."  Additionally, I joined calls for a Senate investigation into the release of $6 billion to Iran.  It has since been reported that the Biden Administration has agreed to stop Iran from accessing the $6 billion account, which is a positive step to ensure no fungible funds are used to perpetrate terrorist acts.
Israelis stood with Americans on 9/11 and the years that have followed against terrorists seeking to undermine the respect for mutual understanding, coexistence, human dignity and freedom, at the core of our Republic and central to our hope for our fellow people around our world.  We share their loss, as we stand with them now unequivocally in word and deed.   
• • •
Mike Crapo represents Idaho's First Congressional District in the U.S. Senate. He can be reached at crapo.senate.gov.
Recent Headlines
---