Have a scary good time at Silverwood
|
September 30, 2018 1:00 AM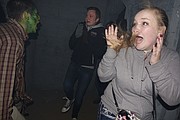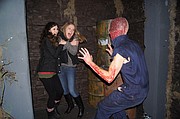 A cursed Egyptian tomb. A bayou teeming with bloodthirsty cannibals. A world overrun by zombies. These bone-chilling attractions and even more unimaginable horrors await as Silverwood Theme park transforms once again into Scarywood Haunted nights.
In addition to terrifying haunts, Scarywood features some of Silverwood's most popular rides, including Tremors, Panic Plunge, Roaring Creek Log Flume—and, of course, Timber Terror running backward. With creatures and ghouls lurking in scare zones scattered throughout the park, nowhere is safe.
"This year, we're starting with more haunters and actors than ever before," said director of marketing Jordan Carter. "Guests can be prepared to have monsters jumping out at them along the pathways and in the haunts all throughout the night."
Pharaoh's Curse, a brand new walkthrough haunt, will keep thrill-seekers on their toes, braced for the terror hiding around the next corner. In the Valley of the Queens, the splendors have been stolen and an ancient evil has awakened. All those who dare to enter the tomb will be cursed forever. Not all will survive.
Experience a must-see horror magic show from Silverwood's resident magician, Nick Norton. Dillusion is an unforgettable, mesmerizing mind trip, all new for 2018.
Return to Blood Bayou, where the blood flows freely and the residents would like to have you for dinner. This fan-favorite haunt has been intensified for 2018 with new scenes and scares.
3Dementia has also been enhanced. Guests will face their deepest fears in this gigantic 3D madhouse.
Planet Zombie offers a unique immersive experience. Forced to abandon the Zombiewood Express, Sgt. Buzz and his crew of zombie hunters are on foot, fighting off legions of undead. Zombie hunters will prep you and protect you as you try to escape—but nobody is safe from becoming infected.
Scarywood is open Thursdays, Fridays and Saturdays through Oct. 27. Hours of operation are Thursdays from 7 to 11 p.m. and Fridays and Saturdays from 7 p.m. to midnight.
The park has more thrills than anyone can experience in just one night, so be sure to plan a second visit. Scarywood is less crowded early in the season and on Thursdays.
Save $4 per person by buying tickets online at www.scarywoodhauntednights.com.
Recent Headlines
---