Thompson's 'Ancient Voices' performance coming to Pearl Theater
|
October 3, 2019 1:00 AM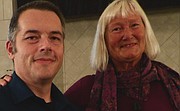 "Ancient Voices: Songs of Earth and Ancestors" is a multimedia choral theater work conceived, created, and directed by Vicki Blake Thompson and presented by The Pearl Theater. It features the BOUNDLESS vocal ensemble and SPIRITSONG women's choir.
Performances are Thursday, Oct. 10, and Friday, Oct. 11, at 7 p.m. at The Pearl Theater in Bonners Ferry and Saturday, Oct 12, at 7 p.m. at the Prince Charles Secondary School Auditorium in Creston, B.C.
Tickets for The Pearl Theater performances are $10 in advance or $12 at the door. Tickets are available at Mountain Mike's Nutrition and Bonners Books in Bonners Ferry, and online at www.thepearltheater.org. Tickets for the Creston, BC performance are $15 Canadian at the door only.
BOUNDLESS vocal ensemble has presented several original productions including "The Elusive Heart", "Stardust", and "Love Makes the World Go Round". They performed in Carnegie Hall in New York as part of a festival choir for the King's Singers 50th Anniversary concert and have been asked to return next spring for a world premiere of a work by Norwegian composer Kim Arnesen.
SPIRITSONG women's choir has toured internationally for many years, their most recent trips being to Iceland, Greece, and Costa Rica. SPIRITSONG is planning a 2021 tour to Morocco and Portugal.
Both ensembles feature singers from both the US and Canada.
This "Ancient Voices" production is director Vicki Blake Thompson's first collaboration with Bonners Ferry pianist, composer, and teacher, Jeff Hunsaker.
"I am very happy to be working with Jeff. When Barb Nelson, our long term accompanist, and my right arm, moved to Spokane, I was devastated. How could I work with anyone else after 20 years of having Barb right there with me? This has been a super first production with Jeff and I hope it is the beginning of a long collaboration," said Thompson.
"Ancient Voices: songs of earth and ancestors" is a production of hope and celebration, a beautiful and inspiring reminder that we each can and do make a difference in our world. The visuals, text, and music combine in a theater work which leads us on a journey through the inner and outer landscapes of what it means to be human.
The Pearl Theater, located at 7160 Ash Street in Bonners Ferry, is a board run, non profit organization dedicated to supporting the arts and arts education in Boundary County.
Prince Charles Secondary School Auditorium in Creston hosts multiple events each month, bringing the arts to Creston, B.C.
---