Idaho lawmakers approve funding for food banks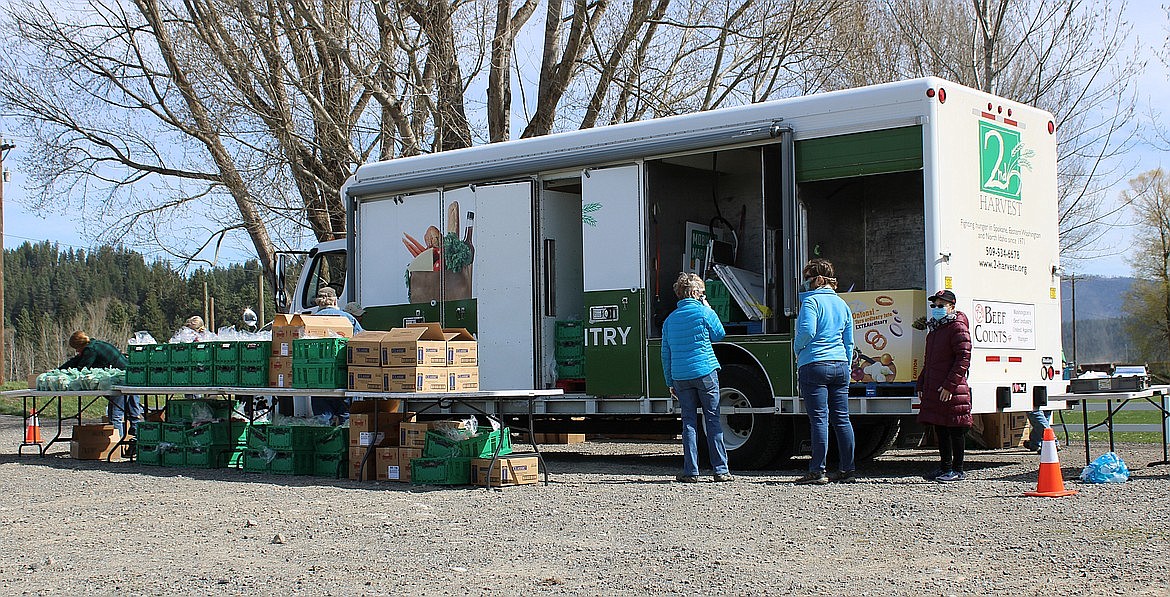 Volunteers with Second Harvest and the local food bank set up a mobile food distribution event. Gov. Brad Little's Coronavirus Financial Advisory Committee recently approved additional funding to support community food banks, including Second Harvest.
Photo by VICTOR CORRAL MARTINEZ
by
VICTOR CORRAL MARTINEZ
Staff Writer
|
August 20, 2020 1:00 AM
Governor Brad Little's Coronavirus Financial Advisory Committee approved additional funding to support community food banks, including Second Harvest.
According to a press release, the Idaho foodbank will receive $2.56 million to help struggling families across Idaho.
Food banks and food assistance programs across the state have seen a surge in demand due to COVID-19. The additional funding will help Idaho food banks that work across 44 counties and over 400 partner organizations, officials said.
The CARES act did provide limited funding for food insecurity during a pandemic. However, it limited those benefits to help through the Supplemental Nutrition Assistance Program and free lunches for eligible children impacted by school closures.
According to the Idaho Department of Health & Welfare Division Administrator, Julia A. Hammon, the funds did not extend to any food bank programs. There has been an increase in the need for food assistance due to COVID-19.
"With the increase in food insecurity during the pandemic, partners and non-profits who operate food banks and food assistance programs have seen an increase in demand," Hammon said.
In a funding request from the Idaho food bank states over 50 percent of people who are food insecure may not qualify for SNAP because of their income level.
The Idaho foodbank initially set a goal of 22 million pounds of food but is currently on track to provide more than 29 million pounds of food based on current projections.
Due to the proximity of Second Harvest Inland Northwest, based in Spokane, to North Idaho, they serve the five counties in Idaho's panhandle.
Communities served by Second Harvest include those in Boundary, Bonner, Kootenai, Benewah and Shoshone counties.
According to Idaho Foodbank, food reaches people in need in North Idaho through 32 partners that include food pantries and meal sites, school pantries, backpack programs, and Second Harvest's Mobile Market free food distributions.
The food needs of North Idaho are not adequately met; according to Idaho Foodbank, current distribution has increased to 18 percent and the goal is to increase food distribution by 30 percent.
The Idaho Foodbank President, Karen L. Vauk, believes that the funding request will help reach the goals of feeding people facing food insecurity during the pandemic.
The funding request outlines a five-month cost that is specific to North Idaho. These detailed costs detail $508,178 for food purchases and transportation. An additional $60,000 will be utilized for distribution and other expenses.
The Coronavirus Farmer Assistance Program played a vital role by providing food to families through Idaho Foodbank's warehouses, mobile pantries, and partner organizations.
The program supports an average of 7,000 households each month; funding for the program will run out end of October, per a press release from USDA.
Idaho Foodbank is requesting $661,883 for CFAP; specifically, $152,115 will fund North Idaho's regionally needs.
Recent Headlines
---