Santa's Village in Porthill, perfect for families this season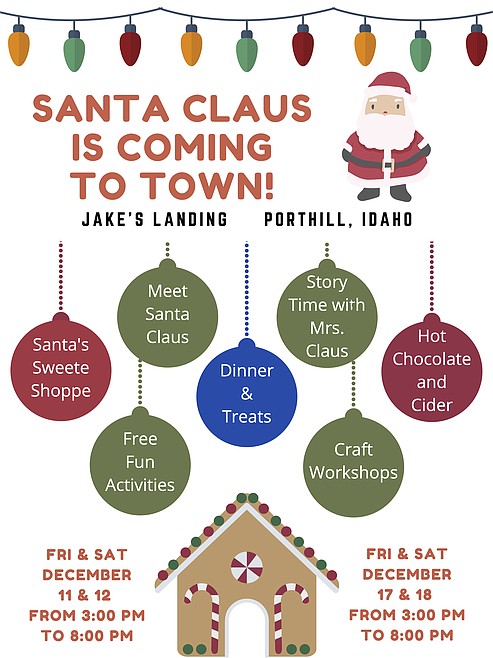 by
VICTOR CORRAL MARTINEZ
Staff Writer
|
December 10, 2020 1:00 AM
Santa's village will be in Boundary County for the next two weeks at Jake's Landing in Porthill.
The Santa's village will feature thousands of lights all decked out for Santa and his guests and will take place on Dec. 11-12 & Dec. 18-19 from 3 to 8 p.m.
Owner of Jake's Landing, Lars Jacobson, stated, "We want folks to come up and enjoy the season here at Jake's Landing's Santa's Village,"
There will also be many Christmas activities, and Santa will be available for pictures and passing out candy canes to children; Mrs. Claus will be having story time for the children.
You can enjoy sitting down, eating dinner or sip some season flavored hot chocolate or apple cider while the kids enjoy some free Christmas activities.
Holiday craft-making workshops will be offered for a small cost to cover materials and instruction; enjoy shopping at Santa's Candy Corner and pick up a holiday ornament or mug.
"Our family has always loved the Christmas season, and we want to share some of that with the community." Lars Jacobson said.
Wendy Jacobson will be Mrs. Claus and wants all families to come and experience the spirit of Christmas at Santa's Village. She encourages families to enjoy the season and remember the reason.
"We love Christmas and everything it means in our lives," Wendy Jacobson wrote, "We have taught our 10 children that Christ is at the center of Christmas."
According to Lars Jacobson, When you turn off Hwy-1 and head up into Porthill, the first thing you'll see is a Nativity scene of the newborn Christ child.
"We wanted the Nativity to be the first thing people see when they arrive and the last thing when they leave." Lars Jacobson said, "We all can enjoy the magical part of Christmas, but let's always remember the spiritual part is the part that's real."
Lars and Wendy Jacobson advise guests to bring their cameras for the many backdrop options from the many decorations, exhibits, lighted buildings and many other options to make your Christmas memorable.
Whether it's with the 10-foot blowup Santa Clause, Frosty the Snowman, Santa himself, or the Nativity, all picture taking is free. So, click away until your camera is full.
The Jacobson's hopes that families and friends will come and enjoy a few hours these next two weekends visiting, eating, shopping, and playing at Santa's Village.
---