Robert Allen Smith
|
December 17, 2020 1:00 AM
Robert Allen Smith (Uncle Bubber) went home to be with his Lord and Savior on Dec. 4, 2020, at his home in Bonners Ferry, Idaho.
Robert Allen Smith was born in Bonners Ferry to Robert James Smith and Ruby Clarice Sweet-Smith on Jan. 23, 1936.
As a young boy Al partook in various activities; he loved riding horses, ice skating, FFA and 4-H, where he assisted in the raising of 100 champion Chinese pheasants to be released back into the wild for the Idaho Department of Fish & Game.
In his teenage years Al would relocate to Portland, Ore., with his parents, returning home to Bonners Ferry every summer to spend time with his beloved grandmother. In 1955, Al graduated from Benson Polytechnic High School in Portland with a technical degree in automotive/diesel/aviation technology. While attending he partook in athletics, becoming an avid swimmer.
Upon graduation, Al returned home to Bonners Ferry, where he worked as a Tire Repairman at OK Tire. Having a love for North Idaho he combined his enthusiasm for being active with his passion for the great outdoors. When not swimming laps around Herman Lake he could be found with a rifle in hand, out scouting, earning him the reputation as one of Boundary Counties greatest cougar hunters and the last man to have successfully filled a goat tag.
In 1958, Al went on to enlist in the United States Army, 14th Battle Group, 4th Brigade Fort Ord, California. A well-qualified sharpshooter he was assigned special orders overseas in France. Upon his return to Idaho, he completed his military duties with the United States Army Reserves 148th Infantry. Al was awarded the State of Idaho Service Ribbon and Good Conduct Medal.
He worked for the Union Pacific Railroad up until retirement all while maintaining an active lifestyle; he was a proud member of the Big Game Committee, a certified expert marksmen with the National Rifle Association, and an active member of the American Legion Post 55. He enjoyed bowling league where he bowled for Gene's OK Tire, participating in golfing tournaments, racing one of his motorcycles, riding his snowcat, and deep-sea fishing.
A born-again Christian, having never been married and with no children of his own, Al took on the role of patriarch to his younger sister and her children, his beloved nieces, Netters, Shelley and Jackie, earning him the title of Uncle Bubber. His influence and dedication to his family would extend far beyond three generations of women, their spouses and their children. Above any and all other accomplishments, medals, trophies or awards -- raising his nieces became not only his pride and joy, but his life-long mission and legacy.
Robert Allen Smith is survived by his niece Nanette Marie Nevarez and her children Charles, Hailey, Ryan and Malcolm; his niece Misha Michelle Davis and her daughter Dakota; his niece Jaclyn Ann Preston, her husband Jesse Preston, and their daughter Adessa; and his niece Mariah Le'Ann Bostwick and her children Skyla, Spencer and Onyx; his sister, Leigh (Robin) Maddox; and his cousins, Etta Mae Schnuerle, Shirley Baker, Peach Baker and Dolly Lozier.
Al was preceded in death by his father, Robert James Smith, and step-mother Gladys M. Smith; his mother, Ruby Clarice Sweet-Smith; a brother, Gary Dean Smith; his maternal grandparents, Allen Abraham Sweet and Charlotte Mae Platz-Sweet; and paternal grandparents, James F. Smith and Nettie E. Castle.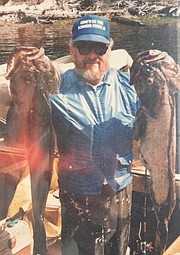 ---