EL Internet Northwest receives CARES Act grant money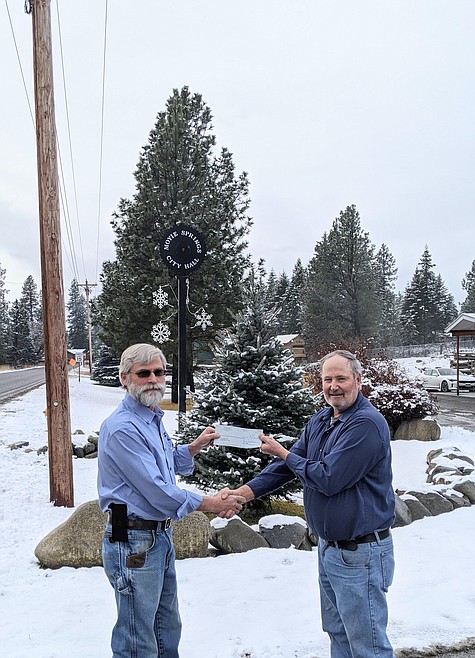 (Photo courtesy of City of Moyie Springs) Eric Lederhos on left, Mayor Steve Economu on right
by
ROSE SHABABY
Staff Writer
|
December 31, 2020 1:00 AM
When the pandemic hit and states began issuing stay-at-home orders, internet in many rural areas slowed to a crawl or was nonexistent. Bandwidth and equipment simply weren't in place to meet the sudden demand. Boundary County was no exception.

The Coronavirus Aid, Relief, and Economic Security (CARES) Act offered relief, allocating funds to expand broadband internet availability in rural areas.
The City of Moyie Springs was one recipient of these grant moneys. Working with EL Internet Northwest, the city was able to supply broadband fiber internet access to 85% of residents in the area.
These new fiber lines are essential infrastructure that helps facilitate distance learning, improves connectivity for government and businesses, expands telehealth opportunities, and elevates area services to increase attractiveness to businesses and individuals looking to expand or live and work in the area.
EL Internet Northwest, helmed by President Eric Lederhos, took on the monumental task with a deadline of Dec. 15 on the horizon. Not only did they invest their own money into the project, but because of grant guidelines, they also did so knowing that if they didn't complete it by the deadline, they would forfeit the funds.
It was a squeaker, according to Kevin Lederhos, Project Manager. They were able to complete the project and send their submittal back to the Idaho Dept. of Commerce just one week before the deadline expired.
More funds for the expansion of broadband internet appear to be on the horizon with the new coronavirus relief package recently passed by Congress and signed by President Donald Trump. Another $7 billion has been allocated for similar projects.
EL Internet Northwest hopes that the Idaho Dept. of Commerce will apply for more funds, allowing Boundary county to continue expanding fiber lines toward the Montana border and north past Moravia. They want to complete these projects regardless, but these grant moneys could speed up the process by 2-3 years, according to Kevin Lederhos.
The City of Moyie Springs thanked EL Internet Northwest for " their hard work and dedication to this project and our community." EL Internet Northwest expressed their appreciation for city officials who helped the entire process run smoothly.
Gov. Brad Little also commented on the project, tweeting "thanks to CARES grant funds through @IdahoCommerce, Moyie Springs residents and businesses now have better, faster, and more reliable access to broadband!"
EL Internet Northwest services Boundary county exclusively, employing 27 residents. They offer a variety of fiber optic, wireless and cable internet services at affordable prices. For more information, you can call them at (208) 946-4147.
---