Mid-winter beauty in Boundary County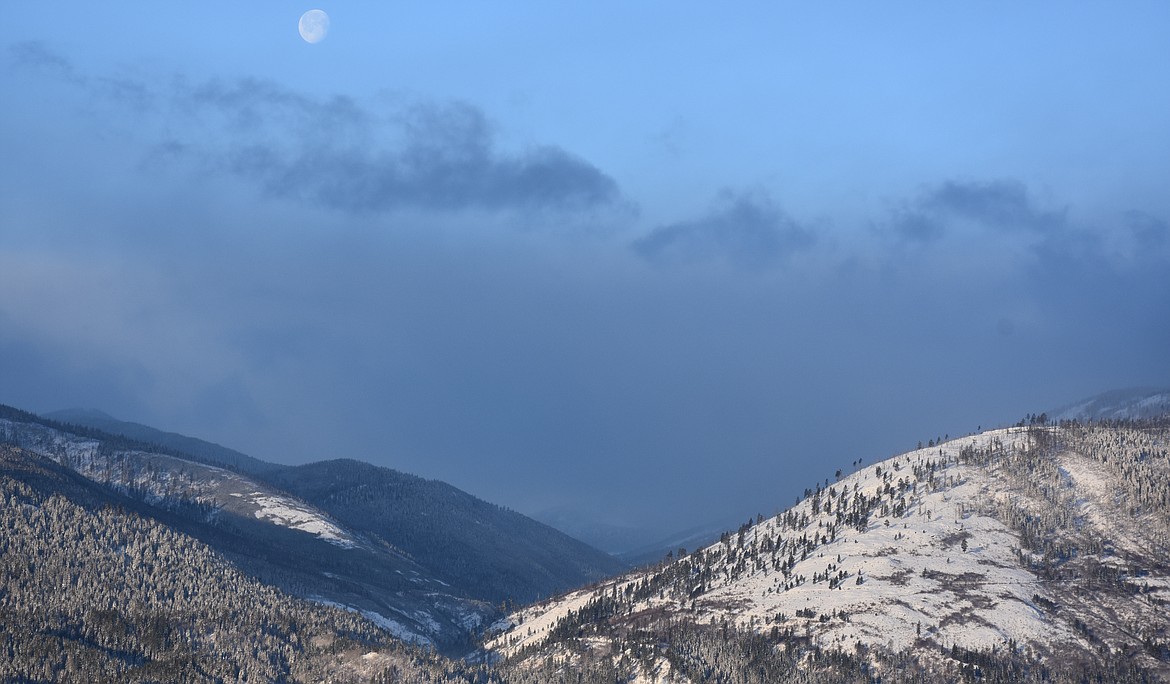 The moon going down in late afternoon over Myrtle Creek Canyon, with a snow storm looming in the Selkirk Mountains.
Photo by DON BARTLING
by
Don Bartling
|
February 20, 2020 1:00 AM
"To appreciate the beauty of a snowflake, it is necessary to stand out in the cold."
— Aristotle (ancient Greek philosopher and scientist, 384 - 322 B.C.)
As the days are shorter than the nights, the weather remains cold, and all of summer's allure has faded, people prepare for the winter time remaining in two very different ways.
For some, this means sitting in front of the fire and enjoying quiet pursuits until spring arrives. For others, the cold brings snow and so many opportunities to enjoy our area under a blanket of white.
Winter in North Idaho is every bit as beautiful as the summer. See the landscape in a sparkling new light, from the blue-hues of the river and frozen lakes to the crisp fresh air in the evenings. And with the covering of fresh snow, winters don't get more exemplary than this.
When I went outside last weekend in the cold fresh air and when I breathed in, I could feel the crisp air tightening and freezing around my nostrils. This is always my telltale sign for when the weather is really, seriously cold. I like the fresh crispy air in Boundary County when the air is cold and fresh with white snow on the ground.
There's nothing quite like a North Idaho winter. It is an admirable season, cozy, comfortable, quaint. The winters are good for curling up by the fire with a hot cup of chocolate and a good book. But North Idaho winters are all that and more. They're inspiring, wild and majestic. They surround you with natural beauty every which way you turn.
Night at 5 p.m., well … there's not much we can do about that but just adapt. The snowy season in North Idaho is a thing to behold. They comfort you and inspire you. Winters in Boundary County are as close as you can get to the unspoiled wonder of the frontier from hundreds of years ago.
Quiet and still as the winter months may be, wildlife still abounds. Anyone with a passion for feeding birds is treated to a daily performance as sparrows, chickadees, finches, nuthatches, woodpeckers, ravens and Steller Jays vie for space at a feeding station. Squirrels busily search for their buried stash or, if unsuccessful, raid the bird feeders.
Winter is the time for comfort, for good food and warmth, for the touch of a friendly hand and for a talk beside the fire: it is the time for home. So, when the winter blues brings you down, look to the outdoors for a new experience to help you weather the winter wonderland in North Idaho.
Enjoy beautiful Boundary County, winter comes only once a year!
---