Artists have home at Vigilante Studios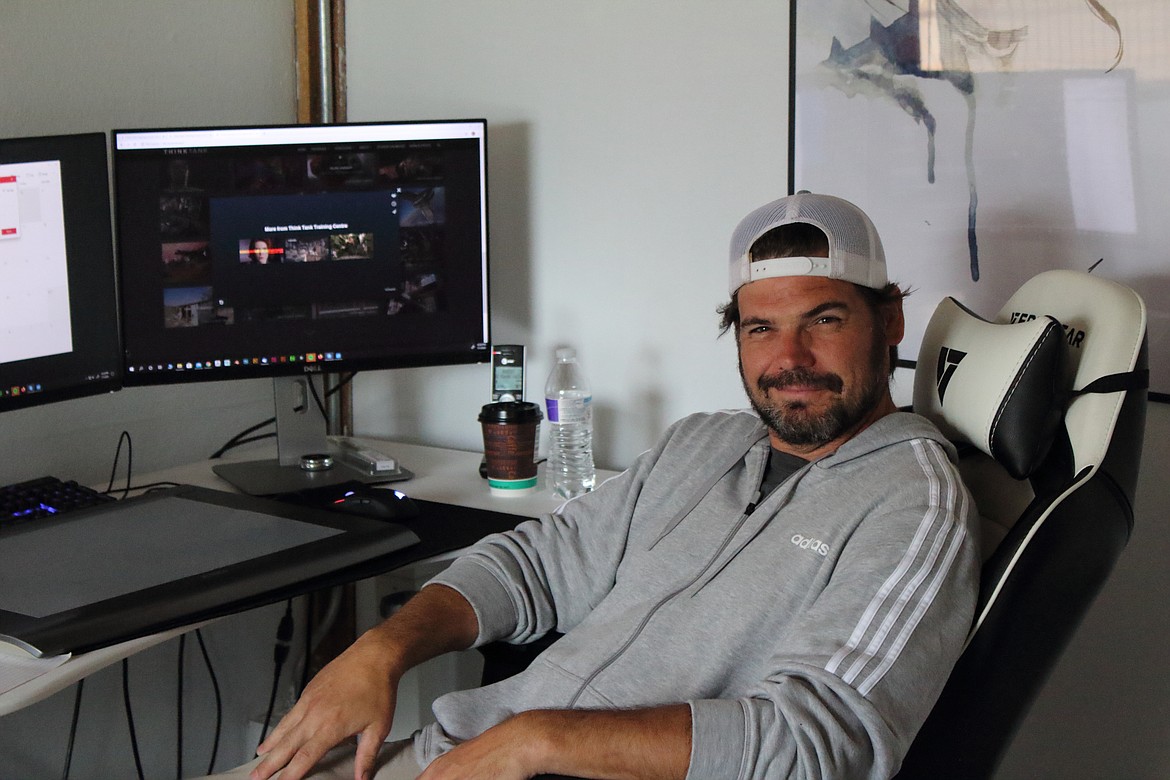 Daniel Seward, the founder of Vigilante Studios, brings a state of the art design facility for creatives pursuing graphic design.
Photo by VICTOR CORRAL MARTINEZ
by
VICTOR CORRAL MARTINEZ
Staff Writer
|
July 9, 2020 1:00 AM
BONNERS FERRY — Daniel Seward, the founder of Vigilante Studios, brings a state of the art design facility for creatives pursuing graphic design.
Seward, a native of Bonners Ferry, has always been passionate about graphic design, moving to California to attend Academy of Art University in San Francisco. He quickly decided to work in Silicon Valley producing graphics during the dot-com boom.
Seward decided to change his work and began teaching younger students from a low-income community in San Francisco.
"I kinda got tired and started working with young people at Hunters Point," Seward said. "I just wanted to work with real people."
Seward moved to Paradise, California, to help students layout a magazine for students, eventually becoming executive director of a nonprofit organization producing a magazine called the Voice and coordinating workshops and events.
"It just so happened that the thing (Voice magazine) took off," Seward said. "We did that for six years and the Voice was much more than a magazine."
Butte College, a northern California community college, reached out to Seward to teach digital illustration courses as an instructor, focusing on logo design, animation, and how to draw.
Seward was then involved in a summer connection program teaching six courses to students ranging from 8 to 14 years in age in a predominantly Spanish speaking community.
The town of Paradise, where Seward lived, tragically burned down due to wildfires in the fall of 2018. He then decided to return to his hometown of Bonners Ferry, working as a freelance graphic designer.
The concept of a professional studio where professionals and young people can train, learn, and work together is a leading factor for Seward to open up Vigilante Studios.
"If I was a young artist in Bonners Ferry, I would have really liked to have found a place to learn about this stuff earlier," Seward said. "This technology is here, these young artists are here, they could be so good if they started now."
Vigilante Studios features 10 custom-built workstations with the latest technology and software comparable to any professional graphic design studio.
Initially, Seward planned to open the studios but had to cancel all plans due to coronavirus but plans to slowly open up implementing precautions to help protect all who come to Vigilante Studios.
"When I was opening up, everything shut down," Seward said. "I'm basically four months behind."
Vigilante Studios plans to conduct workshops in graphic design and digital illustration at affordable prices to all levels and wants to provide a home for all creatives in the region.
"My hope is that the community and artists will find themselves a home here to train and get good."
Recent Headlines
---