Mirror Lake golfers hit the links
Game of the Day for the Mirror Lake ladies' week of June 9/10, 2020, was "Most one-Putts." Only two brave ladies played on cloudy Tuesday evening, both winners. Julie Williams got the award for most one putts, low gross (41) and least putts (15). Renee Murphy won low net (37).
From the Wednesday morning players, seven ladies tied for the winners of "game of the day" with two one-putts each: Karen English, Gail Thompson, Ann Bonar, Ruth Ann Wilson, Buzz Thiel, Beverly Comegys and Linda Hiatt. Gerry Ann Howlett won Low Gross (48), Linda Bogden and Ada Gardiner tied for Low Net (37), Wendy Hawks had a chip-in on Hole #4, and Anne Bonar and Beverly Comegys tied for Low Putts overall (16.) You all make it look easy, ladies!
The Mirror Lake ladies golf group meets every Tuesday evening and every Wednesday morning from May through September. Tuesday evening tee off times are flexible and sometimes begin as early as 4:30 p.m., although the usual start time is 5 p.m. Wednesday morning tee off time is 9 a.m. from June through September. Any interested lady golfer is welcome to join. If you're a golfer, it's a very enjoyable 9-hole get-together. Of course, you can stay for a second 9 from different tee boxes if you wish to play more!
The ladies have started a mentor program in which new lady golfers or lady golfers new to Mirror Lake Golf Course can play with a "buddy" from the Mirror Lake ladies' group for a friendly introductory 9 holes. Just call the pro shop at 208 267-5314 and tell Melayne, Phil, Julie or Ralph that you are interested in the ladies' mentor program! Lady golfers new to Mirror Lake can try out our course and meet some of our members all at the same time. Remember that this summer, Mirror Lake allows children to golf for free, so golfer Moms can bring their children and introduce them to the game as well!
Mark your calendars for the ladies' Margaritaville 18 hole golf day and picnic under the trees on July 15, 2015. It should be a very enjoyable day with all after-golf activities set up outside in sheltered areas on the course for a relaxed, social distanced, golf fun day. All golfer ladies are invited to participate.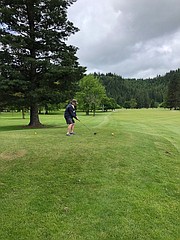 ---