El Salvadorian restaurant open for business
by
Tonia Brooks
Staff Writer
|
March 5, 2020 1:00 AM
BONNERS FERRY — Bonners Ferry Pupuseria, located at 6418 Kootenai St., right across the street from the post office in downtown Bonners Ferry, has been open and serving patrons authentic el Salvadorian cuisine for the past three months.
Elva Zepeda owns and operates the quaint restaurant that specializes in el Salvador's regional dish, the pupusa.
The pupusa is a corn flour, fluffy tortilla that is stuffed inside with a variety of options. Zepeda offers a pork, bean and cheese pupusa, and one made with spinach and cheese, or patrons can order a pupusa filled with beans and cheese.
"This is a traditional dish over there," said Zepeda speaking about her home country of el Salvador. "Everywhere you go in my country, you can have this kind of food."
Zepeda says that her restaurant is different from other South American restaurants in town.
"The food offered at Mi Pueblo is Mexican food," Zepeda said. "Mine is from el Salvador, in Central America."
Zepeda gained her U.S. citizenship in 2002. She arrived in America in 1999 via San Francisco, where she was sponsored and lived within the area in the Mission District.
"The only place I've known is San Francisco," Zepeda said. "This [Bonners Ferry] is a beautiful town and it gives me inspiration."
Prior to moving to Bonners Ferry and while in San Francisco, Zepeda worked for the Hyatt Regency Hotel in housekeeping for 24 years.
Zepeda met James Carr in San Francisco, who helps her with the restaurant.
"We got married in April 2019, went to el Salvador for our honeymoon for a month in August 2019, and opened this place in November 2019," said Carr, manager of the restaurant.
When asked about the ambition to own and operate a food establishment, Carr said, "This was all my idea."
Among the traditional el Salvadorian dish, the new Pupuseria offers other more familiar items like BLT's, sides such as mashed potatoes and macaroni salad, and even a Spam Velveeta sandwich.
The restaurant was granted the license to serve craft beer, which is available for sale in bottles.
Zepeda and Carr said that they also offer to reserve the restaurant for dinner parties and can take call-in orders for large groups.
The Bonners Ferry Pupuseria is located at 6418 Kootenai St. and can be reached by calling 208-255-8792 or on Facebook. They are open for breakfast and lunch on Tuesdays through Saturdays from 8 a.m. to 3:30 p.m. and Sundays from 11 a.m. to 4 p.m.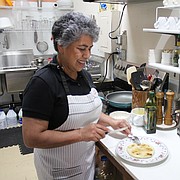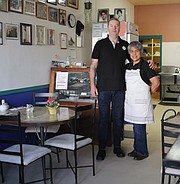 ---