Johnsons share with others after potato giveaway
Potatoes that were not sold were given away free to anyone who could get to the Hutterian Brethren Farms in Spokane. In turn, the Johnsons of the Northside School Bed and Breakfast offered the potatoes to anyone who came by to retrieve them this past Saturday, May 9.
Photos courtesy CARINA JOHNSON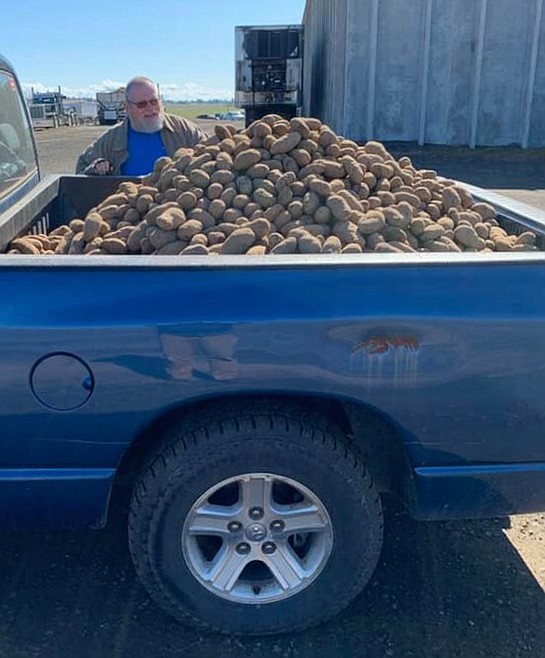 Northside School Bed and Breakfast owners Eric and Carina Johnson found free potatoes in Spokane and delivered them to Bonners Ferry residents. Potatoes that were not sold were given away free to anyone who could get to the Hutterian Brethren Farms in Spokane. In turn, the Johnsons offered the potatoes to anyone who came by to retrieve them this past Saturday, May 9.
Photos courtesy CARINA JOHNSON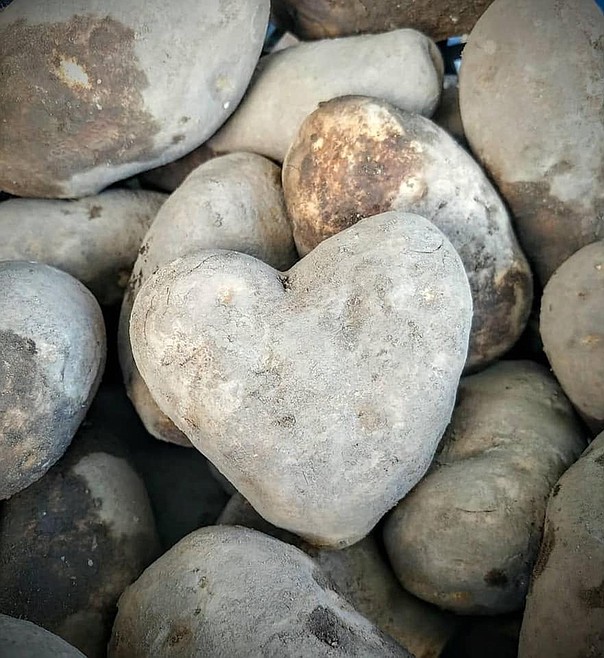 (Photo courtesy CARINA JOHNSON) Instead of allowing the potato harvest to go to waste due to an inability to sell them all this year, Hutterian Brethren Farms gave away unprecedented amounts of potatoes to anyone who could come and pick them up. In turn, the Johnsons of the Northside School Bed and Breakfast offered the potatoes to anyone who came by to retrieve them this past Saturday, May 9.
Previous
Next
by
TONIA BROOKS
Staff Writer
|
May 14, 2020 1:00 AM
BONNERS FERRY — Friends of the Johnsons, members of their church, and Facebook friends were gifted with free potatoes this past Saturday, May 9.
Northside Bed and Breakfast owner Eric Johnson recently traveled to the west side of Spokane to pick up a pick up load of potatoes.
The free potatoes originated from the Spokane area Hutterites.
"We have a friend who heard that there was a trailer full of potatoes being given away in Spokane," said Johnson. "So we found out that the potatoes are from a farm on the west side of Spokane called the Spokane Hutterian Brethren farm."
The Spokane Hutterian Brethren Farm, north of Deep Creek, Wash., is made up of approximately 10,000 acres. The farm raises potatoes along with grasses, corn, wheat and canola along with cattle and poultry.
"Once we found the farm, there was a line of trucks, some of them with trailers, and they were just lining up to get potatoes, no questions asked," said Johnson. "We got in line and they just filled up one and that one moved on and the next one came up."
Johnson explained that the Hutterites were unable to sell their potato crop and in lieu of allowing the spuds to go to waste, they decided to give them all away.
"So we filled up our truck and brought it back up here and spread the word through our friends and our church group and people came and picked them up. It took about two and a half days for them all to get gone, so everyone we knew that needed potatoes, they got them."
Johnson posted the free potatoes onto his Northside School Bed and Breakfast Facebook page and people came to pick them up.
"It was really amazing," said Johnson, "It was a nice thing for us to be able to do, let alone for the farmers to do."
The Northside School Bed and Breakfast is located at 6497 Comanche St. in Bonners Ferry and may be reached by calling 208-267-1826.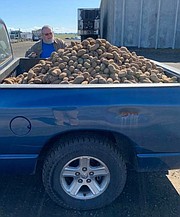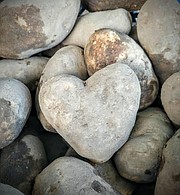 Recent Headlines
---