Dukes Claybusters win first place for Junior Shooters
by
Lonny Jelenik
|
May 21, 2020 1:00 AM
Wow! What a bunch of great scores today, May 16, our second time of practicing after a seven-week layoff because of the novel coronavirus. The club is still practicing six foot distancing and good hygiene as well as being very close to the 10-person rule.
Sheriff Dave Kramer gave the gun club the go-ahead to shoot again after Gov. Brad Little requested he be informed and gave us the OK. Sheriff Kramer fully supported the high school trap shooting team and sent his sergeant, Bob Goad, to the club so that he could help us set the targets speed with a radar gun at 42-43 mph which is required at all A.T.A. and P.I.T.A tournaments. Thank you for making the trap club to be a first class trapshooting club.
"Dukes Claybusters" won first place for Junior Shooters in the Winter Big Sky I-NET Shoot for 2020. A delayed presentation because of the coronavirus, what a beautiful day for the presentation and so much more fun when you don't have to have a big coat on and it's not snowing.
The winter competition at the home club at 16 yards, believe it or not, we had four scores tied. Junior, Seth Rice and Torsten Conover tied at 169 and Sub Juniors, Kamen Nelson and Wyatt McDonald broke 169 each also.
All four shooters got to shoot one box of 25 practice rounds before their shoot off with Seth Rice breaking a 25x25 over Torsten Conover for second place in the Junior Division and Kamen Nelson 21x25 over Wyatt McDonald 20x25 for second place in the Sub Junior Division.
The trophies from the Bonners Ferry Gun Club to the Dukes Claybusters shooting were as follows: Melanie Campbell first Ladies; Cassidy Undershill, Ladies second place. Sub Juniors: Colin Fairchild first, Kamen Nelson second, Wyatt McDonald third, Dillon McLeish fourth and Ryan Carelli fifth place.
Practice: Seth Rice broke 24x25 for 49x50, Seth's 25 straight was in his shoot off. Other scores were in the 18 to 23 group. Great shooting for all. New shooter Alex Stolley, 12 years old, broke a 19x25 for his second time out; what a natural, good to have him aboard.
May 17: We had a good turnout for the Over The Hill Gang on our new trap pad and houses. I think we were only over our limit of 10 by a couple. Member and parent of Ryan Carelli, his Dad Paul, crushed his first 25x25 on the new improvements so I guess it works for the older folds too, although Ron Campbell broke the first adult 25x25 last week.
On June 1, hopefully, we can have more shooters, so come on out and try out our new improved facilities. Open 10 a.m. on Wednesday; 10 a.m. Saturday school team; and 10 a.m. Sundays for all.
Shoot safe and if you're sick please stay home.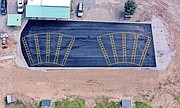 ---