Robert Glen Bertling, 56
|
April 22, 2021 10:06 AM
Robert Glen Bertling passed unexpectedly on Friday, March 26, 2021, at the age of 56. Rob was born Nov. 26, 1964, in Tacoma, Wash., to Tom and Kathy Bertling. He was a dedicated and loving husband, father, grandpa, brother and friend.
Rob grew up in Bonners Ferry, Idaho, and graduated from BFHS in 1984. He met the love of his life, Michele, summer of 1985, and they wed July 30, 1994. When Rob and Michele married, he gained two daughters, and they had another on the way. They later had a son, and Rob thought life was complete.
He enjoyed everything outdoors, muscle cars, and his family. It was no wonder he started his career as a logger and ended as an experienced truck driver. Rob never met a stranger, befriending all who crossed his path. He was a man of few words but made those few words count. He didn't waste time with excuses but made cheesy jokes any chance he had.
He was well-loved and took great pride in teaching his children everything he knew. His eyes shone brightest when he was being a Papa; the love he had for his grand-babies was out of this world. We take comfort in knowing he's getting his much-deserved grandpa snuggles with baby Elliott and reunited with his beloved parents Kathy English and Tom Bertling.
Rob is survived by his beautiful wife Michele, of Spokane; four kids: Alisha (Mike), of Seattle, Natasha (Adam), of Lewiston, Shailey, of Coeur d'Alene, Ethan, of Spokane; four grandbabies: Eddison, Emerie, Scarlet and Nadaliah; siblings Jim, of Meridian, Tim (Wendy), Sharman (Geoff), both of Bonners Ferry and a long list of relatives and friends who will miss him dearly.
Rob's family is in the process of planning services to honor him at a later date. Please send your contact information to the email below for further information once plans have been arranged. If you have any photos or stories (especially the ones when he was younger) that you would like to share with the family, please do by emailing bertlingfamily2021@gmail.com.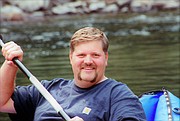 ---