Santa's Village is returning to Boundary County
|
December 9, 2021 1:00 AM
If you're looking for some Christmas fun this season, look no further than the border. Jake's Landing in Porthill is turning into Santa's Village again this year. The little town is not only "decking the halls" but will also be "decked out" in more than 10,000 lights.
For the next two weekends, Friday and Saturday, Dec. 10 and 11, and Dec. 17 and 18 Santa's Village will be open from 2-7 p.m. offering all kinds of holiday activities.
At Santa's Place, Santa will be available throughout the day to take pictures and pass out candy canes to the kids.
At Santa's Shoppe, Mrs. Claus will have Story Time for young children on the hour and every half hour.
"Our family has always loved the Christmas season and we want to share some of that with the community," said Wendy Jacobson.
Wendy doubles as Mrs. Claus said she hopes people will come and feel the spirit of this wonderful place.
Throughout the Village, you can enjoy sitting down and eating dinner or sipping some seasonally flavored hot chocolate or apple cider while the kids enjoy some free Christmas activities.
Holiday craft making workshops will be offered for a small cost to cover materials and instruction. Also, you can enjoy shopping at Santa's Candy Corner or pick up a holiday ornament, mug, Christmas wreath and much more.
Santa's Village at Jake's Landing makes an excellent family adventure to see the lights, say "hi" to Santa, enjoy the festive spirit or just hang out with friends and enjoy a meal. All are welcome.
"We want folks to come and enjoy the season here at Jake's Landing's Santa's Village," said owner Lars Jacobson.
"We love Christmas and everything it means in our lives," Wendy said. "We have taught our 10 children that Christ is at the center of Christmas. Enjoy the season and remember the reason."
When you turn off Highway 1 and head into the Village, the first thing you'll see is a Nativity Scene of the newborn Christ child.
Lars said, "We wanted the Nativity to be the first thing people see when they arrive and last thing when they leave. We all can enjoy the magical part of Christmas, but let's always remember the spiritual part is the part that's real."
Be sure to bring your camera. Every lighted building, every exhibit and every decoration will be waiting to be your backdrop for a selfie or family photo. Whether it's with the 10-foot blow up Santa Claus or Frosty the Snowman, Santa himself, or the Nativity, all picture taking is free. So, click away until your camera is full.
The Jacobson's hope is that families and friends will come and enjoy a few hours these next two weekends visiting, eating, shopping and playing at Santa's Village.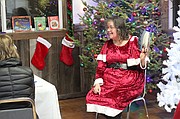 Recent Headlines
---