From The Archives - Dec. 16, 2021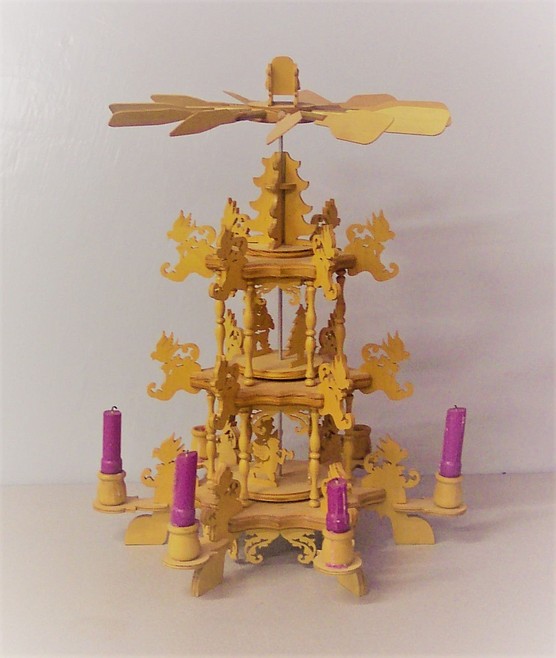 This Christmas pyramid was made by Ned Dyer.
|
December 16, 2021 1:00 AM
A Christmas pyramid (German: Weihnachtspyramide) is a Christmas decoration from Germany. Decorated with Christmas figures such as angels, trees, and wise men, it has a 'pyramid' frame with candle holders. In the center of the pyramid is a carousel with a propeller at the top, which is driven by warm air from lit candles. As the heat rises from the candles, the carousel spins.
This Christmas pyramid was made by Ned Dyer. Ned started his scroll saw art by creating small clocks. He enjoyed the work and moved to large elaborate clocks. Each small intricate piece was cut individually on his scroll saw.
Before Ned passed away in 2011 at age 86, he arranged for his wooden clock and stained glass collections to be given to the museum. His family lovingly followed his wishes so everyone could enjoy the collection.
The Boundary County Historical Society and Museum, 7229 Main, Bonners Ferry, Idaho, sponsors this column.
Visit the museum Thursday-Saturday 10 a.m. to 3 p.m., or go online to the museum's website at www.boundarycountymuseum.org or the museum's Facebook page for historical photos and stories, and to see upcoming events. The museum can be reached at doyouremember@meadowcrk.com or telephone 208-267-7720. Thank you for your continued support.
---