National Pizza Day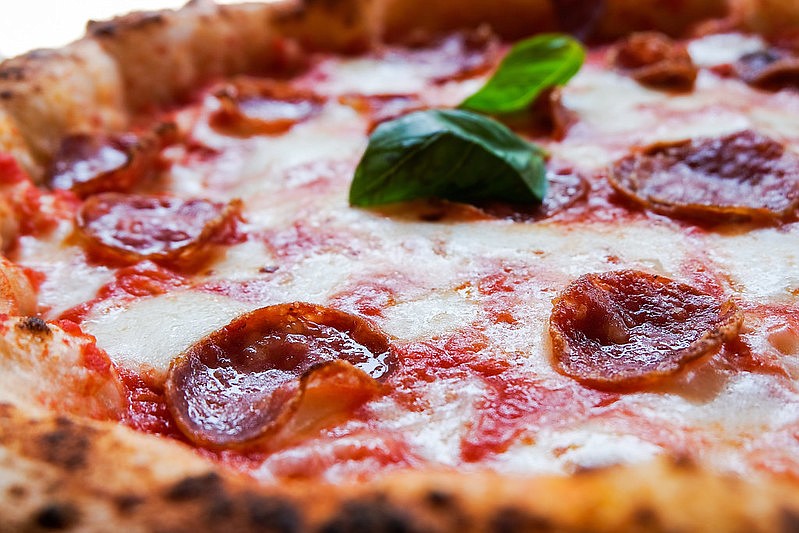 "Pepperoni Pizza with a Mint Leaf" by MyStockPhotos is marked with CC0 1.0
by
ROSE SHABABY
Staff Writer
|
February 2, 2021 5:26 PM
National Pizza Day is Feb. 9 and what's more American than pizza? As such, it seemed like a good idea to celebrate all that doughy, saucy, pizza-y goodness, as well as the local people who make it.

We all know pizza predates the birth of our nation; its origins go all the way back to ancient Greece and a flatbread called plakous, but ever since it found its way to the U.S. with the influx of Italian immigrants in the late 19th century, Americans have managed to make it our own.
Pizza in Italy was considered a working man's food, mostly flatbread topped with oil and inexpensive toppings. The cheapest were topped with garlic, lard and salt, while others were topped with things like caciocavallo (a cheese made from horse milk in the day), cicinielli (whitebait or immature anchovies) and/or basil.
The first licensed pizzeria in America was opened by a man named Gennaro Lombardi. He originally opened a grocery store in 1897, selling tomato pies for lunch to area workers, but soon expanded his business and opened his pizzeria in 1905.
The 1950s brought about the demand for convenience foods, prompting the development of frozen pizza. Tomato slices changed into sauce and new cheeses had to be used.
The 1960s ushered in the era of commercialized pizza when Tom and James Monaghan opened a company called "Dominik's" in Michigan which, yes, you guessed it, evolved into Domino's.
The rest, as they say, is history.
Whether it's Chicago deep dish or New York thin crust, it doesn't seem to matter. Americans love their pizza. They also seem to agree on a favorite topping: pepperoni is far and away the number one choice for Americans, and we consume a whopping 251,770,000 lbs per year.

Mike Kupper at Simple Simon's Pizza agrees with the number one topping choice of Americans. He loves variety in his pizza, but said "you can't go wrong with pepperoni."
When asked what sets him apart from the rest, he said he doesn't pay much attention to what other pizzerias are doing, preferring to focus on his own business and employees. Kupper said he took over the restaurant to help employ young people in the area. He's "building people," helping them grow as employees. It's one of the parts of owning the business he loves the most.
What does he love about pizza? He laughed, answering, "everybody loves pizza!"
Finally, we asked him what dish he would recommend to his customers and without hesitation he said everyone should try his calzones. Those folded and baked pizza pockets are delicious, and they have a wide variety to choose from, Kupper specifically mentioning his Chicken Bacon Ranch calzone. He also recommended the stromboli, a sort of pizza turnover, if you're looking for something fun and interesting.
You can find Simple Simon's Pizza at 6453 West Main Street in Bonners Ferry, or call 208-267-9410. Don't forget to follow them on Facebook and keep an eye out for their new reopening… they'll be moving to a new location soon!
DJ Cartwright at the Pizza Factory also agrees that pepperoni is the number one seller. She says they also sells a lot of their "Factory Special" (pepperoni, mushrooms, ham, onions, green peppers and real bacon) and "All Meat" (Canadian bacon, salami, pepperoni, ham and real bacon).
Her favorite? Pepperoni, pineapple and bacon. Cartwright laughed when asked about the debate over whether pineapple belongs on pizza. "Heck yes it does!" she answered, but added that her husband would probably disagree with her.
She also pointed out that what makes their pizzeria so special is that they make everything on site, from the dough to the sauce, and all the toppings are fresh. No canned mushrooms here! They even have vegetarian pizzas, cauliflower crust and gluten free options.
And what pizza would she recommend to her customers? She said they're all good, but she notices customers are always pleasantly surprised when they try the Western BBQ (BBQ chicken, bell peppers, red and white onion and tomatoes). If you're looking for something different, it's the pizza to try.
You can find the Pizza Factory at 6637 Fry Street, Bonners Ferry, or call 208-267-7771 to place your order for that Western BBQ pizza.
If you're looking for a sitdown restaurant pizzeria where you can have a beer with your slice, Goat Mountain Pizzeria is the place for you.
The owner, Jill Nystrom, said opening the pizzeria seemed like a natural fit because they have the "pizza gene" running through their veins. Her dad worked in and ran several pizza restaurants when he was in college and it became a part of their lives after that.
The favored slice at Goat Mountain? Staff member Brigete Olson says The Ram (sausage, onion, bell pepper, garlic, olives, pepperoni and mushrooms) is the best.
Olson also pointed out that all their ingredients are fresh, never frozen, and they make their own fresh dough. Their meats are all the highest quality they can get their hands on as well.
If you're looking for something new and delicious to try, Nystrom recommends the Goat Mountain Special. It starts with a layer of pesto sauce instead of the traditional tomato, with onions, olives, garlic, artichoke hearts, feta cheese, basil and tomatoes.
Nystrom also pointed out that if you follow them on Facebook you can find their daily specials like Sasquatch Wednesdays when you can get a free order of cheese sticks with every Sasquatch pizza.
You can check out Goat Mountain Pizzeria at 7217 Main Street, Bonners Ferry, or call 208-267-1123 to place your order for a fully loaded Sasquatch.
No matter where you decide to get your pizza, just make sure you get one on Tuesday, Feb. 9 in celebration of National Pizza Day. Share with your family or friends, and in the words of any Italian grandma… Mangia, mangia!
---