Rep. Simpson proposes dramatic environmental proposal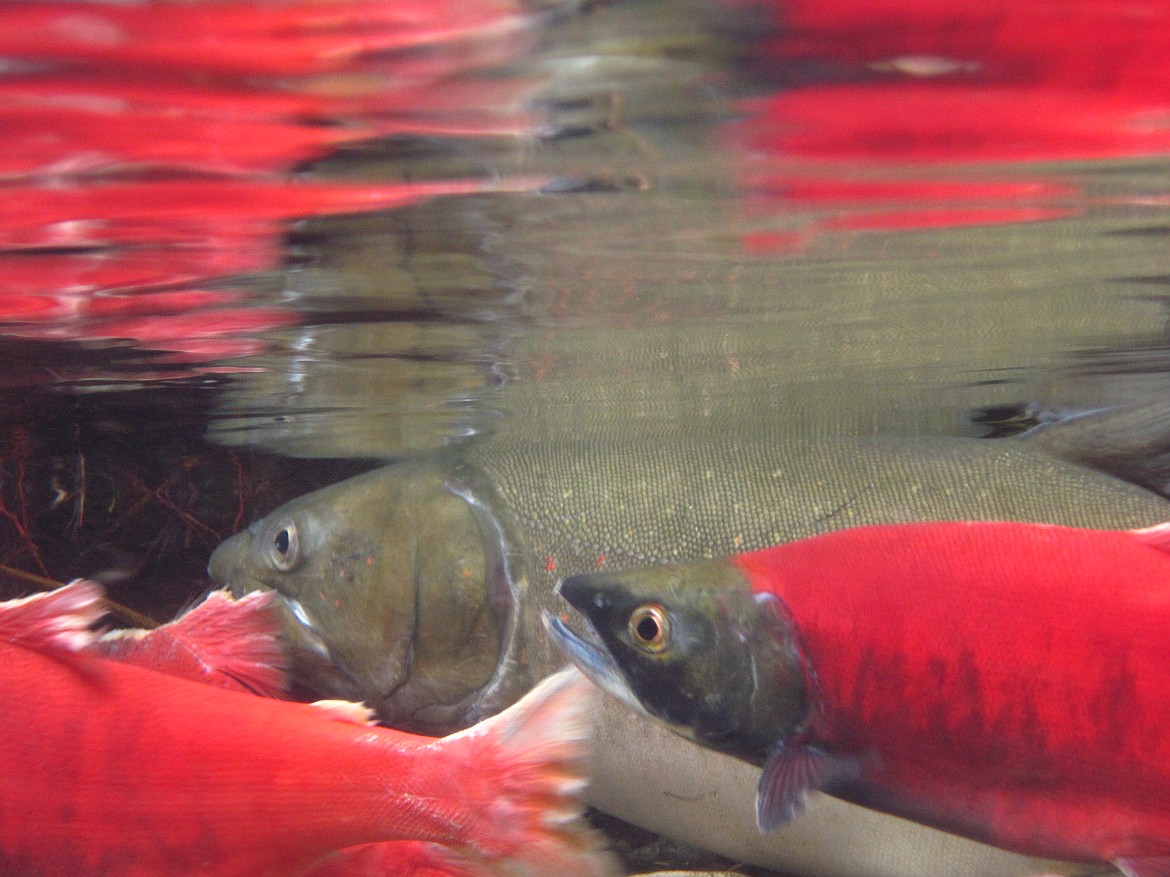 (Photo By Idaho Fish and Game / CC BY 2.0 ) Bull trout along side adult Kokanee in Granite Creek North Idaho.
by
VICTOR CORRAL MARTINEZ
Staff Writer
|
February 11, 2021 1:00 AM
WASHINGTON — House Rep. Mike Simpson (R-Idaho) released a major environmental plan to restore Idaho Salmon and Steelhead populations. The plan aims to address some of the factors leading to Salmon's projected extinction in the Snake and Columbia River Basin.
A news release from the $33.5 billion proposal of immediate infrastructure investments would advance salmon recovery, clean energy, agriculture and create jobs and economic opportunity regionwide.
Critical river investments include restoring the lower Snake River through removing four federal dams, water quality improvements in the Columbia Basin, restoration of salmon in currently blocked areas in the upper Columbia and upper Snake rivers and funding for the Yakima Basin Integrated Plan.
The plan created comes from over 300 meetings Simpson had with regional stakeholders, tribes and interest groups.
"The Northwest has been caught in an unsustainable cycle of conflicts over salmon and energy," Simpson said, "For over thirty years, lawsuits, appeals, salmon management directives and endless spending have prevailed, while salmon, energy, agriculture and transportation interests continue to suffer."
Simpson hopes to break a cycle of picking sides and deliver concrete progress to the Northwest region.
"We can seize this chance to shape our future; if we resist the urge to make snap judgments and instead work together to solve these issues once and for all," Simpson said.
The sweeping environmental plan faces much criticism from interest groups and lawmakers such as House Rep. Cathy McMorris Rodger (R-Wash.), who stated, "These dams are the beating heart of Eastern Washington."
Rep. Rodgers believes that there is no guarantee breaching the dams will restore salmon populations and said the plan "is a drastic, fiscally irresponsible leap to take."
The Idaho Farm Bureau Federation released a statement strongly opposing the plan, stating that wheat farmers rely on the current system.
The rivers would be unnavigable for barges that move wheat and other commodities.
According to IFBF Vice President Richard Durant, "These dams are the lifeblood of agriculture in Idaho, Washington, Montana and Oregon."
Durant mentioned the tug of war between environmentalists and farmers in regards to breaching the dams.
"Despite what supports of the plan claim, no mistake, this is a drastic measure that would forever alter our way of life in the Pacific Northwest, and not for good," IFBF President Bryan Searle said, "Idaho Farm Bureau members are adamantly opposed to this proposal."
Simpson's colleague in Congress, Sen. Jim Risch (R-Idaho), also opposes the plan to breach the dams but is reviewing the plan Simpson outlined and hearing concerns from Idahoans.
"My opposition to dam breaching remains unchanged, and my commitment to Idaho's farmers, businesses, sportsmen and recreational users who depend on the existing system holds firm," Risch stated.
There is much support for the comprehensive plan from many, including the Idaho Conservation League.
In a statement released in support of Simpson's proposal, ICL believes the plan will save Idaho's salmon and build a prosperous future for the region.
ICL executive director Justin Hayes stated, "the proposal is bold, comprehensive and urgently needed for Idahoans and the people of the Northwest."
Hayes expressed support for the plan because it will help aquatic life recovery and provide new energy sources that benefit the waterfront communities.
Outlined in the plan is $16 billion for clean energy development, $4.6 billion to improve water quality with $700 million going toward research and development at the University of Idaho, $2.3 billion for snake river development and erosion control.
The plan outlines an additional $3.5 billion to rebuild and expand the road and rail infrastructure to help agricultural commodities such as wheat continue to move efficiently.
The Idaho River Community Alliance stated their support for the proposal because of increased salmon and steelhead fishing restrictions.
Founder of IRCA, Roy Akins, stated when spring Chinook salmon numbers are high enough to allow a more extended fishing season Riggins can generate $10 million in three months.
Bob Irvin, President of American Rivers, stated his support for the proposal, commenting that "His [Simpsons] inclusive and groundbreaking effort is a starting point toward a solution to recover salmon, modernize infrastructure, create jobs and strengthen communities regionwide."
Such a drastic plan is likely to gain bipartisan support from both sides of the aisle. During a Biden administration, it's expected to gain the support of the democratic majority in Congress.
Recent Headlines
---