Buddy receives 'Buddy Bag' from K-9 Defender Fund
|
February 18, 2021 1:00 AM
BONNERS FERRY — Buddy, Boundary County Sheriff's Office narcotics K-9, is better prepared should an injury happen to him while on duty through a partnership with Bonners Ferry Veterinary Clinic and a K-9 specific "Buddy Bag" donated to the Sheriff's Office K-9 team, Cpl. Mike Valenzuela and his partner Buddy by the K-9 Defender Fund.
Dr. Roland Hall and his wife Linda have always supported law enforcement K9's offering their veterinary clinic's services to help local law enforcement and their K-9 partners. Their generosity and care over the years and currently with Buddy, the department's drug K-9, is appreciated, officials said.
The Buddy Bag that K-9 Defender Fund provided to the sheriff's office contains Elasticon bandage, petrolatum pads, bandage scissors, eye saline/drops, 3x antibiotic ointment, Side Pocket #2, slip leashes, lubricating jelly, digital thermometer, cotton balls, ear cleaner, styptic powder, WoundSeal, cotton applicators, blanket, SAM splint, K-9 splint (leg), burn sheet, sodium chloride saline rinse, collapsible water bowl, cold packs (2), tourniquet, muzzle, K-9 Ooxygen mask, BVM bag or K-9 trach tube and K-9 Narcan.
Dr. Hall went over the items in the bag with Cpl. Valenzuela, who said it is impressive what they have packed in the K-9 rescue bag, which is very appropriate.
The common factor that unites all of these teams is the specialized dog that stands alongside them. Each of these amazing animals, along with their partner, provides a service of protection to the general public.
The K-9 Defender Fund's goal is to help assist in the welfare of these specialized dogs and their handlers by providing the essential equipment that helps aid in the team's safety and allows for the quickest means of medical response for the K-9.
Since the Military, Police, Fire and Search &Rescue K-9 Handler often acts as the first responder for their animal, time and the first aid supplies that are on hand are critical. The BUDDY BAG. has equipped with all of its contents explicitly designed for a dog's needs.
The main feature of the "Buddy Bag" is a specialized breathing apparatus that is formed to fit any dog's muzzle. The specialized cone-shaped oxygen mask allows for a secure fit on the dog's face.
Many animals receive burns through an explosion, fire, or accident; therefore, specialized burn sheets, bandages, rinsing saline, and protective restraints are also included in the BUDDY BAG.
Tracy Spader is the founder and president of the K-9 Defender Fund. "I started this organization out of my love for "all things K-9" and my respect and admiration for the work that the specialized K-9 teams (military, police, search & rescue and fire) of this country provide to us, the public."
My husband and I share our home with three dogs. We have been honored to provide two of our retired 4-legged heroes (Military Working Dogs) a home to call their own, accompanied with some much deserved "couch time." In December of 2012, we lost our first Retired Military Dog, "Buddy" E154, to cancer.
Buddy was the first MWD to be buried with full military honors at The Michigan War Dog Memorial in S. Lyon. Our second RMWD is a retired U.S. Marine Capt., "IDD MWD Jig M134." He has fit right in and is now one of the family.
I am honored and privileged to offer support to the men, women and K9s who work tirelessly and selflessly to provide protection to myself and my family. They do what they do without us ever knowing their names or their stories, and they get up every day and do it again.
To those that "serve and protect," I give you my thanks and my good wishes. After all, in Mother Teresa', I can do things you cannot, you can do things I cannot; together, we can do great things.
"People make things happen, and I am so thankful for people like Dr. Hall and his wife Linda and Tracy Spader with the K-9 Defender project, they make a difference in our community and help protect our K-9 Deputy Buddy," Sheriff Kramer said, "we are grateful for them helping lookout after our Buddy."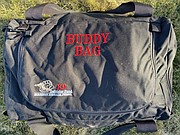 ---