Boundary County has an abundance of talented, helping, and caring people that call this beautiful place "home."
by
Sheriff Kramer
|
February 25, 2021 1:00 AM
What makes a community are the people.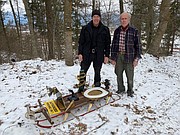 Boundary County has an abundance of talented, helping, and caring people that call this beautiful place "home." For this article, I wanted to mention one of them, and when I think of him, the words character, hardworking, sense of humor, and volunteer come to mind. If you ask Ed Robbins how old he is, his response is usually "I just turned from a senior citizen to prehistoric." In fact, Ed will be turning a young 88 years old this year.
I first met Ed when he joined Boundary Search and Dive Rescue Team, an active member for many years. Even up in his 70's, he was hard at work helping us sandbag the upper section of the Moyie River to protect homes from flooding. He has also served our Country in the military as part of the 82nd Airborne. He has a lengthy history of things that he has done over the years, including running several ranches, fixing up homes, and a lot of just plain old hard work.
You have probably seen Ed at the 3 Borders Car show downtown with one or two of his vintage cars, complete with accessories that he has collected. Along with this collection is a complete picnic setup or mechanical tools that would match his autos' timeframe.
About a year ago, Ed gave me a wood wall hanging that he had built so that we could recognize law enforcement officers by placing their name on the board, which he had attached a golden-colored spur and stirrup. He suggested that we could call it the Golden Spur Award. His thoughtfulness and his support of law enforcement are greatly appreciated. He told me at the time that he just wanted to do something for our local law enforcement—a beautiful gesture in these trying times for this profession.
About a week ago, his sense of humor once again came through when I got a call from him that he had something at his house that he wanted to show me. After driving up to his house, he took me down by his work area and showed me his latest creation. He had it already named…" Boundary County Sheriff's Mountain Patrol Unit." I found myself looking at an old sled that looked like something that came out of Willy Wonka's factory. An antique car headlight was on the front, followed by an instrument panel with what appeared to be airplane gauges, a joystick control, toilet seat lid for the seat, two brass hand pump horns, antique fire extinguisher, and a rear taillight off of an antique car. When you looked at his "creation," you couldn't help but smile. Ed's Mountain Patrol Unit is still safely stored at his house until such time that "we might need it," but we may borrow it at times for a display to watch people look at it and wonder about the man that built the Mountain Patrol Unit.
Ed's humor is refreshing. His thoughtfulness and generosity with his time and service to this community are to be praised. So, it is in this spirit that I give him recognition… thank you, Ed.
---